The BFI has announced that it will be releasing the longest-ever English language cut of the historically important film, Atoll K, starring Stan Laurel and Oliver Hardy, for the first time in High Definition in a new 2K restoration by the BFI using original 35mm nitrate film elements.
The 1951 feature film finale of cinema's most beloved comedy duo, Atoll K marked Laurel and Hardy's long-delayed big screen return. The two great clowns, lured back to film amid the extensive stage tours of Europe that were the poignant coda to their career, embark here on a ramshackle voyage to save Stan's Pacific island inheritance. This ambitious attempt to invest their time-honed slapstick with a satirical edge is a testament to the duo's indefatigable comic antics.
Packed with special features, the dual format release includes rare early solo shorts and amateur footage of Stan and Ollie, alongside new audio commentaries and new writing by internationally acclaimed experts on the life and work of 'The Boys'.
Coming out ahead of the feature film Stan & Ollie, starring Steve Coogan and John C. Reilly (released 11 January 2019) which had its world premiere in the BFI London Film Festival last month, here's a timely chance to see the real duo in action.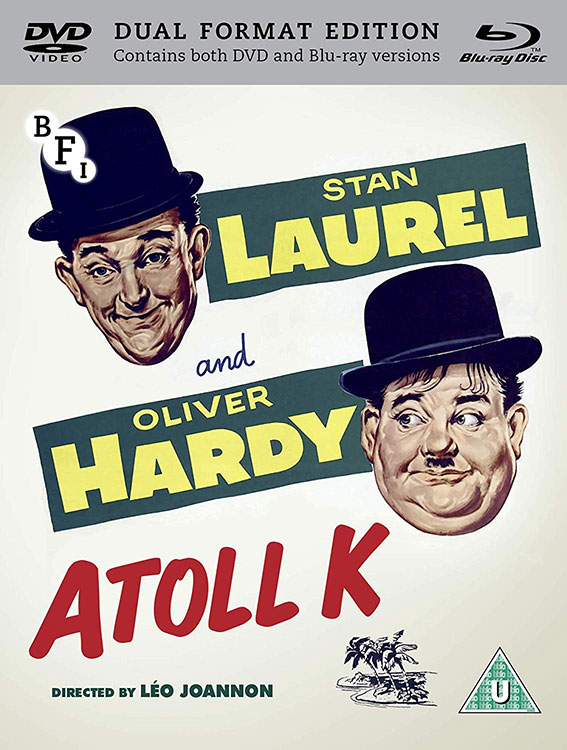 Atoll K will be released in the UK as a dual format edition (Blu-ray & DVD) by the BFI on 3 December 2018 at the RRP of £19.99.
Special features:
Mother's Baby Boy

 (1914, 4 mins), Something in Her Eye (1915, 11 mins), Do You Love Your Wife? (1919, 14 mins), Somewhere in Wrong (1925, 23 mins): four rare early Laurel and Hardy solo comedies

Should Men Walk Home? 

(1927, 27 mins): rare Mabel Normand comedy featuring Oliver Hardy

Laurel and Hardy in Tynemouth

, aka Grand Hotel (1932, 11 mins); Laurel and Hardy in Scotland (1947, 3 mins): amateur footage of the duo's UK tours

Railway Birthday Party

 (1947, 2 mins); Laurel and Hardy Return to the UK (1952, 2 mins): British Movietone newsreel footage

US trailer (c1954)

German trailer (c1951)

Interview with Stan Laurel

 (1957, 80 mins, audio only): Stan discusses his life and work with Arthur B Friedman in a recording made a week after Ollie's death

The Boys Stay in the Picture

: new Laurel and Hardy video essay by Chris Seguin, using rare images, scripts, letters and promotional materials from around the time of Atoll K (2018, 13 mins)
New feature-length commentary on Atoll K and new commentaries on the amateur films by Laurel and Hardy expert Glenn Mitchell (2018)

Illustrated booklet with new essays and notes by Laurel and Hardy authorities Glenn Mitchell, Norbert Aping and David Wyatt, new writing by Alan and Vic Pratt, plus full film credits
You can watch the specially made trailer below: