Woodfall Films' portmanteau feature, Red White and Zero, is a major rediscovery, never before released in the UK. Comprised of three compelling tales, it brings together a trio of Britain's most innovative directors – Peter Brook, Lindsay Anderson and Tony Richardson – and embodies the creativity and audacity at the heart of Swinging Sixties cinema.
Although missing a section at the start, this partial recreation (commissioned by the BFI using our newly remastered digital print) gives a fascinating glimpse of how the distribution company United Artists intended to promote this important Woodfall film to the audiences in 1967. This footage was included in -About 'The White Bus'.
Comic legend Zero Mostel (A Funny Thing Happened on the Way to the Forum) mixes slapstick and surrealism as a tardy opera star traversing London in The Ride of the Valkyrie, while The White Bus, scripted by Shelagh Delaney (A Taste of Honey), blends realism, poetry and New Wave detachment as a young woman travels home to the north of England. Tony Richardson (Tom Jones) directs Vanessa Redgrave in the final part of the film, Red and Blue, a musical, melancholy romantic reverie.
Red White and Zero is release number 036 in the BFI Flipside strand, which rescues weird and wonderful British films from obscurity and presents them in new high quality editions on Blu-ray and DVD, with accompanying extras and an illustrated booklet.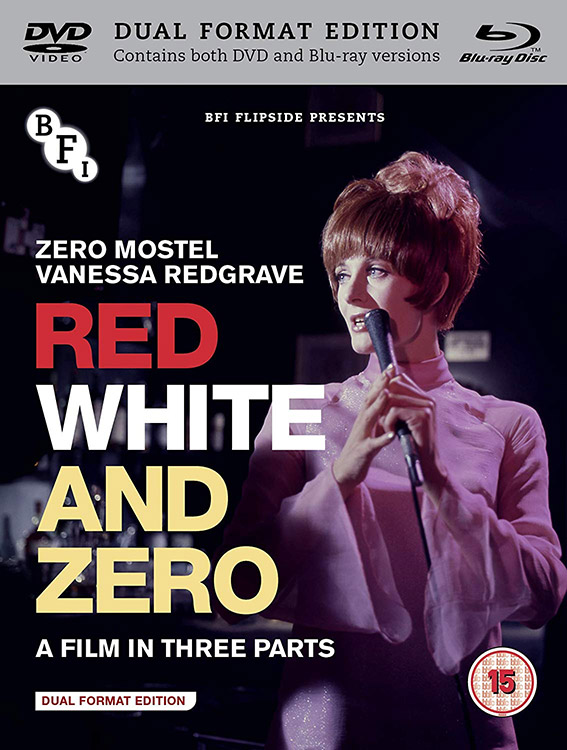 Red White and Zero will be released in a Dual Format Edition (Blu-ray & DVD) on the BFI Flipside label on 10 December 2018 at the RRP of £19.99.
Special features:
-About 'The White Bus'

 (1968, 59 mins): documentary on the making of Lindsay Anderson's segment

Lindsay Anderson Introduction/Stills Gallery (1968, 5 mins): an audio recording of Anderson addressing the NFT in 1968, played over stills

Behind the Scenes of Red and Blue

 (1966, 7 mins): Kevin Brownlow's 16mm footage of cast and crew

Kevin Brownlow on

 Red, White and Zero (2018, 15 mins): the Red and Blue and The White Bus editor on making the films

Billy Williams on Red and Blue

 (2018, 14 mins): the cinematographer recalls working with Tony Richardson on the third segment

No Arks

 (1969, 7 mins): political cartoonist Abu's satirical reworking of the Noah story, narrated by Vanessa Redgrave

Audio commentary by Adrian Martin

Illustrated booklet with new writing by Sarah Wood, Paul Fairclough, So Mayer, Philip Kemp and Katy McGahan, plus full film credits