Nominated for the Palme d'Or at Cannes Film Festival in 1986, Rosa Luxemburg (1986) is Margarethe von Trotta's remarkable biopic of one of the most fascinating figures in modern European history. On 4 February 2019, a beautiful restoration will become available for the first time in the UK on Blu-ray, DVD and Digital Download, as part of Studiocanal's Vintage World Cinema label with English subtitles.
Margarethe von Trotta is to thank for some of the most trailblazing films over the past five decades and was one of the key cinematic voices of the new German Cinema movement. Von Trotta's wonderfully complex and outspoken female characters have undoubtedly inspired those taking centre stage in films by contemporary directors such as Jane Campion, Andrea Arnold, Lynne Ramsay and Lone Scherfig.
Luxemburg (Barbara Sukowa), a dedicated Marxist and pacifist, is arrested in 1905 for her political activities. Determined to stick to her principles, she goes on to be repeatedly convicted and imprisoned for her protests and speeches. In 1915, growing disillusioned with the German Social Democrats when they endorse World War I, she founds the Sparticist League, later the Communist Party of Germany. Despite the many men in her life, Rosa remains focused on social justice. Portrayed masterfully by Sukowa (also known from Rainer Werner Fassbinder's Lola) who won Best Actress at the Cannes Festival, Luxemburg's character comes alive on screen with a depth and complexity that her public image as a militant revolutionary might lead us believe.
This release of Rosa Luxemburg marks the 100th anniversary of Rosa Luxemburg's assassination (15th January 1919) and offers UK audiences the opportunity to experience a rarely seen Palme D'Or nominated film from Germany's foremost female film director.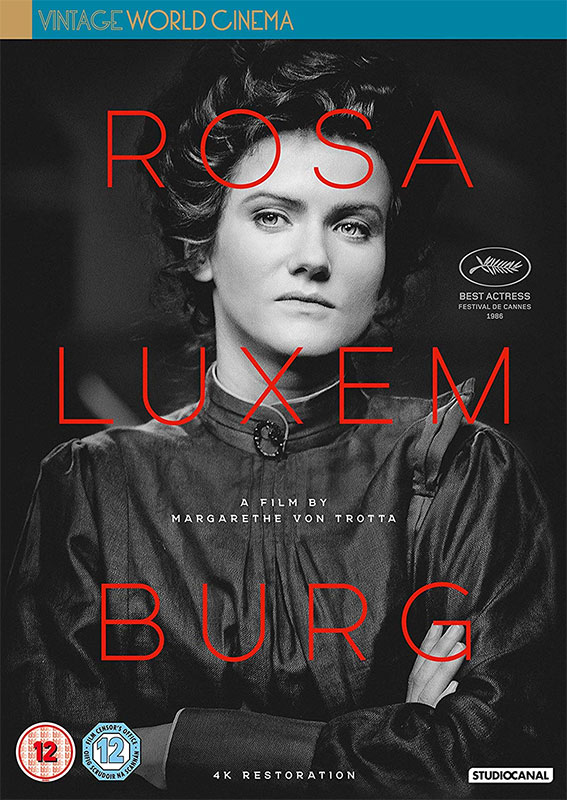 Rosa Luxemburg will be released on UK Blu-ray, DVD and Digital Download by Studiocanal on 4 February 2019 at the RRP of £22.99 for the Blu-ray and £17.99 for the DVD.
Bonus features:
Interview with Margarethe Von Trotta
Interview with Barbara Sukowa
Original theatrical trailer