From Academy Award winner Steve McQueen, the director of 12 Years a Slave and Hunger, and from Gillian Flynn, the writer of Gone Girl, comes Widows, one of the last year's most acclaimed thrillers, which arrives on Digital Download from 1st March and VOD, 4K Ultra HD, Blu-ray and DVD on 18th March 2019 from 20th Century Fox Home Entertainment.
Starring Oscar-winner and 2019 BAFTA-nominee (Best Leading Actress) Viola Davis for her searing performance, Widows boasts an all-star female cast including Michelle Rodriguez, Elizabeth Debicki and Cynthia Erivo (2019 BAFTA Rising Star Nominee).
Set in contemporary Chicago, amid a time of political turmoil, four women – with nothing in common except a debt left by their dead husbands' criminal acts – conspire to take fate into their own hands. Tensions build as Veronica, Alice, Linda and Belle are left with no option but to forge a future on their own terms by attempting to complete the heist that their husbands couldn't.
A blistering, modern-day thriller set against the backdrop of crime, passion and corruption, featuring stellar supporting performances from Colin Farrell, Robert Duvall and Liam Neeson. Capping off an unrivalled ensemble cast is 2018's BAFTA Rising Star Daniel Kaluuya, with a menacing performance unlike anything he's done before.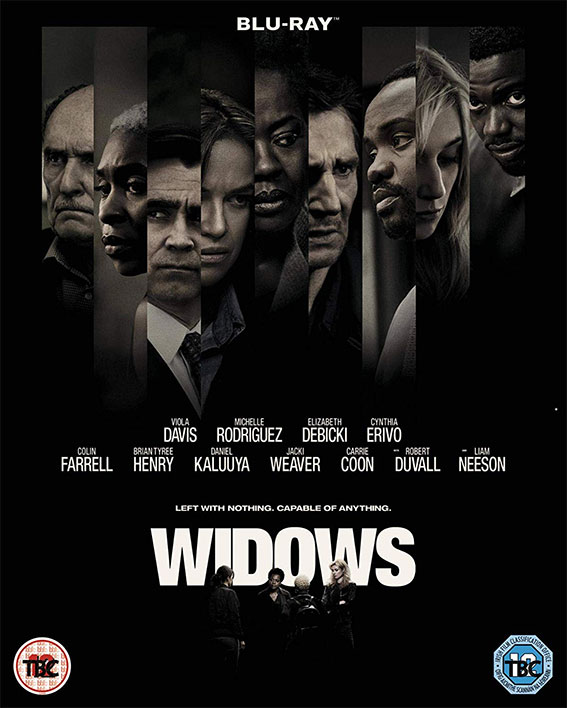 Blu-ray special features:
Plotting The Heist: The Story
Widows Unmasked: A Chicago Story
Assembling The Crew: Production
The Scene Of The Crime: Locations
Gallery (24 still images)
Theatrical Trailer
DVD special features:
Plotting The Heist: The Story
Gallery (24 still images)
Theatrical Trailer