My Brilliant Friend [L'amica geniale ], the breathtakingly cinematic Italian period drama series about a lifelong friendship filled with love and envy, arrives on Blu-ray, DVD and Digital Download in March.
When the most important friend in her life seems to have disappeared without a trace, Elena Greco (played at different times in her life by Elisa Del Genio, Margherita Mazzucco and Elisabetta De Palo), a now elderly woman immersed in a house full of books, turns on her computer and starts writing the story of their friendship. She met Raffaella Cerullo (Ludovica Nasti and Gaia Girace), whom she has always called Lila, in the first year of primary school in 1950. Set in a dangerous and fascinating Naples, their story begins and goes on to cover over 60 years of their lives as she tries to describe the mystery of Lila, Elena's brilliant friend and – in a way – her best friend, and her worst enemy.
Following a glowing critical reception upon broadcast, the 8-part foreign language drama – based on the international best-seller by Elena Ferrante – has been greenlit for a second series, which aligns with the second of Ferrante's Neapolitan quadrilogy.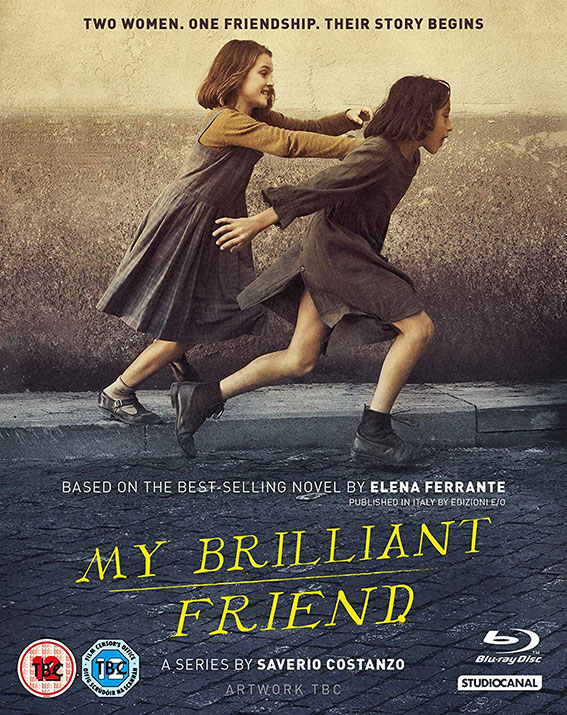 Directed by Saverio Costanzo (Private, Hungry Hearts), My Brilliant Friend will be released on UK Blu-ray, DVD and Digital Download on 18th March 2019 by Studiocanal at a yet-to-be-confirmed RRP.
Special features:
My True Brilliant Friend – 1 hour documentary
Interview with costume designer Antonella Cannarozzi
Interview with set designer Giancarlo Basili
From Book To Screen
What Is 'My Brilliant Friend'?
Who Are Lila and Elena?
Set Build Time-lapse