Little seen since its original release, stylishly shot in Winchester and Southampton by Academy Award-winner Kenneth Higgins (Georgy Girl) and co-starring Ian Ogilvy (Witchfinder General), Stranger in the House (1967) is a striking psychological thriller based on Maigret creator Georges Simenon's celebrated novel is ripe for rediscovery.
On 25 February it becomes the 37th release in the BFI Flipside strand, presented on Blu-ray and DVD in a Dual Format Edition. A stack of archival extras include photographer David Bailey's 1966 film G.G. Passion, a psychedelic 1968 advert for coffee, an interview with James Mason, a new commentary and an illustrated booklet.
Once an eminent barrister, John Sawyer (James Mason) has become a cynical, reclusive drunk, long deserted by his wife, baffled by the burgeoning youth culture and held in contempt by his daughter, Angela (Geraldine Chaplin). But when her boyfriend is wrongfully accused of murder, Sawyer must confront his demons and a changing world in order to defend him.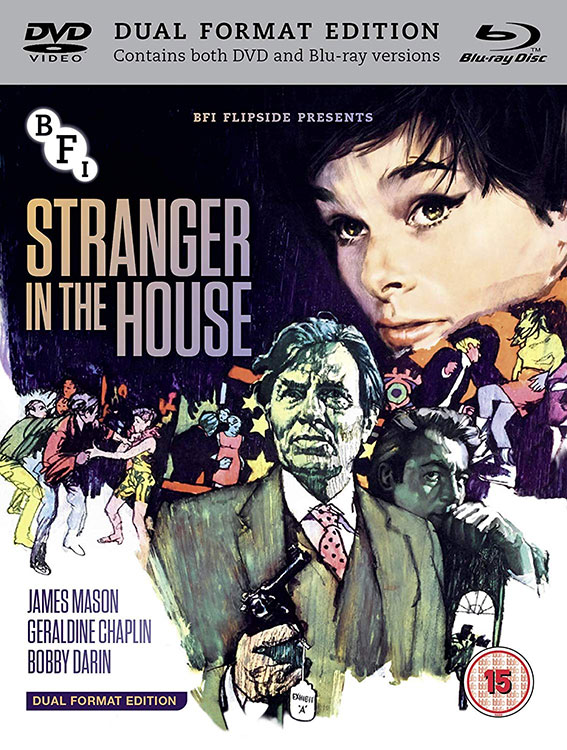 Stranger in the House will be released as a Dual Format edition (Blu-ray and DVD) by the BFI on 25 February 2019 at the RRP of £19.99.
Special features:
G.G. Passion (David Bailey, 1966, 25 mins): a pop singer is hounded to death in this fab film featuring Chrissie Shrimpton and Caroline Munro
Good Strong Coffee (c1968, 2 mins): swingers swig coffee in this psychedelic ad for the black stuff
Tram Journey Through Southampton (c1900, 1 min)
Charlie Chaplin Sails From Southampton (1921, 1 min)
Southampton Docks (1964, 24 mins): marvellous mod machinery at work on a merchant vessel
Original theatrical trailer
James Mason in Conversation (1981, 86 mins, audio only): the actor discusses his career in an interview at the National Film Theatre, London
Newly recorded audio commentary by Flipside founders Vic Pratt and William Fowler
Illustrated booklet with new writing by Jonathan Rigby, Omer Ali and Antion Vikram Meredith (formerly Vic Briggs of The Animals)