Nearly 20 years after his death, Toshiro Mifune (1920–1997) remains a true giant of Japanese cinema. Rich with archive footage and personal reminiscences from family and friends, the documentary Mifune: The Last Samurai, narrated by Keanu Reeves, shines a light on both the man and the actor, from his childhood and military service to his early years in the film industry and the string of masterpieces made with legendary filmmaker Akira Kurosawa.
Directed by Academy Award-winning director (for the 1991 short Days of Waiting) Steven Okazaki and featuring contributions from Steven Spielberg and Martin Scorsese, Mifune: The Last Samurai reveals him as a formidable and mercurial talent, both onscreen and off, and an influence that still resonates through world cinema.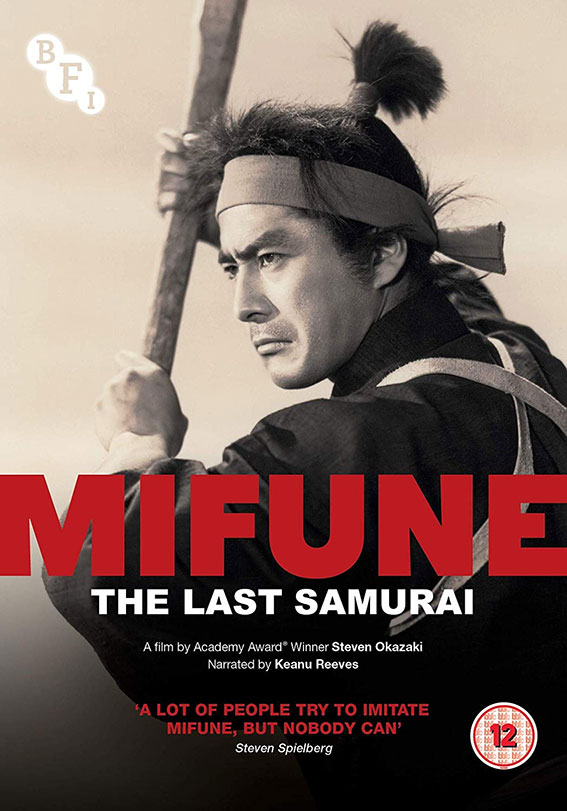 Mifune: The Last Samurai will be released on UK DVD by the BFI on 18 March 2019 at the RRP of £19.99. This follows an iTunes release on 25 February.
DVD special features:
Steven Spielberg on Toshiro Mifune

 (2016, 20 mins): the Oscar

®

-winning director discusses Mifune's career, including his collaborations with Kurosawa, his influence on western cinema and working with him on 1941

Toshiro Mifune Guardian Interview 

(1986, 61 mins, audio only): the legendary Japanese actor discusses his life and career in this interview with critic and writer David Shipman, recorded at the NFT

Original theatrical trailer

Illustrated booklet with new writing by Steven Okazaki and Stuart Galbraith IV, an interview with the director, biography of Toshiro Mifune by Philip Kemp and full film credits
We don't have a BFI trailer, but this should suffice: