To celebrate the upcoming release of Redcon-1 on Blu-ray, DVD & VOD, the BFI is hosting a special screening and talk with director Chee Keong Cheung on 24th February as part of their Future Film Festival. The event will will cover screenwriting, raising finance, casting, production, post production, and distribution.
Tickets available to book HERE.
After a zombie apocalypse spreads from a London prison, the UK is brought to its knees. The spread of the virus is temporarily contained but, without a cure, it's only a matter of time before it breaks its boundaries and the biggest problem of all… any zombies with combat skills are now enhanced.
With the South East of England quarantined from the rest of the world using fortified borders, intelligence finds that the scientist responsible for the outbreak is alive and well in London. With his recovery being the only hope of a cure, a squad of eight Special Forces soldiers is sent on a suicide mission to the city, now ruled by the undead, with a single task: get him out alive within 72 hours by any means necessary. What emerges is an unlikely pairing on a course to save humanity against ever-rising odds.
Chee Keong Cheung's Redcon-1 is a horror-thriller driven through with genuine relentless fight action and bristling with real military hardware, as a crack team of soldiers must battle through a zombie filled Britain in a race against time to find a cure.
"I'm really proud to have the opportunity to be a part of the BFI Future Film – the UK's most important film industry festival for young filmmakers and to deliver a masterclass sharing our experiences on the making of Redcon-1 followed by a screening presented by The BFI Future Film Festival. I'm looking forward to meeting the next generation of filmmakers and hopefully inspiring them with some of our stories and our journey to bring Redcon-1 to life." – Chee Keong Cheung
Redcon-1 received it's world premiere at the prestigious Raindance Film Festival in London and was also selected to officially open the Freak Show Horror Film Festival in Orlando, Florida and picked up 5 Awards at the 6th Annual Urban Action Showcase and Expo at HBO and AMC Empire 25 Theatres, Times Square New York. As well as the UK, Redcon-1 also received wide theatrical releases in Japan and Taiwan.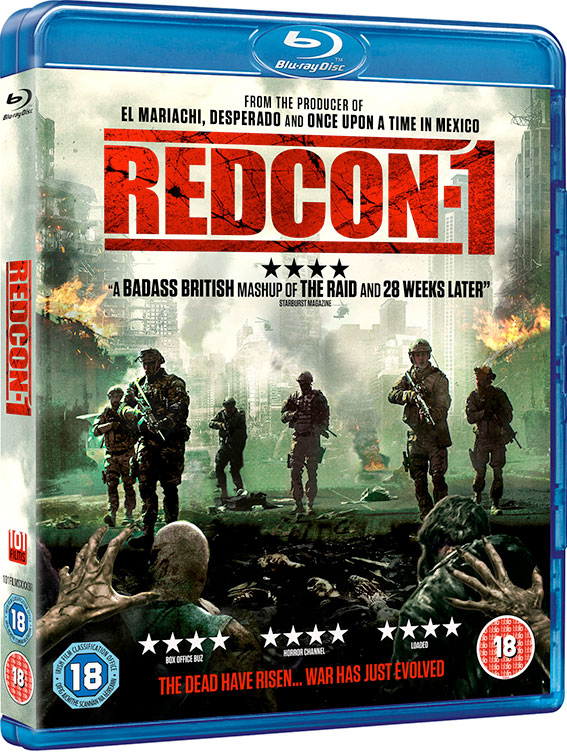 Described by Starburst Magazine as "A badass British mashup of The Raid and 28 Weeks Later," Redcon-1 will be released on UK VOD on 18 February 2019 and on Blu-ray and DVD on 25 February 2019 by 101 Films.
Blu-ray and DVD special features:
Trailer
Behind The Scenes:

The Making of Redcon-1
Pre Title Sequence – Behind the Scenes (Blu-ray only)
Redcon-1 Meet the Soldiers
Redcon-1 Costume Design (Blu-ray only)
Redcon-1 Fight Choreography (DVD only)
Redcon-1 Training and Weaponry Featurette (DVD only)
Make Up FX Featurette (DVD only)
Jasmine Mitchell – Alicia Rowan – Audition Tape (Blu-ray only)

Event:

Theatrical Promotional Tour Video (Blu-ray only)
Redcon-1 Invades Bodypower 2018 (DVD only)
Redcon-1 Descends on MCM Comic Con Glasgow (Blu-ray only)
Redcon-1 Infects MCM Comic Con London (DVD only)
Redcon-1 European Film Premiere - Raindance Film Festival

Community:

Love On Set (DVD only)
Martial Arts In The Community (DVD only)
Mike and Olivia's Story 
Lives Behind the Extras

Cast & Crew Interviews:

Interview with director of photography Lorenzo Levrini
Interview with editor Chris Gill
Interview with sound designer Sam Auguste (Blu-ray only)
Interview with composer Ian Arber (Blu-ray only)
Interview with Jasmine Mitchell – Alicia Rowan (Blu-ray only)
Interview with Kevin Eastman, executive producer & co-creator of TMNT
Interview with producer Ioanna Karavela (Blu-ray only)
Interview with Euan Macnaughton, Robert Goodale, Orla O'Rourke (Blu-ray only)

Armed Forces:

Broughton House Veteran Interviews (DVD only)
Terry Crosby, Military Advisor – 'A Journey Into Film' (Blu-ray only)

Deleted Scenes:

Pre-Title Sequence (Blu-ray only)
Bernstein and Reeves Discuss Religion
Rodrigo and Kira on Watch
Top Ten Zombies That Didn't Make The Cut

Photo Gallery