Jane Magnusson's illuminating documentary Bergman: A Year in a Life, produced for Ingmar Bergman's centenary last year, centres on 1957, a turbulent but miraculously productive year when the great director, besides unveiling The Seventh Seal and Wild Strawberries and working extensively in theatre and TV, led a messily complicated domestic life that included a spell in hospital.
The Blu-ray also contains the expanded four-hour version made for Swedish TV, Bergman: A Life in Four Acts. Both formats include a Q&A with Jane Magnusson and Vox Lipoma, an animated short.
The film's focus on 1957 provides a springboard for a survey that spirals out to embrace everything from childhood to old age, touching on Bergman's many creative achievements, his strengths and failings as a man, and the way his art derived from his life. Illuminating anecdotes are offered by many who knew him – none, however, perhaps quite as revealing as Ingmar's own testimony.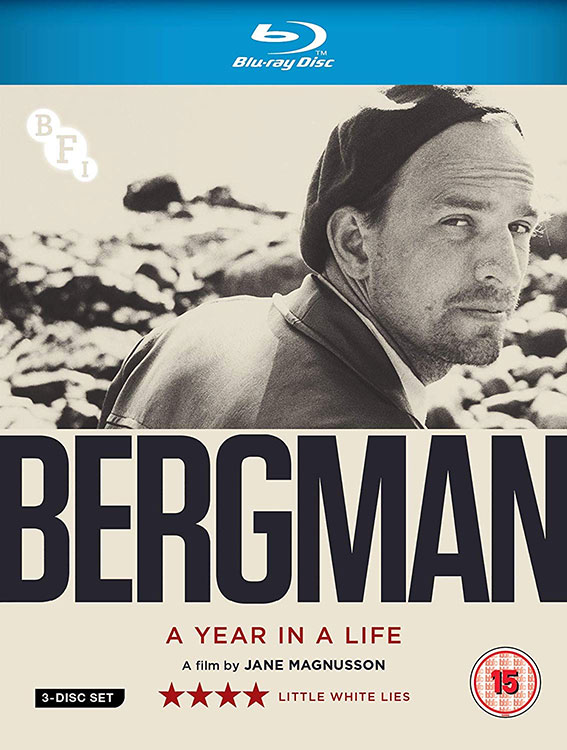 After its theatrical release by the BFI in January, Bergman: A Year in a Life will be released on 3-disc Blu-ray and single-disc DVD on 25 March 2019, after an iTunes release on 18 March. The Blu-ray set will retail at £29.99 and the DVD at £19.99.
Special features:
Bergman: A Year in a Life Q&A (2019, 17 mins): Jane Magnusson in conversation with Geoff Andrew at BFI Southbank
Vox Lipoma (Jane Magnusson, 2018, 11 mins): satirical animation about Ingmar Bergman's power, sexuality and relationships (shown at the 2018 BFI London Film Festival)
Ingmar Bergman Guardian Interview (1982, 62 mins, audio only): Bergman pays tribute to theatre and film director Alf Sjöberg, discussing his influence and impact on his own career; recorded at the NFT in 1982
UK theatrical trailer (2019)
[Blu-ray release only] – Illustrated booklet with new writing on the film by Jane Magnusson, BFI programmer-at-large Geoff Andrew, plus full film credits