Peter Sellers directs and stars in the bittersweet character comedy, Mr. Topaze, based on a Marcel Pagnol play and chosen by the British public in an online vote in 2016 to be digitised by the BFI National Archive.
Mr Topaze marked Peter Sellers' directorial feature debut and teamed him with his The Ladykillers cohort and future Pink Panther comic foil Herbert Lom, in a stellar cast that also features Nadia Gray, Leo McKern, Billie Whitelaw and John Le Mesurier.
Playing the eponymous Mr Topaze, a poor, provincial French schoolteacher slowly corrupted by big business, Sellers is at the peak of his powers. This melancholy character comedy, rarely seen since its release and available here for the first time on Blu-ray and DVD, is essential viewing for fans of Sellers' unique genius.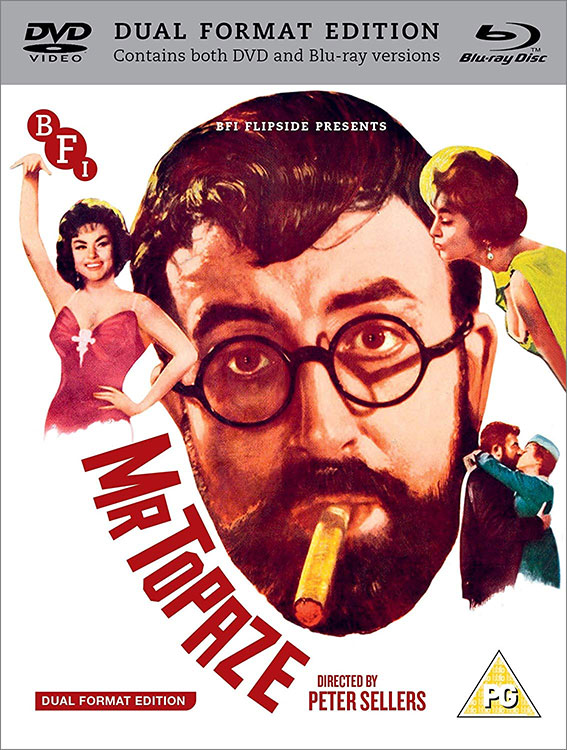 Described by Sellers' biographer Roger Lewis as a 'lost classic', Mr Topaze will be released in a Dual Format Edition (Blu-ray/DVD) on 15 April 2019 at the RRP of £19.99.
Dual format features:
Let's Go Crazy

 (1951, 33 mins): a nightclub-set madcap variety show featuring Peter Sellers and Spike Milligan

The Running Jumping & Standing Still Film

 (1960, 11 mins): Richard Lester and Peter Sellers' Goonish comic short, featuring Sellers, Spike Milligan and Leo McKern

Film Star: Peter Sellers

 (1967, 37 mins): a profile of the actor and comedian

Maurice Woodruff Interview 

(1967, 19 mins): Peter Sellers' favourite clairvoyant interviewed by Bernard Braden for a TV series, Now and Then, that was never made

John Boulting Interview

 (1967, 21 mins): the director discusses his relationship with Sellers in an unbroadcast Now and Then interview with Bernard Braden

Peter Sellers at the NFT

 (1960, 92 mins, audio only): the actor addresses an enthusiastic throng of fans

Abigail McKern Interview

 (2019, 20 mins): the daughter of Leo McKern discusses the great actor's life and career

The Poetry of Realism 

(2019, 13 mins):journalist Kat Ellinger's video essay on Marcel Pagnol, the writer of the film's theatrical source, Topaze

FIRST PRESSING ONLY: Fully illustrated booklet with a new essay by the BFI's Vic Pratt, biographies of Herbert Lom and Nadia Gray by John Oliver and full film credits

.