Following the launch of The British Film: Phase II label of Blu-rays and DVDs earlier this year that included classic television spin-off feature films The Likely Lads, Sweeney! and Till Death Us Do Part, Network Distributing continues this eclectic collection with titles brimming with intrigue, deception, murder, romance and espionage, accompanied by some heavyweight Hollywood star power.
Ginger Rogers stars in the tense British film noir Beautiful Stranger, Audrey Hepburngets her big break in Secret People and Mia Farrow and Topol trail each other round London in the first ever home-entertainment release of Carol Reed's unfolding Follow Me. European charm is delivered in the form of Norwegian screen siren Greta Nissen who dazzles in romantic spy drama On Secret Service, while British acting clout is presented by Stanley Baker, making his screen debut  in wartime drama Undercover (he also co-stars in Beautiful Stranger), Leslie Phillips and Geraldine McEwan in rib-tickling comedy No Kidding, and Kenneth Connor, Lulu and Tommy Steele in swinging 60s psychedelic music films Gonks Go Beat and It's All Happening, which feature a host of musical talent including The Graham Bond Organisation and John Barry.
With The British Film Network re-presents the UK's cinematic heritage as brand-new transfers from the original film elements and lovingly introduces classy packaging that reflects the original, iconic poster artwork of these vintage films. For most this will be their HD Blu-ray debuts and many will excitingly be available on VOD platform Amazon Prime.
The British Film: Phase II continues with: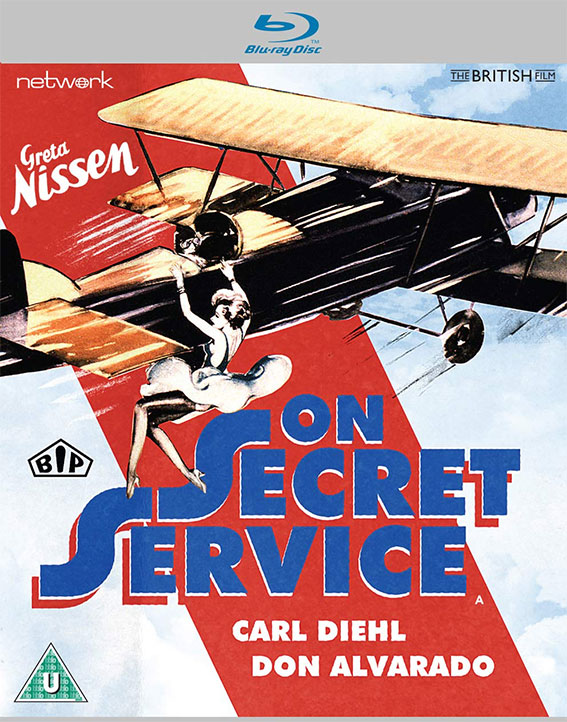 On Secret Service (1934) | Out now | Blu-ray/DVD/VOD
Virtually unseen since its original 1933 release, On Secret Service is a captivating romantic spy drama.
Vienna, 1912. When an Austrian staff officer is implicated in treasonous espionage he goes on the run. Three years later – as the Great War gets into full swing – he returns and begs the Austrian Secret Service to allow him to clear his name from suspicion.
1930s screen siren Greta Nissen (The Luck of a Sailor, Red Wagon) stars as an Italian noblewoman living a dangerous double life as a spy in Arthur Woods' thrilling remake of the celebrated German thriller Spione am Werk (1933). Co-starring noted German actor Karl Ludwig Diehl and American matinée idol Don Alvarado, this rarely-seen drama is presented here as a brand-new High Definition transfer.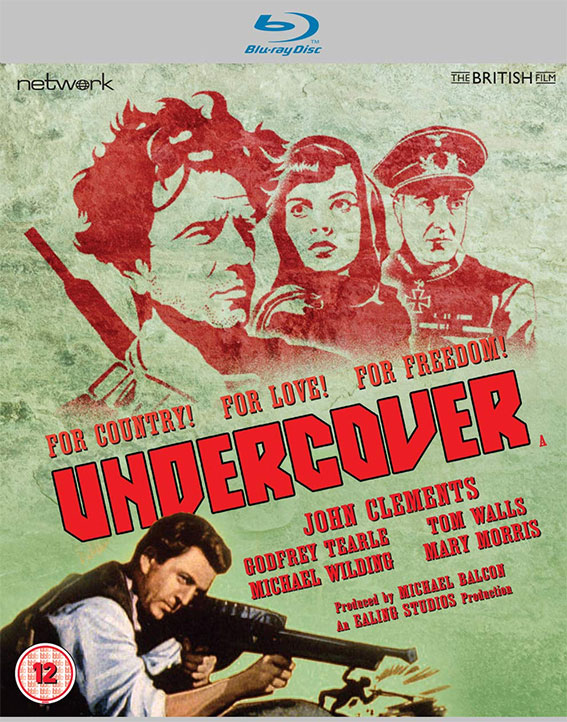 Undercover (1943) | 6 May 2019 | Blu-ray/DVD/VOD
Previously only available on DVD in the UK, Sergei Nolbandov's hard-hitting resistance drama, Undercover, from Ealing Films infiltrates its way onto Blu-ray and Digital for the first time.
In occupied Yugoslavia during World War II an organised resistance has been shattered by the Nazi onslaught. However, it is only the activity of small guerrilla bands that bring fresh hope to the people. But quislings and infiltrators are everywhere – and trusting the wrong person could easily get you killed…
Starring John Clements (The Four Feathers), Tom Walls (Spring in Park Lane) and Michael Wilding (Piccadilly Incident) Undercover is a moving piece of wartime propaganda shot partially on location in South Wales and featuring a very young Stanley Baker (Hell Drivers, Beautiful Stranger) in his first screen appearance at the age of 15. The film is presented here as a High Definition transfer from original film elements in its original fullscreen theatrical aspect ratio.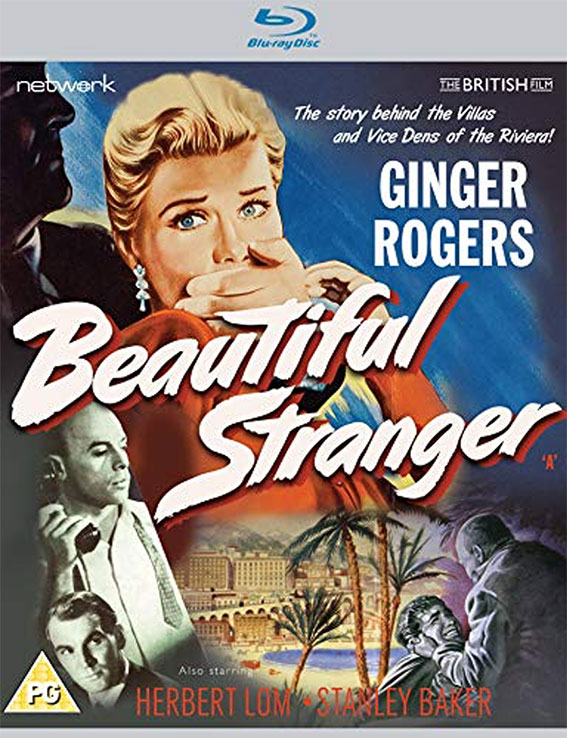 Beautiful Stranger (1954) – | 6 May 2019 | Blu-ray/DVD/VOD
Hollywood royalty Ginger Rogers forayed into Film Noir for her British film debut when she starred in Beautiful Stranger, a mystery drama bubbling with tension, desire and greed.
Joan "Johnny" Victor (Rogers), a gorgeous ex-actress, lives in luxury on the French Riviera courtesy of Louis Galt (Stanley Baker) – a wealthy businessman with global interests. But when she discovers Louis' fortune is built on crime his possessive mania brings about a train of violence from which death is the only certain outcome…
Beautiful Stranger co-starred Rogers then husband Jacques Bergerac in his screen debut, Herbert Lom (The Pink Panther series) and Stanley Baker (Zulu, Undercover) and is presented here as a brand- new High Definition transfer from the original film elements in its original aspect ratio.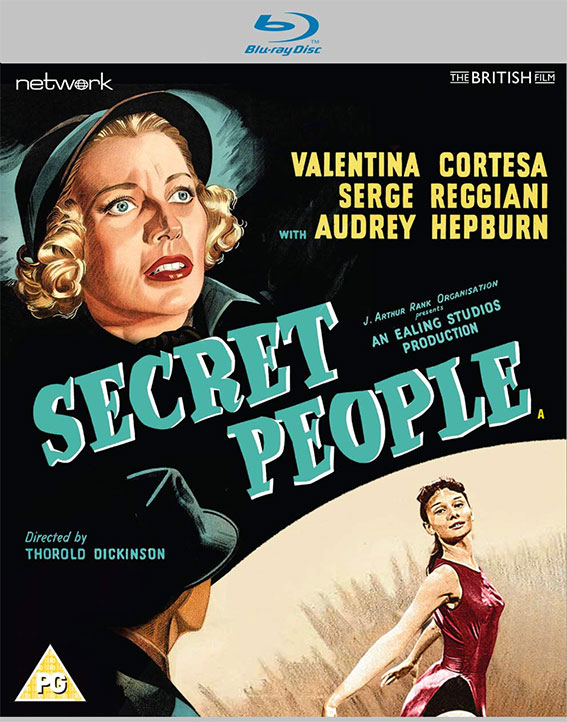 Secret People (1952) | 13 May 2019 | Blu-ray/DVD/VOD
Secret People, from Oscar nominated Bristolian director Thorold Dickinson, is the Ealing Studios crime drama which helped launch Audrey Hepburn's stratospheric rise into Hollywood stardom. Giving Hepburn her first significant role she went directly on to star in William Wyler's Roman Holiday which won her the Best Actress Oscar in 1954.
Relocated due to increasing danger in their southern European homeland, sisters Maria (Valentina Cortesa) and Nora (Hepburn) settle in London – with Maria leaving Louis, the young man she loves, to carry on the fight. In a chance meeting several years later Louis plays on Maria's love for him to involve her in a plot to bomb the man responsible for her father's death – a plot that doesn't go to plan.
Spinning a web of intrigue and deception Secret People stars noted European actors Valentina Cortesa (nominated for Best Supporting Actress in Truffaut's La Nuit Americane, 1973) and Serge Reggiani. Secret People is presented here as a High Definition transfer from the original film elements in its original aspect ratio.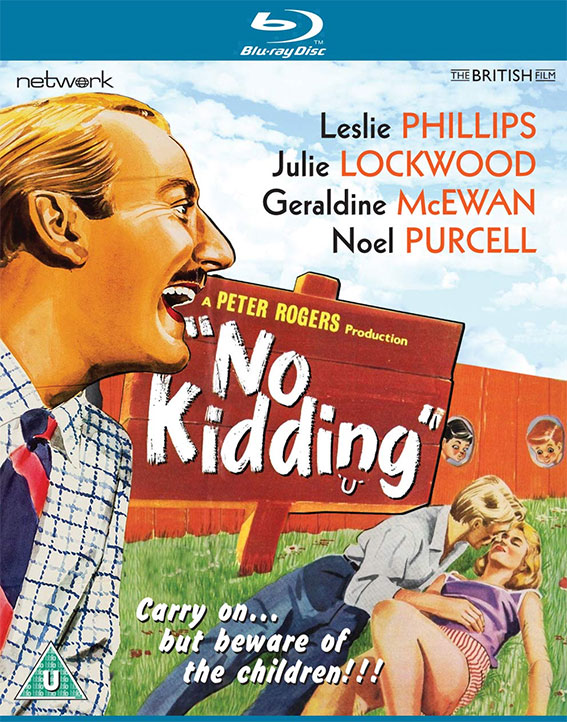 No Kidding (1960) | 20 May 2019 | Blu-ray/DVD/VOD
From prolific Carry On film series director Gerald Thomas and producer Peter Rogers, No Kidding follows the Robinsons when they are bequeathed a rundown country house by a late aunt, they are persuaded to turn it into a holiday home for the children of rich parents. They soon come into conflict with the local alderman - but that aggravation pales into insignificance when the children start to arrive!
Starring Leslie Phillips (Carry On series, Very Important Person) and  Geraldine McEwan (Marple series) alongside a host of British acting talent including Julia Lockwood, Noel Purcell, Joan Hickson, Cyril Raymond, Esma Cannon, Irene Handl and June Jago, No Kidding is a must see for comedy fans.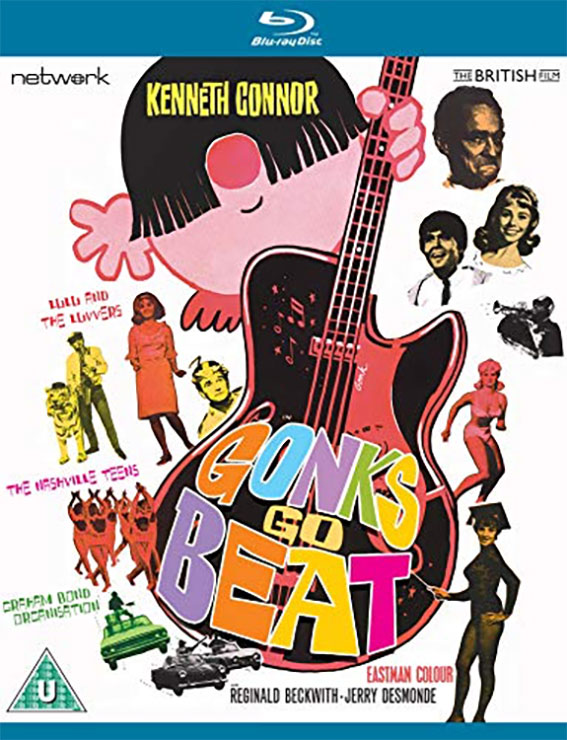 Gonks Go Beat (1965) | 27 May 2019 | Blu-ray/DVD/VOD
Gonks Go Beat is the gloriously psychedelic 60s sci-fi that brought groovy tunes and Shakespeare together in a story loosely based on the bard's Romeo & Juliet – a classic tale of forbidden love and instruments of war!
Starring Carry On's Kenneth Connor, as the hapless Wilco, and Frank Thornton (Are You Being Served) as the neutral but powerful A&R man, Gonks Go Beat features an array of wacky musical performances from the likes of Lulu and the Lovers, The Graham Bond Organisation, The Nashville Teens and Elaine and Derek, now presented here as a High Definition transfer from the original film elements in its theatrical aspect ratio.
In the far future, Earth has split into two musically-opposing factions: Beatland – where all the cool cats live – and Balladisle, where it's customary to sport smart jumpers and trouser creases. Perturbed at this squabbling The Great Galaxian decides to send an ambassador to bring harmony to these unruly Earthlings. Unfortunately, the only one available, Wilco Roger, is a rather unorthodox chap with a disgraceful record of incompetence!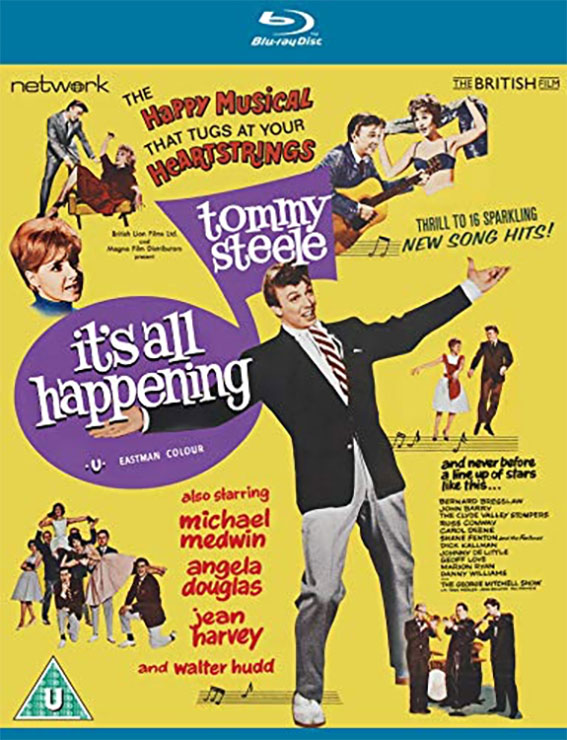 It's All Happening (1963) | 24th June | Blu-ray/DVD/VOD
With Gonks Go Beat comes another 1960s British pop music film, It's All Happening, starring British entertainer and Golden Globe nominee Tommy Steele.
Billy Bowles (Steele) a talent-spotter at a recording company finds himself unlucky in both love and work. When he hears that the orphanage he visits and grew up in is in danger of being closed down it prompts a determination in him to organise a star-studded benefit concert filled to the brim with the most up-to-date singer and bands in order to raise funds – with unforeseen results!
Featuring original music and lyrics from Philip Green and Norman Newell and cameos including composer John Barry, Alvin Stardust, Carol Greene, Dick Kallman, Geoff Love and The Clyde Valley Stompers.
From director Don Sharp who went on to work prolifically with Hammer Films and co-starring Michael Medwin (Scrooge, The Intruder), Angela Douglas (Carry On series) and Bernard Bresslaw (Krull, Carry On series) It's All Happening is presented as a High Definition transfer from the original film elements in its original aspect ratio.
Follow Me (1972) | coming soon | Blu-ray/DVD
The final film from Oscar-winning director Carol Reed (Oliver!), Follow Me stars Mia Farrow (Hannah and Her Sisters) and Topol – fresh from his global success in Fiddler on the Roof – alongside Michael Jayston in Peter Shaffer's (Amadeus, Equus) adaptation of his own highly popular and much-revived theatre play, The Public Eye.
When a jealous businessman suspects that his wife is having an affair he hires an eccentric private detective to investigate. The suspected infidelity, however, is the tip of the iceberg and an elaborate game of cat and mouse ensues…
Featuring a sumptuously haunting score from multiple Oscar winning composer John Barry (Born Free, The Lion in Winter), this much sought-after unreleased film is presented here in High Definition in its original Panavision widescreen aspect ratio. Included in the release is a music only option with John Barry's original score and a limited edition information booklet by Professor Laura Mayne and John Barry expert Geoff Leonard.