Praised by directors, critics and cinephiles alike, master of cinema Max Ophuls' masterpiece La Ronde (1950) is set for a newly restored release in high-definition, as Bluebell Films announces its arrival on Blu-ray and DVD later this month.
Winning the BAFTA Best Film award and earning double Oscar nominations, La Ronde's scene-setting opening has been described as "one of the marvels of cinema" (The Observer) and the film itself has garnered huge acclaim across the globe.
The film is one of the most lauded adaptations of Arthur Schnitzler's (Eyes Wide Shut) renowned play and stars some of France's most respected actors including Anton Walbrook (The Red Shoes, The Life and Death of Colonal Blimp), Simone Signoret (Les Diaboliques, Room at the Top), Serge Reggiani (The Leopard, The Lovers of Verona), Simone Simon (Cat People, La Bête Humane) and Daniel Gélin (The Man Who Knew too Much, Napoleon).
Set in 1900s Vienna, La Ronde presents a captivating series of interconnected romantic entanglements, a merry-go-round of life and love. Anton Walbrook guides us through the chain of amorous encounters as the enigmatic, omnipotent master of ceremonies. One fleeting moment links to the next, partners change and the dance goes on, turning with the elegance of a Viennese waltz, until the story is brought full circle in the final vignette.
With its breathtaking use of long takes and beautiful fluid camera moves Max Ophüls (Letter from an Unknown Woman, Lola Montes, The Reckless Moment) directs with stunning style and élan to create an astounding cinematic masterwork.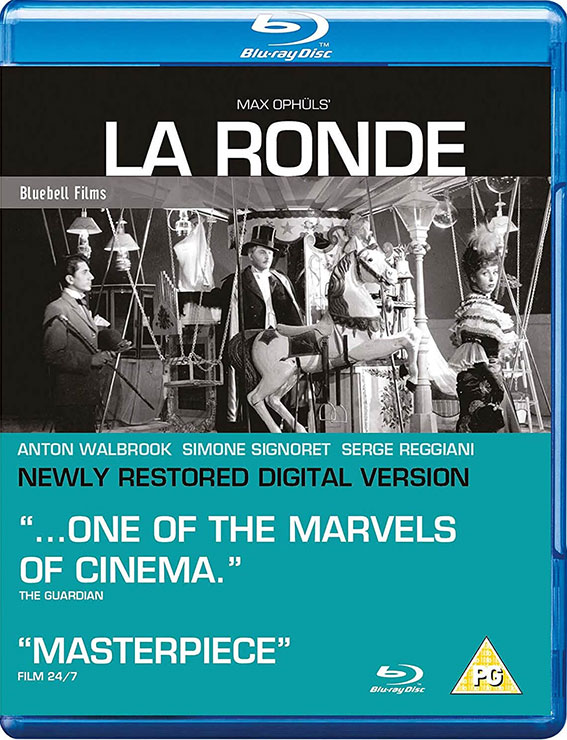 Remastered from the original negative, La Ronde will be released on Blu-ray and DVD by Bluebell Films on 27 May 2019 at the RRP of £17.99 for the Blu-ray and £14.99 for the DVD.
The only special feature listed is a stills gallery, although newly translated subtitles have also been confirmed.