On 19 August, Indicator will release a six-disc limited edition Blu-ray box set dedicated to the unique collaborative relationship between one of cinema's greatest visual stylists and one of Hollywood's most iconic stars – Marlene Dietrich & Josef von Sternberg at Paramount, 1930-1935.
This deluxe collection showcases the six remarkable and influential American features that these two émigré artists made for Paramount during the first years of the talking picture. Released on Blu-ray for the very first time in the UK, the six films are: the sensuous Morocco (1930), Dietrich's triumphant US debut, co-starring the great Gary Cooper; the subversive espionage thriller Dishonored (1931); the delirious Shanghai Express (1932); the extraordinary Blonde Venus (1932), co-starring Cary Grant; historical epic The Scarlett Empress (1934), in which Dietrich gives one of her greatest performances as Russia's Catherine the Great, and; the deviant The Devil is a Woman (1935).
Also available on 19 August will be Indicator's delayed release of the Michael Palin comedy The Missionary. Originally announced for publication in June, we have had to push the release date back due to the unprecedented amount of restoration work required. This long-overdue Blu-ray world premiere will not only look the best it ever has but will also present the film in its original widescreen aspect ratio for the very first time. We're delighted to have had the opportunity to work so closely with cinematographer Peter Hannan and director Richard Loncraine on reviving this comedy classic from HandMade Films. 
Mastered from the finest available materials, both of these collectable limited editions contain an extensive selection of new and archival extra features and English subtitles for the deaf and hard-of-hearing. Marlene Dietrich & Josef von Sternberg at Paramount, 1930-1935 is published in a numbered rigid-board slipcase with a perfect-bound 120-page book, while The Missionary is published in a full-height Scanavo case with a limited edition exclusive 40-page booklet.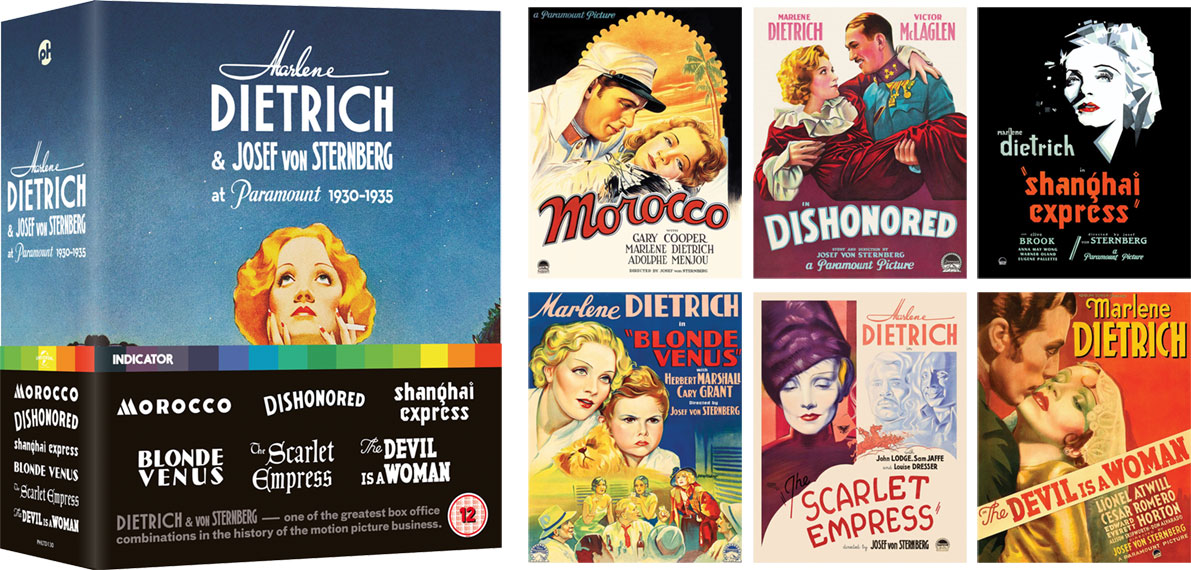 Marlene Dietrich & Josef von Sternberg at Paramount, 1930-1935
The collaboration between filmmaker Josef von Sternberg and actress Marlene Dietrich is one of the most enduring in all Hollywood cinema. Tasked by Paramount bosses to find 'the next big thing', director von Sternberg lighted upon German silent star Dietrich and brought her to Hollywood. Successfully transitioning from the silent to the sound era, together they crafted a series of remarkable features that expressed a previously hitherto unbridled ecstasy in the process of filmmaking itself. Marked by striking cinematography, beautiful design and elaborate camerawork these vibrantly sensuous films redefined cinema of the time, while Dietrich's sexually ambiguous on-screen personas caused a sensation and turned her from actor to superstar and icon. Lavish, lascivious and wildly eccentric, the films Josef von Sternberg and Marlene Dietrich made for Paramount Pictures in the 1930s provide a unique testimony to Hollywood's Golden Age.
The six films that von Sternberg made with Dietrich in Hollywood are presented here in new restorations on Blu-ray for the very first time in the UK. Containing a wealth of new and archival extras – including new appreciations, interviews, audio commentaries, rare films, outtakes and deleted audio, documentaries… and more! This stunning box set is strictly limited to 6,000 units.
Indicator Limited Edition Blu-ray Box Set contents:
4K restorations of Dishonored, Shanghai Express, Blonde Venus, The Scarlet Empress, and The Devil Is a Woman
2K restoration of Morocco
Original mono audio
Morocco audio commentary with Daughters of Darkness' Samm Deighan and Kat Ellinger
Shanghai Express audio commentary with critic and film historian David Thompson
Blonde Venus audio commentary with film and arts critic Adrian Martin
The Scarlet Empress audio commentary with writer and film programmer Tony Rayns
Introductions on all six films by Nicholas von Sternberg, son of Josef von Sternberg
Josef von Sternberg, a Retrospective (1969): feature-length television documentary by the acclaimed Belgian director Harry Kümel
Marlene Dietrich: The Twilight of an Angel (2012): Dominique Leeb's acclaimed French television documentary on Dietrich's final years
The Fashion Side of Hollywood (1935): a short compilation film of lighting and costume tests from Paramount productions, including The Devil Is a Woman, and featuring costume designer Travis Banton
Lux Radio Theatre: 'The Legionnaire and the Lady' (1936): a radio play adaptation of Morocco, featuring Dietrich and actor Clark Gable
If It Isn't a Pain (1935, 3 mins): excised audio of the deleted musical number from The Devil Is a Woman
Von Sternberg at the BFI (2009): an audio recording of the 2009 symposium on von Sternberg held at London's BFI Southbank
The Art of Josef von Sternberg (2019): Nicholas von Sternberg discusses his father's works in painting and sculpture
New video essay by film historian Tag Gallagher on the Hollywood collaborations of Dietrich and von Sternberg
New interview with Erica Carter, author of Dietrich's Ghosts, on the Dietrich's career before von Sternberg
New interview with So Mayer, author of Political Animals: The New Feminist Cinema, on the queer iconography and legacy of Dietrich and von Sternberg's films
New interview with Nathalie Morris, film historian and senior curator of the BFI National Archive's Special Collections, on the costume designs of Travis Banton
New interview with Jasper Sharp, writer and filmmaker, on the life and career of Shanghai Express co-star Anna May Wong
Image galleries: on-set and promotional photography, including rare materials
New English subtitles for the deaf and hard-of-hearing
Limited edition exclusive 120-page book with a new essay by Pamela Hutchinson, archival interviews and articles, an overview of contemporary critical responses, film credits and more
UK premieres on Blu-ray
Limited Edition of 6,000 copies
All extras subject to change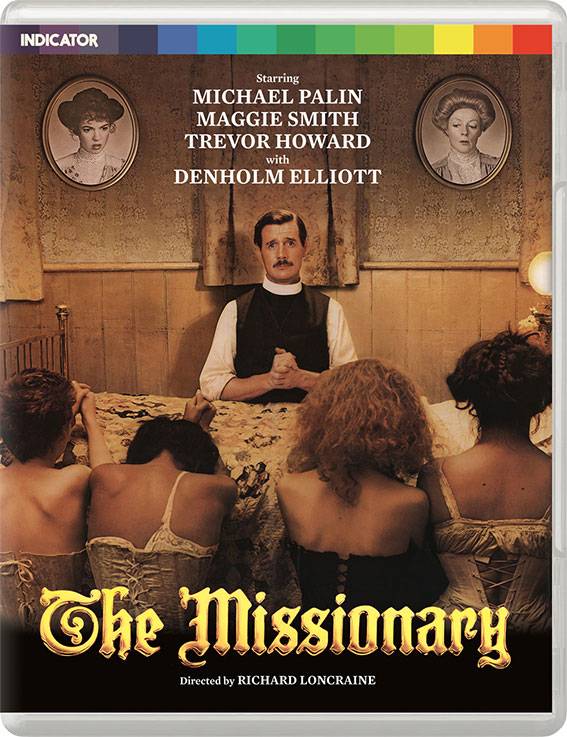 The Missionary
Monty Python alumnus Michael Palin writes and stars in this ribald comedy of sex and sensibility. Timid Reverend Charles Fortescue returns to London in 1906 after ten years of service in Africa to start a mission to save the fallen women of Soho. But his dedication to tending to the needs of those in his care soon meets with the disapproval of the church and his patron.
Directed by Richard Loncraine (Richard III, Bellman & True), The Missionary is a charming and beautifully detailed comedy which boasts a superb supporting cast that includes Maggie Smith, Trevor Howard, Denholm Elliott, Michael Hordern, Graham Crowden and Neil Innes.
This world Blu-ray premiere edition boasts a stunning new 2K restoration from the original negatives, supervised and approved by cinematographer Peter Hannan and director Richard Loncraine, finally enabling the film to be seen in its original 2.35:1 theatrical aspect ratio for the first time ever on any home video format.
Indicator Limited Edition Blu-ray contents:
New 2K restoration by Powerhouse Films from the original negative, supervised and approved by cinematographer Peter Hannan and director Richard Loncraine
Original stereo audio
Audio commentary with director Richard Loncraine (2019)
Making the Missionary (2019): featuring new and exclusive interviews with stars Michael Palin and Maggie Smith
Interview with Shuna Harwood (2019): new interview with the costume designer
Interview with Mike Moran (2019): the film's composer discusses his collaborations with HandMade Films
Interview with Ken Lintott (2019): new interview with the make-up artist
Interview with Tony Jackson (2019): new interview with the sound recordist
Rob Deering on 'The Missionary' (2019): an appreciation by the comedian, musician and writer
Theatrical trailer
Image gallery: on-set and promotional photography
New and improved English subtitles for the deaf and hard-of-hearing
Limited edition exclusive booklet with a new essay by John Oliver, extracts from Michael Palin's diaries on the film's location shooting, archival interviews with Palin, an overview of contemporary critical responses, archival articles, and film credits
First ever home video presentation in the film's original 2.35:1 theatrical aspect ratio
World premiere on Blu-ray
Limited Edition of 5,000 copies
All extras subject to change