Second Sight Films has officially announced the July Limited Edition Blu-ray releases of two seminal horrors from Amicus – The House That Dripped Blood and Asylum.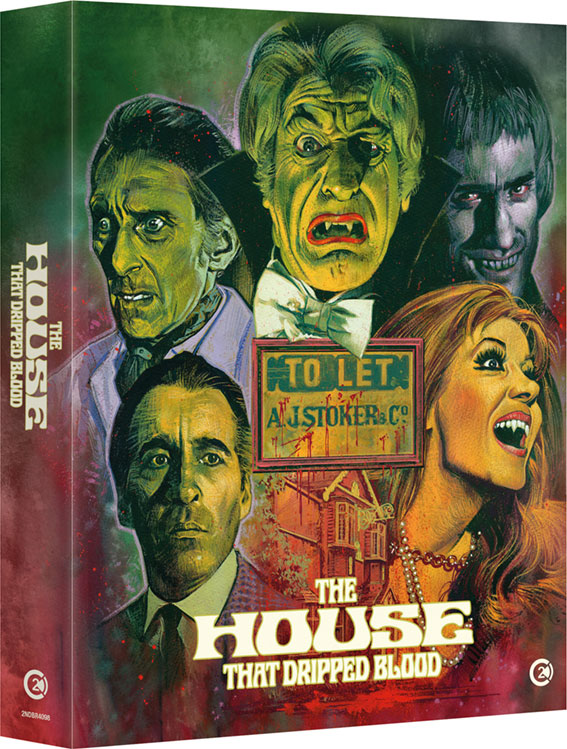 The House That Dripped Blood (1971) | Blu-ray Limited Edition | 29 July 2019 | £29.99
Seminal Amicus horror The House that Dripped Blood, the directorial feature debut of Peter Duffell and written by renowned screenwriter Robert Bloch (Psycho), is set for a Second Sight Limited Edition Blu-ray releases this Summer.
Scotland Yard's Inspector Holloway (John Bennett – Watership Down, The Fifth Element) investigates a mysterious mansion with a ghoulish history and a chilling fate for its occupants in these four tales of terror…
Method for Murder stars Denholm Elliott (Indiana Jones, A Room with a View) as a hack horror writer haunted by visions of the murderous, psychopathic central character of his latest novel.
Peter Cushing (Dracula, Star Wars) and Joss Ackland (The Hunt for Red October, Lethal Weapon 2) feature in Waxworks as a pair of friends fixated with a macabre museum that appears to contain a model of a woman they both knew.
Horror icon Christopher Lee (The Wicker Man, Lord of the Rings) appears as a severe widower who appears to mistreat his young daughter in Sweets to the Sweet. But when a well-meaning teacher intervenes, will she realise her mistake in time?
Jon Pertwee (Doctor Who, Carry on Cleo) plays a temperamental horror film actor in The Cloak. When he buys a cloak for his vampire costume from a mysterious local vendor, his co-star (Ingrid Pitt – The Vampire Lovers, Countess Dracula) soon notices its strange powers.
Special features:
Audio commentary with director Peter Duffell and author Jonathan Rigby
Audio commentary with film historian and author Troy Howarth
Interview with second assistant director Mike Higgins
A Rated Horror Film – vintage featurette featuring interviews with director Peter Duffell and
actors Geoffrey Bayldon, IngridPitt and Chloe Franks
Theatrical trailers
Amicus radio spots
Stills gallery
Reversible sleeve featuring new artwork by Graham Humphreys and original artwork
Limited Edition contents:
Rigid Slipcase featuring new artwork by Graham Humphreys
40 page booklet with new essays by Allan Bryce, Jon Towlson and Kat Ellinger
Reversible poster featuring new and original artwork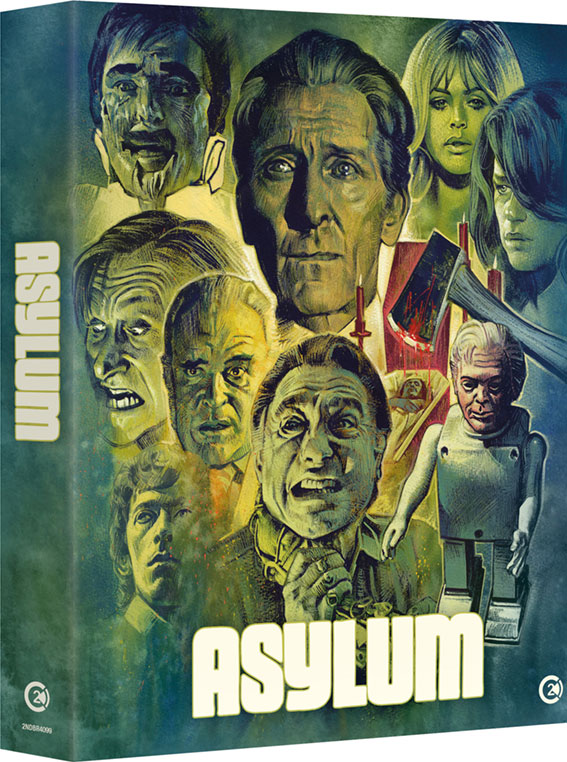 Asylum (1972) | Blu-ray Limited Edition | 29 July 2019 | £29.99
From Psycho writer Robert Bloch and directed by Roy Ward Baker (A Night to Remember), iconic 1972 Amicus horror anthology Asylum is set for the Limited Edition Blu-ray treatment from Second Sight.
When Doctor Martin (Robert Powell – The Italian Job, The Thirty Nine Steps) arrives for a job interview at a secluded asylum for the incurably insane, he must prove himself by listening to the macabre tales of four inmates to determine which is the former head of the asylum who experienced a breakdown. We join him on the investigation with these hair-raising horrors…
Frozen Fear stars Barbara Parkins (Valley of the Dolls, Peyton Place) as Bonnie, who recounts her plot to murder her lover's wife, whose talent for voodoo results in horrific repercussions after her dead body is dismembered.
Horror legend Peter Cushing features as a client of The Weird Tailor, who requests a suit to be made of a mysterious scintillating fabric in order to reanimate his dead son.
Charlotte Rampling (Never Let Me Go, Broadchurch) and Britt Ekland (The Man with the Golden Gun, The Wicker Man) star in Lucy Comes to Stay as the ebullient Barbara, a frequent Asylum patient, and her mischievous friend Lucy whose visit upsets the fragile equilibrium in her mind.
It all comes to a head in Mannikins of Horror as Dr Byron (Herbert Lom – The Phantom of the Opera, The Ladykillers) transfers his soul into an automaton and is determined to kill Dr Rutherford (Patrick Magee – A Clockwork Orange)… but who is really in danger?
Special features:
Audio commentary with director Roy Ward Baker and camera operator Neil Binney
Two's a Company: 1972 On-set BBC report featuring interviews with Producer Milton Subotsky, director Roy Ward Baker, actors Charlotte Rampling, James Villiers, Megs Jenkins, art director Tony Curtis and production manager Teresa Bolland
Screenwriter David J. Schow on writer Robert Bloch
Fiona Subotsky remembers Milton Subotsky
Inside The Fear Factory featurette with directors Roy Ward Baker, Freddie Francis and producer Max J. Rosenberg
Theatrical trailer
Reversible sleeve featuring new artwork by Graham Humphreys and original artwork
Limited Edition contents:
Rigid Slipcase featuring new artwork by Graham Humphreys
40 page booklet with new essays by Allan Bryce, Jon Towlson and Kat Ellinger
Reversible poster featuring new and original artwork