One of the most important films in all of Australian cinema, and perhaps the key critical work of that country's internationally acclaimed film movement of the 1970s, The Chant of Jimmie Blacksmith is nothing short of a masterpiece a bracing and emotionally wrenching study of the effects of institutionalised racism and colonialism on a land's indigenous peoples, and an unflinching look at the repercussions of violence for both aggressors and victims.
Based on the early 20th-century exploits of Jimmy Governor, The Chant of Jimmie Blacksmith follows its title character, a half-Aboriginal, half-white young man attempting to make his way as a farmhand, but facing only prejudice and deception from society. When the parentage of his child is called into question and he is further robbed by his white employers, Jimmie's barely suppressed rage explodes, triggering a wave of violence that would shock a nation. 

Directed by Fred Schepisi (Roxanne) from a Booker-nominated novel by Thomas Keneally (Schindler s Arc the book on which the film Schindler s List was based), The Chant of Jimmie Blacksmith stands alongside The Harder They Come and Sweet Sweetback's Baadassss Song as one of the most powerful 1970s cinema explorations of rebellion and uprising, and the costs that are paid on both sides. Called "the one great Australian film that I have seen" by Pauline Kael, The Chant of Jimmie Blacksmith is a powerful experience.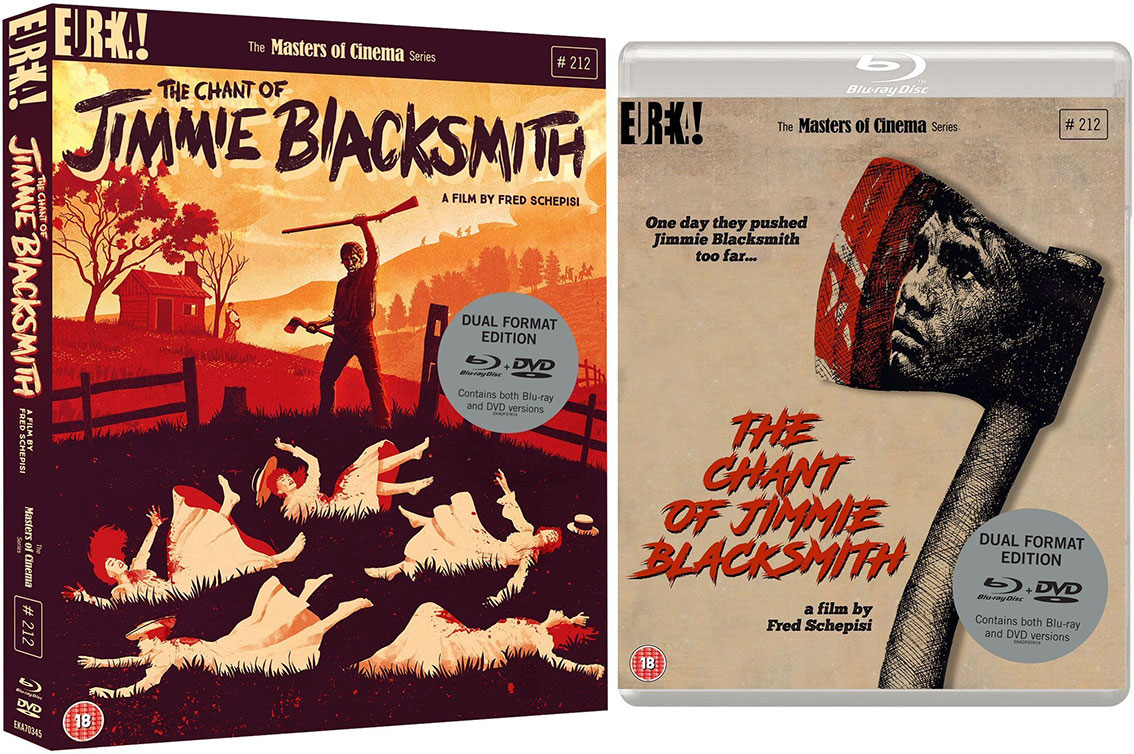 The Chant of Jimmie Blacksmith will be released as a dual format edition (Blu-ray and DVD) on 19 August 2019 by Eureka Entertainment as part of the Masters of Cinema series at an as-yet unconfirmed RRP.
Dual Format contents:
Limited Edition O-Card (First 2000 copies only) – featuring newly commissioned artwork by Nathanael Marsh
The Chant of Jimmie Blacksmith Australian Version [122 mins] presented in 1080p on Blu-ray (with a progressive encode on the DVD), from a restoration completed by Umbrella Entertainment
The Chant of Jimmie Blacksmith International Version [117 mins] from a brand new restoration completed in 2019 from the original film elements (Blu-ray only) 
Uncompressed monaural soundtrack (on Blu-ray) 
Optional English subtitles for the deaf and hard-of-hearing
Brand new and exclusive audio commentary by film critic and writer Alexandra Heller-Nicholas (Australian Version) 
Audio commentary by director Fred Schepisi (Australian version) 
Interview with Fred Schepisi [39 mins] 
Celluloid Gypsies: Making The Chant of Jimmie Blacksmith [36 mins] 
A conversation with director Fred Schepisi and cinematographer Ian Baker [64 mins] 
The Chant of Tom Lewis interview with Tom E. Lewis [26 mins] 
Q&A session with Fred Schepisi and Geoffrey Rush, from the 2008 Melbourne International Film Festival [34 mins] 
Making us Blacksmiths Documentary on the casting of Aboriginal lead actors Tom E. Lewis and Freddy Reynolds
Stills Gallery
Theatrical Trailer
Reversible sleeve
PLUS: A collector s booklet featuring a new essay by Travis Crawford; a reprint of Pauline Kael s original review of the film; and rare archival imagery