Hilariously dark hitman movie with a heart, In Bruges, is set to arrive in the UK in a Limited-Edition Blu-ray release, complete with brand new special features courtesy of Second Sight in August.
From award-winning director Martin McDonagh (Three Bill Boards Outside Ebbing Missouri), the film was originally released in 2008 and has gone on to earn cult status. It sees Brendan Gleeson (Cold Mountain) and Colin Farrell (The Lobster) in career defining, critically acclaimed performances, as a pair of hired heavies sent to lie low in the Belgian city after a botched hit, with the Daily Express saying 'Gleeson is a delight and Farrell gives his best performance'.
Ralph Fiennes (The Grand Budapest Hotel) stars as their boss and the line-up also features Elizabeth Berrington (Good Omens), Clémence Poésy (The Tunnel) and Eric Godon (The Missing).
Following a job that's gone very badly wrong, two hitmen Ray (Farrell) and Ken (Gleeson) are sent to Bruges by their boss Harry (Fiennes) and told to hide out and await instructions. Ken falls in love with the cobbled streets and canals of the picturesque city but for Ray it's torturous boredom and he spends his time upsetting everyone he encounters from locals and tourists. When the call finally comes from Harry it may not be the ticket out they were hoping for.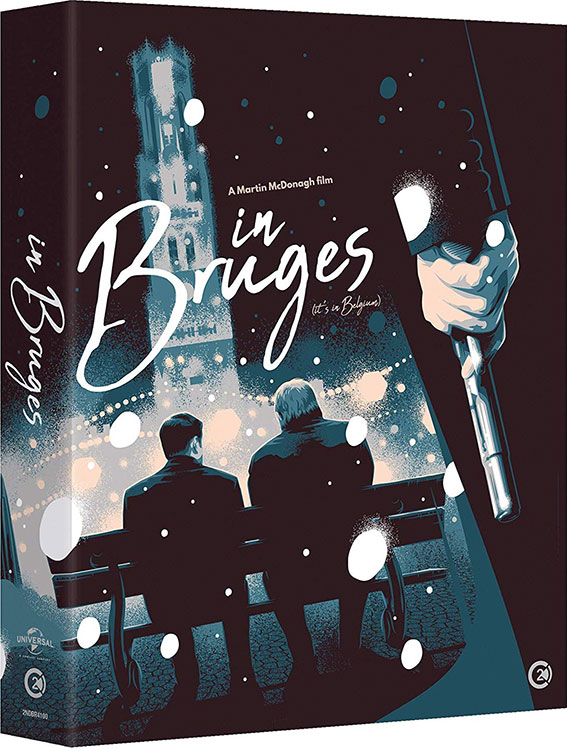 With new artwork by Thomas Walker, who also designed the exclusive cover for the Faber and Faber screenplay included with the release, In Bruges will be released in the UK as a Limited Edition Blu-ray on 12 August 2019 by Second Sight at the yet-to-be-confirmed RRP.
Special features:
Six Shooter – Martin McDonagh's Oscar Winning Short Film in HD
Shoot First, Sightsee Later – a new interview with director of photography Eigil Bryld
Finding the Rhythm – a new interview with editor Jon Gregory
Finding Bruges – a new interview with production designer Michael Carlin
The Alcove Guy – a new interview with actor Eric Godon
When in Bruges – interviews with cast and crew and on-set footage
Stange Bruges – interviews with cast and crew and on-set footage
Deleted scenes
Boat Trip Around Bruges
Gag reel
Limited Edition contents:
Rigid slipcase featuring new artwork by Thomas Walker
Faber and Faber screenplay with exclusive cover artwork by Thomas Walker
50 page soft cover book with new writing by Ian Christie, Dr Eamonn Jordan (author of Leenane to LA: The Theatre and Cinema of Martin McDonagh) and Bomb Magazine archive From interview with Martin McDonagh