Described as by LA Times as a "Finnish version of This Is Spinal Tap and RogerEbert.com as "a cult hit waiting in the wings," Heavy Trip arrives on UK digital platforms on 5 August 2019, following appearances at Belfast Film Festival, Dead By Dawn and a headline showing at this year's Download Festival.
Sparky Pictures brings the noise as they present Finnish metal band Impaled Rektum, who are about to get their big break in this hilarious comedy.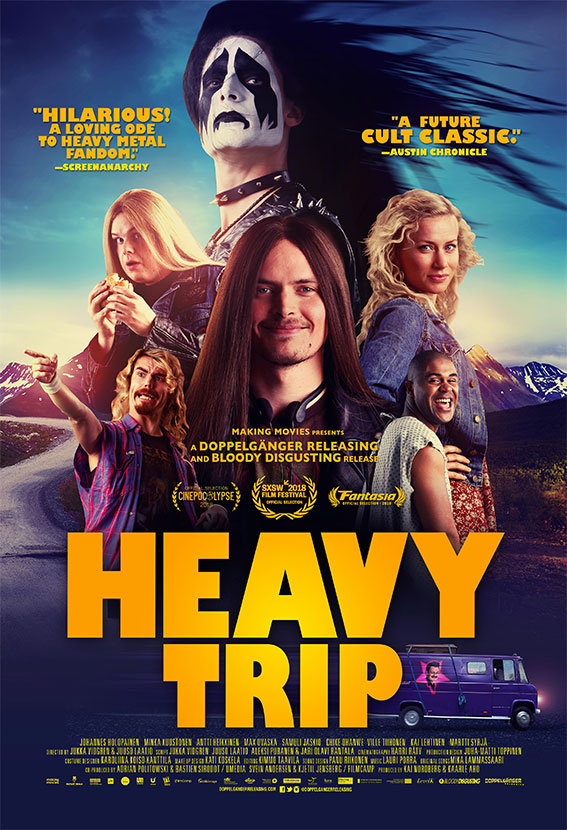 Life isn't great for Turo (Johannes Holopainen – All the Sins). He's stuck in his hometown, a small village in Finland where not much happens. The only thing that makes him happy is being the lead singer of amateur metal band Impaled Rektum. He and his bandmates are not what you'd call successful… it's been 12 years of practicing in their parents' basement and they've never played a single gig. But is their luck about to change? An encounter with a festival promoter could be their ticket out and they decide they're going to play at Northern Damnation – the biggest metal festival in Norway – come hell or high water.
So begins a torturous and uproarious road trip journey which sees them stealing a van, a drummer and even a corpse. With the Finnish police and Norwegian army on their tail, will they fulfil their quest to hit to the big time? With its spot-on gags and a metal soundtrack to die for, get ready to rock with Heavy Trip.
In what may perhaps be a sign of things to come, there will be no UK DVD or Blu-ray release for the film, only a digital release. Frankly, we think that's a damned shame, as a few special features looking behind the making of what looks like a fun film would have been welcome.
Oh, and here's the trailer: