Network Distributing has announced that two rarely seen films from visionary British filmmakers their long overdue first home-entertainment releases in the shape of Michael Powell and Emeric Pressburger's Oh... Rosalinda! and Carol Reed's Follow Me, both of which will be released on 12 August 2019.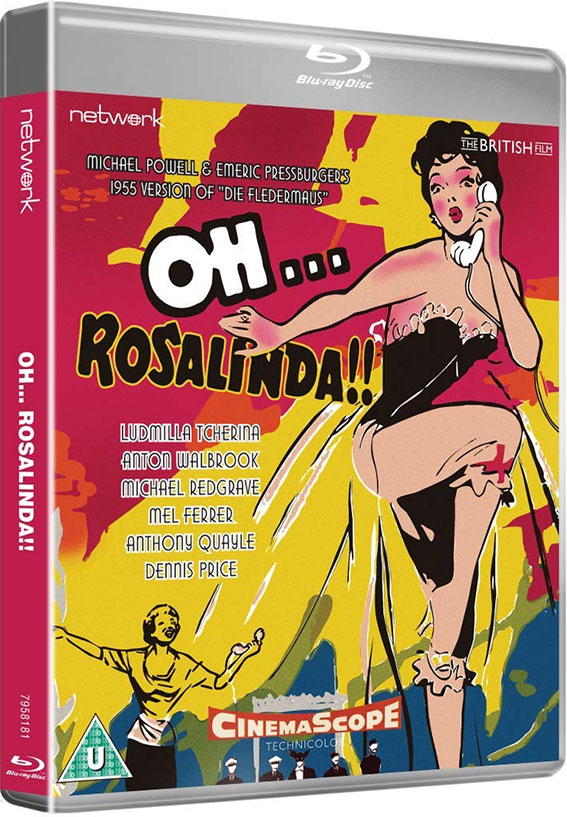 Oh… Rosalinda! (1955) | Blu-ray, DVD and Amazon Video | £17.99 (Blu-ray) / £12.99 (DVD)
Visionary British filmmakers Michael Powell and Emeric Pressburger revisited the world of music and ballet once more with the spectacular Oh… Rosalinda! - the comedy adaptation of Johan Strauss's operetta Die Fledermaus, updated to post-war Vienna. A scintillating, light-hearted musical, it features memorable performances from a stellar cast including Michael Redgrave, Mel Ferrer, Anthony Quayle, Anton Walbrook and prima ballerina Ludmilla Tcherina as the titular Rosalinda!
Vienna, 1955 – a city under occupation by the four Allied powers. Through the chaos Dr Falke moves gracefully – an elegant man-about-town and friend to the highest echelons of power. He is decidedly less graceful, however, when he is deposited by a friend in the lap of a giant Soviet statue, rather the worse for drink and dressed as a giant bat. Falke swears revenge...
Previously unreleased on home-video, Oh… Rosalinda! has been roundly ignored making this 'lost' film's debut on blu-ray, DVD and Amazon Video a cause for a Champagne celebration and an opportunity for this unabashedly eccentric film to be reappraised and rediscovered. It is presented here as a brand-new High Definition transfer from the original film elements in its original CinemaScope aspect ratio.
Special features:
Theatrical trailer
Image gallery
PDF material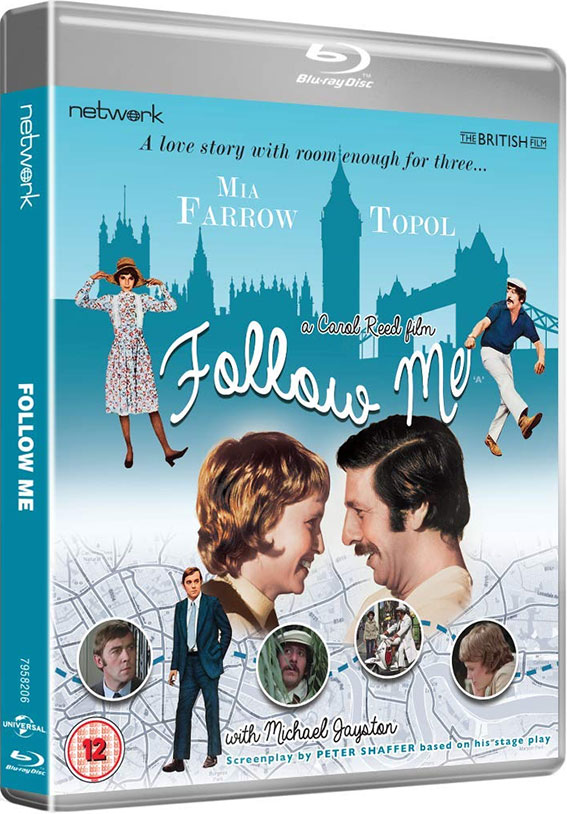 Follow Me (1972) | Blu-ray & DVD | £17.99 (Blu-ray) / £12.99 (DVD)
The final film from Oscar-winning director Carol Reed (The Third Man, Oliver!), Follow Me stars Golden Globe winner Mia Farrow (Rosemary's Baby, Hannah and Her Sisters) and Oscar nominated Topol – fresh from his global success in Fiddler on the Roof – alongside Michael Jayston in Peter Shaffer's (Amadeus, Equus) adaptation of his own highly popular and much-revived theatre play, The Public Eye.
When a jealous businessman suspects that his wife is having an affair, he hires an eccentric private detective to investigate. The suspected infidelity, however, is the tip of the iceberg and an elaborate game of cat and mouse ensues…
Featuring a sumptuously haunting score from multiple Oscar winning composer John Barry (Born Free, The Lion in Winter), this much sought-after film, previously unreleased on Blu-ray and DVD, is presented here in High Definition in its original Panavision widescreen aspect ratio. Included in the release, is a music only option with John Barry's original score and a limited edition information booklet by Professor Laura Mayne and John Barry expert Geoff Leonard.
Oh Rosalinda! and Follow Me are released as part of The British Film collection which already boasts Powell & Pressburger's Black Narcissus, Michael Redgrave starring features The Importance of Being Earnest, The Lady Vanishes and Law and Disorder, John Barry scored highlights The Ipcress File, The Legend of the Lone Ranger, The Tamarind Seed and Raise the Titanic!.
To see a list of upcoming titles and those already available please visit www.thebritishfilm.co.uk