As some of you may know, Arrow ran into a few contractual issues for some extras on their upcoming Blu-ray release of Park Chan-wook's masterpiece Oldboy. Sadly, they weren't able to work this out and these extras will thus not be included on their releases. However, in order to create the best version of Oldboy, Arrow managed to licence the other two films in Park's celebrated Vengeance Trilogy – Lady Vengeance and Sympathy for Mr. Vengeance – which will both be included on the Limited 4-disc release!
These changes have also unfortunately impacted the release date, which will now be 23 September 2019. Arrow have stated that they really appreciate our patience whilst they ironed this situation out and really hope that you'll be pleased with the additions to the releases and enjoy the new restoration. Speaking personally, the addition of these two films to the set has us buzzing with excitement.
Often cited as one of the best films of the 2000s and possibly the definitive example of extreme Asian cinema, Oldboy is a brutal modern classic of the revenge genre. Directed with immense flair by Park Chan-wook (The Handmaiden), Oldboy blazed a trail at the 2004 Cannes Film Festival where it was lauded by the President of the Jury, director Quentin Tarantino. The film went on to become an international smash hit, blowing audiences minds with its concoction of filmmaking virtuosity, ingenious plotting, violence and pathos.
Now, this masterpiece has been restored in 4K and is presented here in a four-disc set with Sympathy for Mr. Vengeance and Lady Vengeance and a massive array of extras, including the feature-length documentary Old Days.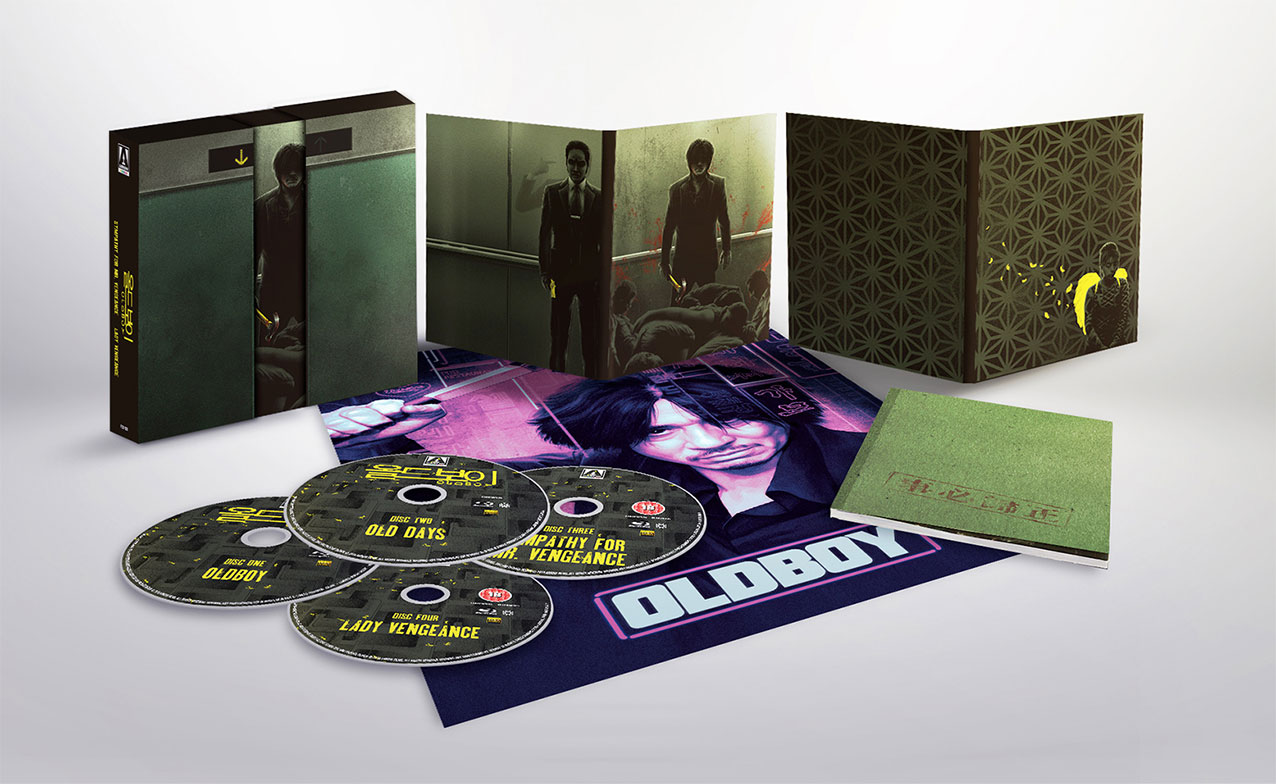 Oldboy will now be released on 4K Digital Download on 26 August 2019, DVD, Blu-ray and Limited Edition 4-disc Blu-day set on 23 September 2019.
Oldboy 4-disc Limited Edition contents:
Four-disc edition featuring Oldboy, Sympathy for Mr. Vengeance, Lady Vengeance and the feature-length documentary Old Days
Limited edition packaging featuring newly commissioned artwork by Matt Ryan Tobin
Limited edition 100-page hardbound book featuring new writing by Simon Abrams, Kat Ellinger, and archival articles
Double-sided fold-out poster
Disc 1: Oldboy
Brand new 4K restoration from the original camera negative supervised by director Park Chan-wook
High Definition Blu-ray (1080p) presentation
Original 5.1 DTS-HD Master Audio and 2.0 stereo
Original Korean and English soundtracks
Music and effects track
Newly translated, optional English subtitles for the deaf and hard of hearing for the English soundtrack
Newly translated English subtitles for the Korean soundtrack
Audio commentary with director Park Chan-wook
Audio commentary with Park Chan-wook and cinematographer Jung Jung-hoon
Audio commentary with Park Chan-wook, and actors Choi Min-sik, Yu Ji-tae, Kang Hye-jung
New audio commentary with critic Jasper Sharp and writer Simon Ward
Out of the Past, new video appreciation by Asian film expert Tony Rayns
Deleted scenes with optional director commentary
Behind the scenes featurettes
Extensive cast and crew interviews
"Bring My Love" music video by Starsailor, using clips of the film
Trailers and teasers
Image gallery

Disc 2: Old Days
Old Days: An Oldboy Story (110 mins), acclaimed feature-length 2016 documentary about Park Chan-wook's masterpiece
Autobiography of Oldboy, a three-and-a-half-hour video diary of the making of Oldboy
Disc 3: Sympathy for Mr. Vengeance
High Definition Blu-ray (1080p) presentation
Original 5.1 DTS-HD Master Audio and 2.0 stereo
Newly translated English subtitles
Audio commentary by director Park Chan-wook and filmmaker Ryoo Seung-wan
Screaming for Vengeance, Kim Newman on the Vengeance Trilogy and the tradition of revenge films
Extensive archival making-of featurettes, behind the scenes featurettes and cast and crew interviews
Trailers
Image gallery
Disc 4: Lady Vengeance
High Definition Blu-ray (1080p) presentation of two versions of the film, the original theatrical version and the fade to black and white version
Original 5.1 DTS-HD Master Audio and 2.0 stereo
Newly translated English subtitles
Audio commentary by director Park Chan-wook, director of photography Jung Jung-hoon and art director Joh Hwa-seong
Audio commentary by director Park Chan-wook and actress Lee Yeong-ae
Audio commentary by academic Richard Peña
Extensive archival making-of featurettes, behind the scenes featurettes, cast and crew interviews and deleted scenes
Trailers
Image gallery

Oldboy 2-disc Limited Edition contents:
Two-disc edition featuring a new restoration of Oldboy, and Old Days the acclaimed making-of documentary
Reversible sleeve featuring newly commissioned artwork by Justin Erickson
Fully Illustrated booklet featuring new writing by Simon Abrams and archival articles
Disc 1: Oldboy
Brand new 4K restoration from the original camera negative supervised by director Park Chan-wook
High Definition Blu-ray (1080p) presentation
Original 5.1 DTS-HD Master Audio and 2.0 stereo
Original Korean and English soundtracks
Music and effects track
Newly translated, optional English subtitles for the deaf and hard of hearing for the English soundtrack
Newly translated English subtitles for the Korean soundtrack
Audio commentary with director Park Chan-wook
Audio commentary with Park Chan-wook and cinematographer Jung Jung-hoon
Audio commentary with Park Chan-wook, and actors Choi Min-sik, Yu Ji-tae, Kang Hye-jung
New audio commentary with critic Jasper Sharp and writer Simon Ward
Out of the Past, new video appreciation by Asian film expert Tony Rayns
Deleted scenes with optional director commentary
Behind the scenes featurettes
Extensive cast and crew interviews
"Bring My Love" music video by Starsailor, using clips of the film
Trailers and teasers
Image gallery
Disc 2: Old Days
Old Days: An Oldboy Story (110 mins), acclaimed feature-length 2016 documentary about Park Chan-wook's masterpiece
Autobiography of Oldboy, a three-and-a-half-hour video diary of the making of Oldboy

Oldboy DVD contents:
Brand new restoration from the original camera negative supervised by director Park Chan-wook
Standard Definition presentation
Original 5.1 surround sound and 2.0 stereo
Original Korean and English soundtracks
Newly translated, optional English subtitles for the deaf and hard of hearing for the English soundtrack
Newly translated English subtitles for the Korean soundtrack
Audio commentary with director Park Chan-wook
Audio commentary with Park Chan-wook and cinematographer Jung Jung-hoon
Audio commentary with Park Chan-wook, and actors Choi Min-sik, Yu Ji-tae, Kang Hye-jung
New audio commentary with critic Jasper Sharp and writer Simon Ward
Out of the Past, new video appreciation by Asian film expert Tony Rayns
Behind the scenes featurettes
Extensive cast and crew interviews
Trailers

Reversible sleeve featuring original and newly commissioned artwork by Justin Erickson