Eureka Entertainment has announced its November Blu-ray and DVD releases, consisting of three feature classics and two volumes of a fondly remembered TV series: Paul Wegener & Carl Boese's classic silent horror, Der Golem; Sergio Leone's final westernstarring Rod Steiger & James Coburn, A Fistful of Dynamite; John Huston's thrilling romantic adventure starring Humphrey Bogart & Katharine Hepburn, The African Queen; and Series 7 & 8 of Children's TV favourite, Grange Hill.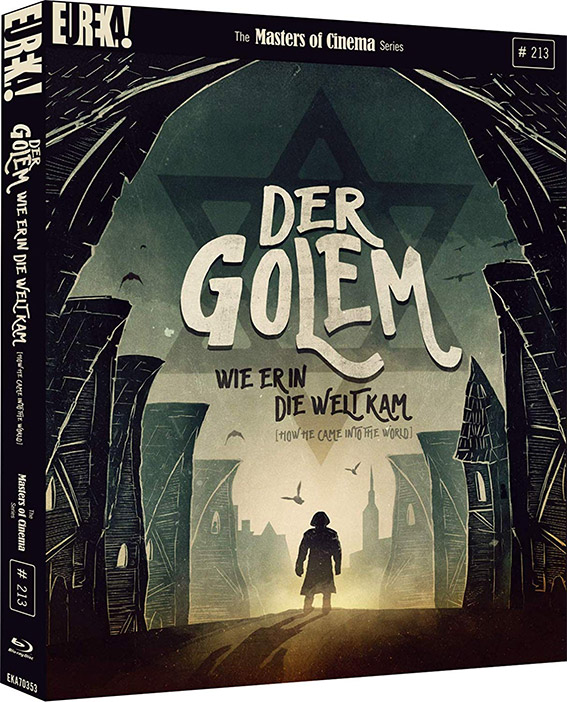 Der Golem (1920) | 18 November 2019 | Blu-ray
An iconic early horror masterpiece, Der Golem was Paul Wegener's third attempt at adapting the Golem character for the big screen. Starring and co-directing with Carl Boese, Wegener crafted one of silent cinema's most enduring masterpieces. 
In the Jewish ghetto in 16th century Prague, Rabbi Low (Albert Streinruck, Asphalt) creates a forbidding clay Golem (played by director Paul Wegener) to protect his people from the tyrannical Emperor Luhois (Otto Gebuhr). Brought to life with a demon spirit and an amulet placed in the centre of the creature s chest, the Golem is a seemingly indestructible juggernaut, performing acts of great heroism. But when the Rabbi s assistant attempts to control the Golem for selfish gain, it becomes a terrifying force of destruction, rampaging through the ghetto leaving fire and death in its wake. 
A landmark film in the horror canon, influencing most notably James Whale s 1931 adaptation of Frankenstein, Der Golem, wie er in die Welt kam is also a pre-eminent example of German Expressionism, and an important contribution to the golden age of Weimar Cinema, and is making its UK debut on Blu-ray from a brand new 4K restoration. 
Blu-ray contents:
Limited Edition O-Card Slipcase (First 2000 copies) 
Presented in 1080p from a stunning 4K digital restoration of the original film negatives, completed by FWMS in 2017. 
Original German intertitles with optional English subtitles
Option of THREE fantastic and unique scores, by composer Stephen Horne; acclaimed electronic music producer Wudec; and musician and film-score composer Admir Shkurtaj
Brand new and exclusive audio commentary by Scott Harrison
Brand new and exclusive video essay by critic David Cairns
Brand new and exclusive video essay by filmmaker Jon Spira (Elstree 1976) 
The Golem [60 mins] The US version of the film, also fully restored, and featuring a score by Cordula Heth
A video piece highlighting the differences between the domestic and export negatives of the film [22 mins] 
PLUS: A collector's booklet featuring new writing on the film by Scott Harrison; and reprints of illustrations from the original 1915 novel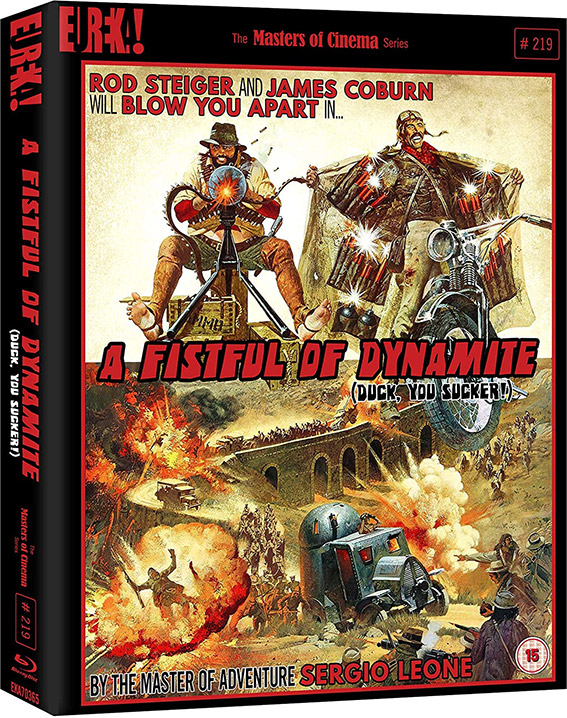 A Fistful of Dynamite (1971) | 25 November 2019 | Blu-ray
From Sergio Leone, the acclaimed director of A Fistful of Dollars, For a Few Dollars More, The Good, the Bad and the Ugly and Once Upon a Time in the West comes his final Western, A Fistful of Dynamite (aka Duck, You Sucker! and released in some territories as Once Upon A Time... the Revolution). 
Starring acting giants Rod Steiger (In the Heat of the Night) as Juan Miranda, an amoral peasant-turned-outlaw, and James Coburn (Pat Garrett and Billy the Kid) as John Mallory, a dynamite-tossing Irish revolutionary who has fled to Mexico after becoming a fugitive in his own country. Together, they're a devilishly volatile mix of anti-establishment philosophies and violent tendencies as they attempt to liberate political prisoners, defend their compatriots against a well-equipped militia, and risk their lives on a train filled with explosives. 

Featuring a haunting and rousing score by iconic composer Ennio Morricone, A Fistful of Dynamite has risen in stature over the years and is now recognised alongside The Dollars Trilogy and Once Upon A Time in the West as a true masterpiece and is making its UK debut on Blu-ray here. 
Blu-ray contents:
Hardbound Slipcase
PLUS: A LIMITED EDITION 60-PAGE Perfect Bound Collector s book featuring new and archival writing on the film
Two versions of the film presented in 1080p across two Blu-ray disc, including a transfer from the 2K restoration completed by Cineteca di Bologna in 2009 
Optional English subtitles for the deaf and hard-of-hearing
Original Mono Audio available on both versions
Audio Commentary by filmmaker Alex Cox
Audio Commentary by film historian Sir. Christopher Frayling
A brand new and exclusive interview with film critic and writer Kim Newman
A brand new and exclusive interview with Austin Fisher, author of Radical Frontiers in the Spaghetti Western: Politics, Violence and Popular Italian Cinema
The Myth of Revolution [22 mins] Sir Christopher Frayling on Duck, You Sucker! 
Sergio Donati Remembers Duck, You Sucker! [7 mins] 
Sorting Out The Versions: An Analysis of Duck, You Sucker! [12 mins] 
Once Upon A Time... in Italy [6 mins] featurette
Restoration, Italian Style [6 mins] 
Location Comparisons [9 mins] 
Radio Spots
Trailer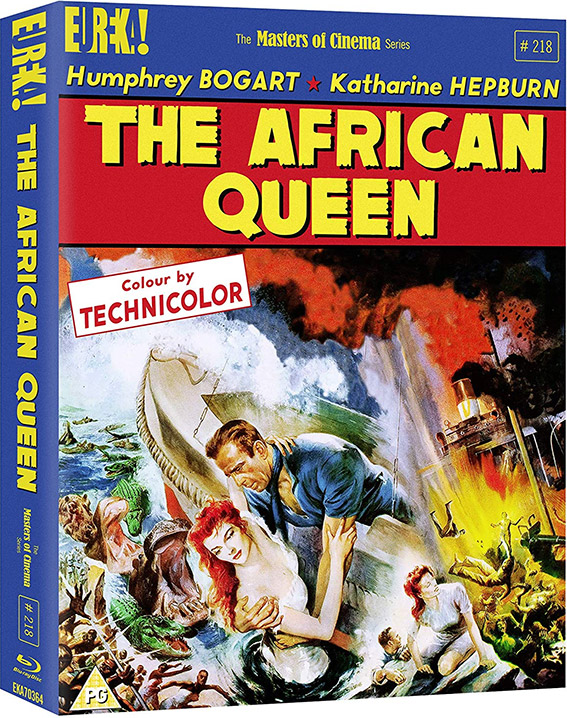 The African Queen (1951) | Blu-ray | 18 November 2019
Three movie giants come together in the cinematic classic The African Queen, combining the masterful direction of John Huston with the fabulous chemistry of Humphrey Bogart and Katharine Hepburn in their only onscreen pairing. Adapted from a novel by C.S. Forester, this wartime romantic adventure sees the pair forced to travel together down a hazardous East African river after the outbreak of World War I. 
Katharine Hepburn plays Rose Sayer, the maiden-lady sister of a prim British missionary (Robert Morley). When invading Germans kill her brother and level the village, Charlie Allnut (Bogart in the role which won him his only Oscar), the slovenly, gin-swilling captain of a tramp steamer called the African Queen, offers to take Rose back to civilisation. She can't tolerate his drinking or bad manners; he isn't crazy about her imperious, judgmental attitude. However, it does not take long before their passionate dislike turns to love. Together the disparate duo work to ensure their survival on the treacherous waters and devise an ingenious way to destroy a German gunboat. 
The African Queen is one of the most beloved films in the history of cinema, and may well be the perfect adventure film, with a roller-coaster storyline complemented by the chemistry between its stars, and masterful direction from John Huston.
Blu-ray contents:
Hardbound Slipcase
A Limited Edition 60-page Perfect Bound Collector s book featuring new and archival writing on the film
Presented in 1080p from Paramount s 4K restoration
Optional English subtitles for the deaf and hard-of-hearing
Uncompressed LPCM audio (original mono) 
Isolated Music & Effects track
Audio Commentary by cinematographer Jack Cardiff
A brand new and exclusive interview with film critic and writer Kim Newman
Newly filmed interview with film historian Neil Sinyard 
Embracing Chaos: Making The African Queen [59 mins] a comprehensive documentary about the making of the film
Trailer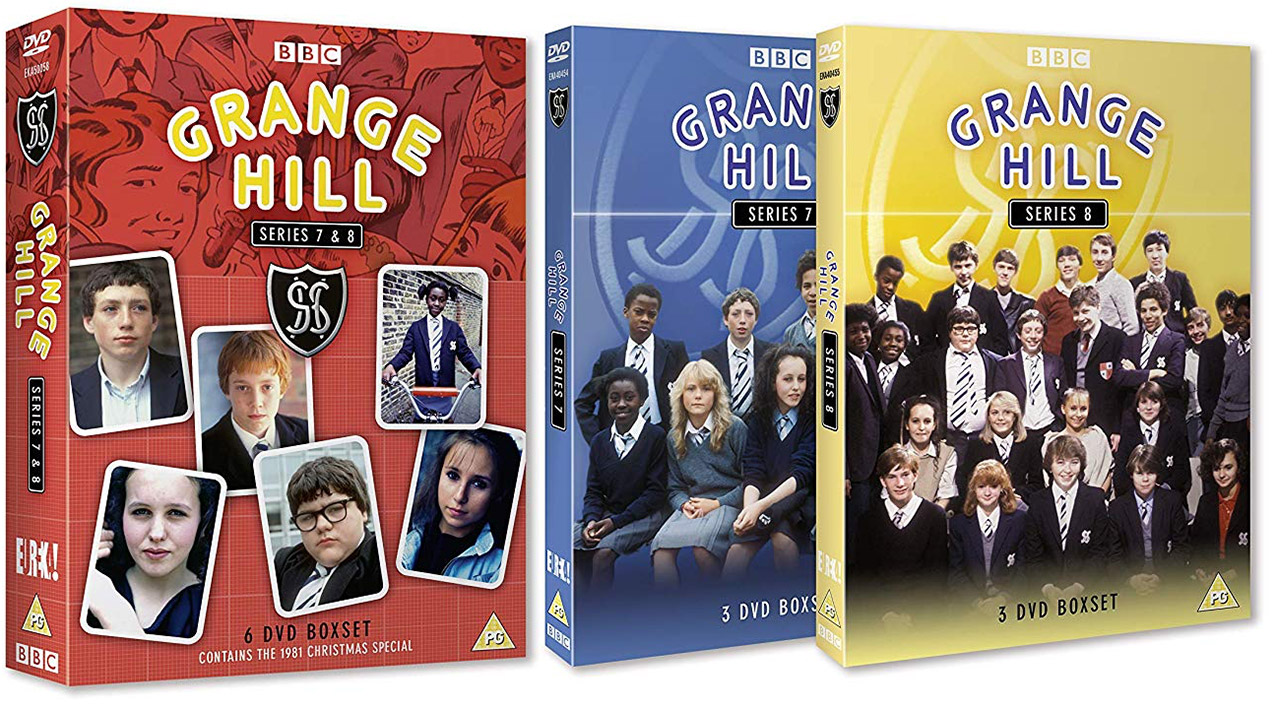 Grange Hill Series 7 & 8 (1984-1985) | DVD | 6-Disc DVD box set
Trouble is brewing as a merger between Grange Hill, Brookdale & Rodney Bennet looms large on the horizon. New pupils Luke 'Gonch' Gardner & Paul Hollo Holloway cause havoc & the burning question this term.... does Mr Bronson wear a wig? 
This boxed set features all 36 episodes from series 7 & 8, originally broadcast in 1984 and 1985. ALSO INCLUDED for the very first time The 1981 Christmas Special Episode (First broadcast 28th December 1981 pre series 5).
Grange Hill Series 7 synopsis - First broadcast on 3rd January 1984 It s a new term & Zammo has a girlfriend (Jackie Wright) who goes to rival school Brookdale. Well-meaning pupil Janet makes it her mission to help Roland, but he finds her constant nagging irritating. A poolside prank during a swimming lesson has fatal consequences. N3 s countryside orienteering course descends into panic as Roland & Mr Baxter get hopelessly lost. Miss Gordon s Art club experiences a flurry of new recruits (including Pogo Patterson) as news spreads about a nude model. The term ends with a School Disco where Mrs McClusky slow dances with Mr McGuffy. 
Grange Hill Series 8 synopsis - First broadcast on 18th February 1985 Grange Hill has now merged with Rodney Bennett & Brookdale causing tensions to rise; can Mrs McClusky & new Deputy Head Teacher Mr Bronson keep order? A love triangle develops as Stewpot two-times Claire with Annette; Zammo & Jackie hit a rough patch as Banksie arrives on the scene. French exchange students visit & Roland finds a friend in Fabienne. Entrepreneurial pupil pairing Gonch & Hollo devise a number of ill-fated money-making schemes during the term & Mr Bronson s wig goes missing... 
DVD box set special features:
1981 Christmas Special Episode 
It's the end of term School Disco & Tucker sees the event as an opportunity to make some money. All seems well until some pupils from Brookdale crash the party & attempt to steal both the takings & the Disco itself. Fortunately, Tucker, Benny, Alan & Tommy see what s going on & step in to save the day. As the punches fly even arch-enemy Michael Doyle steps in to help the lads; flippin eck it must be Christmas.