Based on the groundbreaking novel written by New York Times best-selling author Stephen King, The Stand arrives on Blu-ray from CBS Home Entertainment and Paramount Home Entertainment. Brilliantly restored in high definition with enhanced visual effects, this Blu-ray features all four parts of the six-hour Emmy Award-winning 1994 miniseries.
Led by an all-star cast, including Gary Sinise (Forrest Gump), Molly Ringwald (The Breakfast Club), Jamey Sheridan (Spotlight), Corin Nemec  (Parker Lewis Can't Lose), Rob Lowe (The West Wing), Miguel Ferrer (Twin Peaks) and Laura San Giacomo (Just Shoot Me!), The Stand follows a group of survivors after a deadly plague wipes out almost the entire population. Those remaining must align themselves with either the forces of good, led by the frail 108-year-old Mother Abagail (Ruby Dee, A Raisin in the Sun), or evil, a group steered by a man with a lethal smile, Randall Flagg (Sheridan). The two sides face off in a climactic battle that will determine the final fate of mankind.
The cast also includes Ossie Davis (Do the Right Thing), Matt Frewer (Max Headroom), Ray walston (The Sting), Warren Frost (Twin peaks), and wmall roles for directors Tom Holland (Child's Play, Thinner), John Landis (An American Werewolf in London) and Sam Raimi (The Evil Dead), and original novel author Stephen King, as a well as uncredited cameos by Kathy Bates (Misery), Jeff Goldblum (The Fly) and Ed Harris (A History of Violence).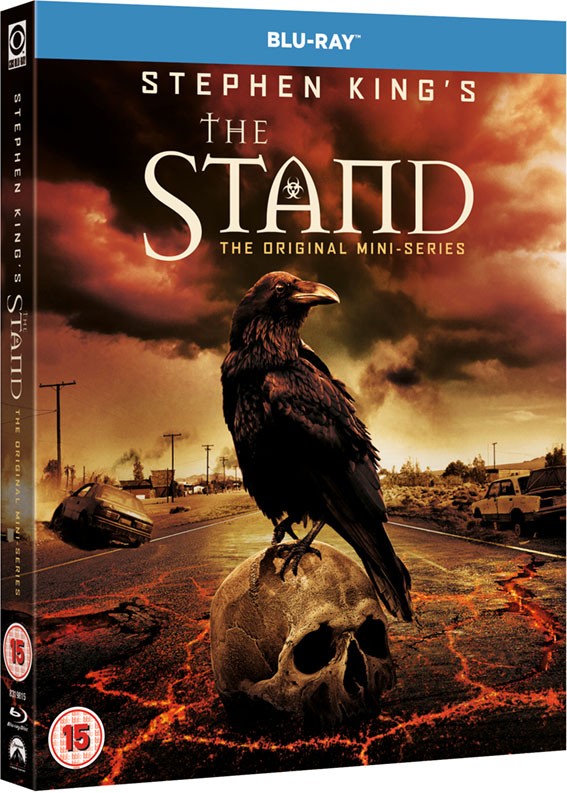 The Stand will make its UK Blu-ray debut on 7 October 2019 from from CBS Home Entertainment and Paramount Home Entertainment at a yet-to-be-confirmed RRP, though Amazon currently have it priced at just £15.
Special features:
The Making of The Stand – A look at the set of The Standand exclusive interviews with the cast and crew, including Stephen King, Gary Sinise, and Molly Ringwald.
Audio Commentary – Behind-the-scenes commentary from Stephen King, Mick Garris, Rob Lowe, Ruby Dee, Miguel Ferrer, Jamey Sheridan and Pat McMahon.
You'll have to forgive the image quality, but the only trailers we could find we old ones: