The Haunting of Hill House is the critically acclaimed, modern reimagining of Shirley Jackson's legendary novel about five siblings who grew up in the most famous haunted house in America. Now adults, they're reunited by the suicide of their youngest sister, which forces them to finally confront the ghosts of their pasts... some of which lurk in their minds... and some of which may really be lurking in the shadows of the iconic Hill House.
Hailed by Sci-fi Now as "one of the best horror TV series we've seen in years" and one of our picks for 2018 favourites, The Haunting of Hill House arrives on Blu-ray and DVD from 14th October 2019 from Paramount Home Entertainment.
Certified Fresh with a 92% rating on Rotten Tomatoes and nominated for six Saturn Awards, including Best Streaming Horror & Thriller Series, The Haunting of Hill House has been renewed by Netflix as an anthology series, telling a new story each season.
The Haunting of Hill House 3-Disc Blu-ray and 4-Disc DVD sets feature all 10 episodes from the acclaimed first season, including, for the first time, three Extended Director's Cut episodes with never-before-seen content. The Blu-ray and DVD also include exclusive commentary by creator and director Mike Flanagan on four episodes.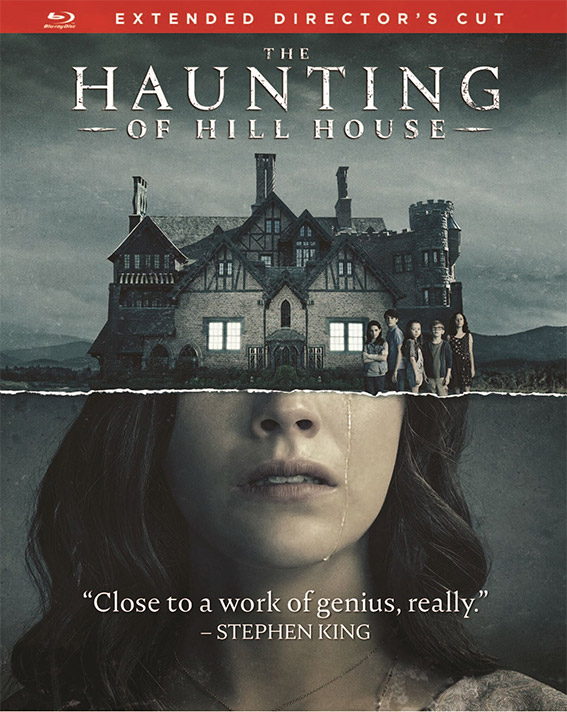 Blu-ray and DVD contents:
Episode 1: Steven Sees a Ghost

Steven Sees a Ghost Extended Director's Cut
Steven Sees a Ghost Extended Director's Cut Commentary by Director Mike Flanagan

Episode 2: Open Casket
Episode 3: Touch
Episode 4: The Twin Thing
Episode 5: The Bent-Neck Lady

The Bent-Neck Lady Extended Director's Cut
The Bent-Neck Lady Extended Director's Cut Commentary by Director Mike Flanagan

Episode 6: Two Storms

Two Storms Commentary by Director Mike Flanagan

Episode 7: Eulogy
Episode 8: Witness Marks
Episode 9: Screaming Meemies
Episode 10: Silence Lay Steadily

Silence Lay Steadily Extended Director's Cut
Silence Lay Steadily Extended Director's Cut Commentary by Director Mike Flanagan