Lauded by Mark Kermode in The Observer as one of his Top 20 Children's Films, The Amazing Mr Blunden is set for a brand-new Limited Edition Blu-ray release courtesy of Second Sight in time for Christmas. Adapted from Antonia Barber's novel The Ghosts by celebrated actor-turned-director Lionel Jeffries (The Railway Children) who also helms this mesmerising family classic, The Amazing Mr Blunden arrives in on Blu-ray with a brand-new scan and restoration and rigid slipcase with new artwork by Rich Davies. It includes Barber's original out-of-print source novel exclusively reproduced for this release, a soft cover book with new essays by new essays by Kevin Lyons and Kim Newman, plus a reversible poster with new and original artwork.
The mysterious but kindly solicitor Mr Blunden visits Mrs Allen and her young children, offering her the position of caretaker at a derelict country mansion. More surprises are in store when the children encounter the ghosts of two former young residents and find themselves transported back in time to help their new friends right a 100-year-old wrong.
Starring Laurence Naismith, Lynne Frederick, Garry Miller, Rosalyn Landor, Marc Granger, Madeline Smith and Stuart Lock, The Amazing Mr Blunden was photographed by Gerry Fisher (The Offence, Wise Blood, The Exorcist III) and boasts a music score by the legendary Elmer Bernstein (The Magnificent Seven, True Grit, See No Evil).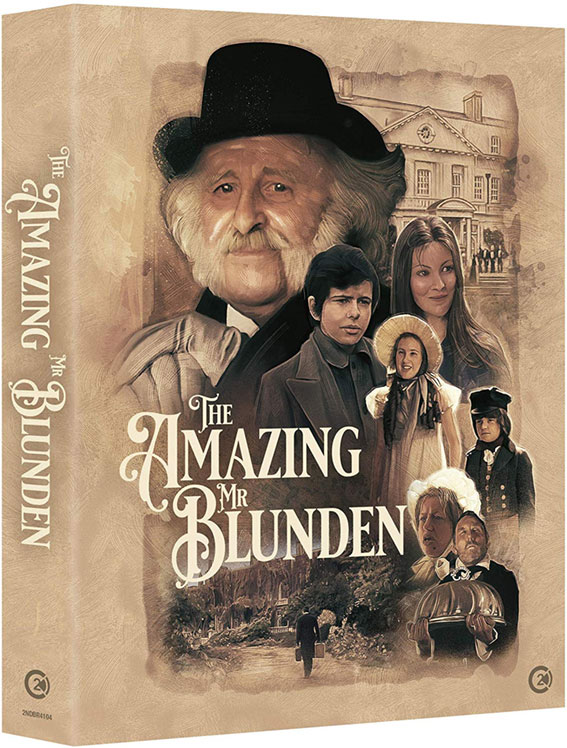 The Amazing Mr. Blunden will be released on Limited Edition Blu-ray by Second Sight on 9 December 2019 at an as-yet unspecified RRP.
Limited Edition Blu-ray contents:
Brand new Second Sight scan and restoration
A new audio commentary with Actors Madeline Smith, Rosalyn Landor and Stuart Lock moderated by film critic and author Kim Newman
A new interview with Madeline Smith
A new interview with Rosalyn Landor
Mark Gatiss on The Amazing Mr Blunden – a new interview
2014 archive BFI Q&A with Madeline Smith, Rosalyn Landor and Stuart Lock
Reversible sleeve and rigid slipcase with new artwork by Rich Davies and original artwork
The Ghosts – the original out-of-print source novel by Antonia Barber exclusively reproduced for this release
Soft cover book with new essays by Kevin Lyons and Kim Newman
Reversible poster with new and original artwork