This far-out adaptation of the smash-hit 1968 Broadway anti-establishment musical – marking Oscar-winning director Miloš Forman's triumphant return after One Flew Over The Cuckoo's Nest (1975) – was nominated for two Golden Globes.
Loosely based on Hair: An American Tribal Love-Rock Musical, the musical play, book and lyrics by Gerome Ragni and James Rado, with music composed by Galt MacDermot, Miloš Forman's energetic adaptation centres on Claude (John Savage), a naïve young draftee from Bible Belt America. Alone in New York awaiting his posting to Vietnam, he falls in with a hippie tribe led by Berger (Treat Williams) and spends his final civilian days discovering the complexities of race, class, friendship – and love, when he falls for a rich debutante with a rebellious soul. Welcome to the Age of Aquarius.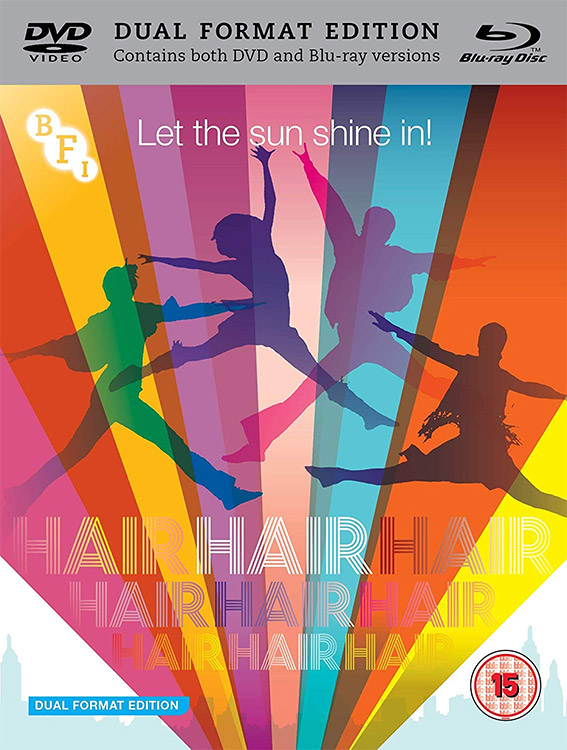 Hair will be released as a Dual Format edition (Blu-ray & DVD – but you know that by now) by the BFI on 28 October 2019 at the RRP of £19.99.
Special features:
Aquarius (1966, 8 mins): the Age of Aquarius arrives in this jazzy psychedelic animation
San Francisco (1968, 15 mins): kaleidoscopic city imagery soundtracked with a rare version of Pink Floyd's 'Interstellar Overdrive'
Indian Pop Instrumental (c1970, 3 mins): mysterious sitar groovefest
Discomania (1979, 25 mins): disco-dance champions glitterballs, lurex, sequins, skates and more
Nicholas Ray in Conversation (1969, audio, 56 mins): the legendary filmmaker in London
Original trailer
Image gallery
If this takes your fancy, then BFI Musicals! The Greatest Show On Screen celebrates the joyful, emotional, shared experience of watching film musicals; with the biggest stars, the most iconic scenes and the best-loved song and dance numbers back on the big screen. Running 14 Oct 2019 – Jan 2020, it incorporates a season at BFI Southbank, BFI UK-wide re-releases of classic musicals, hundreds of screenings and events at venues across the UK, DVD/Blu-ray releases and films to watch on BFI Player.