In Moby Dick, John Huston (The Maltese Falcon, Treasure of the Sierra Madre, The Man Who Would be King) directs Hollywood great Gregory Peck (To Kill a Mockingbird, How the West was Won) in one of his most innovative of roles, with a cameo by Orson Welles (Citizen Kane, The Third Man).
Based on Herman Melville's Great American Novel, and adapted for the screen by John Huston and science fiction writer Ray Bradbury, Peck stars as Captain Ahab, a man who pits himself against the awesome power of the sea in his obsessive quest to destroy the Great White Whale known as 'Moby Dick'.
In 1841 a young Ishmael (Richard Basehart) signs up for service aboard the Pequod, a whaling ship under the command of Captain Ahab (Peck). On a previous voyage Ahab lost his leg during an attack by 'Moby Dick' and is desperate for revenge. The Pequod sets out on its treacherous sea voyage to hunt down the elusive beast with Ishmael onboard alongside Starbuck (Leo Genn), James Robertson Justice (Captain Boomer) and Father Mapple (Orson Welles). Ahab is so crazed by his desire to kill the whale, that he is prepared to sacrifice everything, including his life, the lives of his crew members, and even his ship to find and destroy his nemesis.
This ambitious tale, told with breathtaking imagery, tells the allegorical epic adventure yarn with all its turbulent undercurrents of the myth of the Superman acting in hell-bent defiance of his God. As Huston himself said, "Moby Dick is the story of Noah in reverse".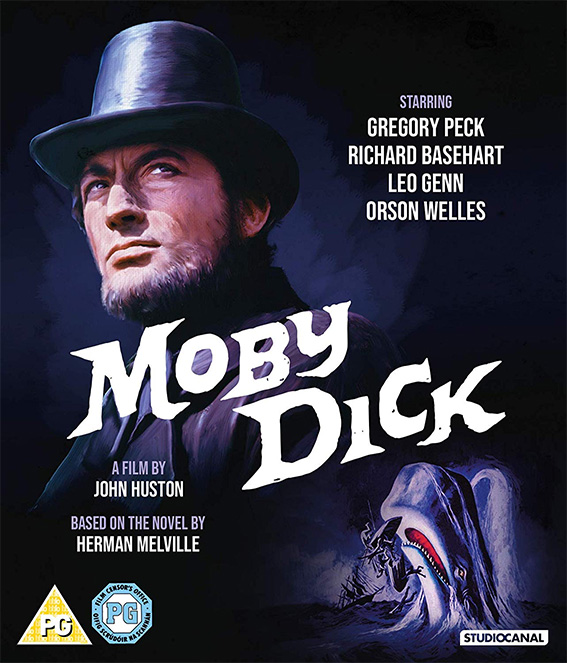 One of the all-time great epic adventure movies, Moby Dick will be released in a fully restored version on Blu-ray and DVD on 11 November 2019 by Studiocanal.
Spedcial features:
Interview with script supervisor Angela Allen for Moby Dick (and many more John Huston films)
Audio commentary with film historians Julie Kirgo, Paul Seydor and Nick Redman
A Bleached Whale featurette on recreating the unique colour of Moby Dick
Original theatrical trailer
Behind-the-scenes stills gallery