Eureka Entertainment today announced its Blu-ray and DVD releases for February and March 2020: Joe Begos' a blood-drenched voyage of drug-fuelled hysteria Bliss; Rudolph Valentino's hugely popular The Son of the Sheik; Ulaa Salim's ambitious and timely political thriller Sons of Denmark; King Hu's engaging and spiritual fable Raining in the Mountain; a single disc Blu-ray re-release of western classic High Noon; William Dieterle's stylish jazz chronicle Syncopation; Sidney Lumet's adaptation of Eugene O'Neill's famous stage play Long Day's Journey Into Night; and a 3-film Blu-ray box set Buster Keaton: Three Films [The Navigator, Seven Chances, Battling Butler].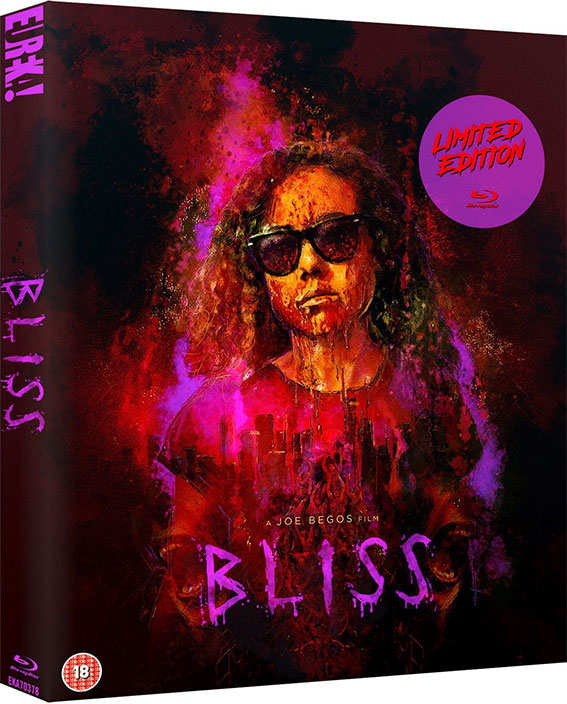 BLISS (2019) | Standard & Limited Edition Blu-ray | 10 February 2020
Struggling through a seemingly endless creative rut, hard-partying and Los-Angeles-based artist Dezzy Donahue (Dora Madison, Friday Night Lights) can't stop the resulting bad streak of problems, including unpaid rent and professional stagnation. In an effort to combat her tough luck, Dezzy throws caution to the wind, indulges in heavy drugs and rages her nights away. Her kinda/sorta boyfriend, Clive, is concerned while her debauchery-minded friend Courtney and her enigmatic hubby Ronnie keep feeding Dezzy's darkest urges.
Gradually, though, the party starts to end, and in its place, Dezzy finds herself thirsting for blood and suffering from terrifying visions. Having never been one for moderation or self-control, she's unable to resist her newfound dangerous impulses. And that's very bad news for everyone in her life, all of whom are filled with the red liquid she now so desperately craves.
Director Joe Begos' (The Mind's Eye) third feature, Bliss has drawn comparisons to the films of Gaspar Noé and Abel Ferrara, and Eureka Entertainment is proud to present this blood-drenched masterpiece on Blu-ray. 
Blu-ray features:
Limited Edition O-Card slipcase (1000 units) with silver laminate finish
1080p presentation of the film on Blu-ray
5.1 DTS-HD MA and uncompressed LPCM 2.0 audio options
Optional English subtitles
Brand new audio commentary with film historians Kat Ellinger and Samm Deighan (Daughters of Darkness podcast)
Audio commentary with director Joe Begos and actress Dora Madison
Audio Commentary by director Joe Begos, producer Josh Ethier, and the Russell FX team
Deleted Scene
Trailer
Limited Edition collector's booklet featuring new writing on the film by Alexanrda Heller-Nicholas; and an interview with writer/director Joe Begos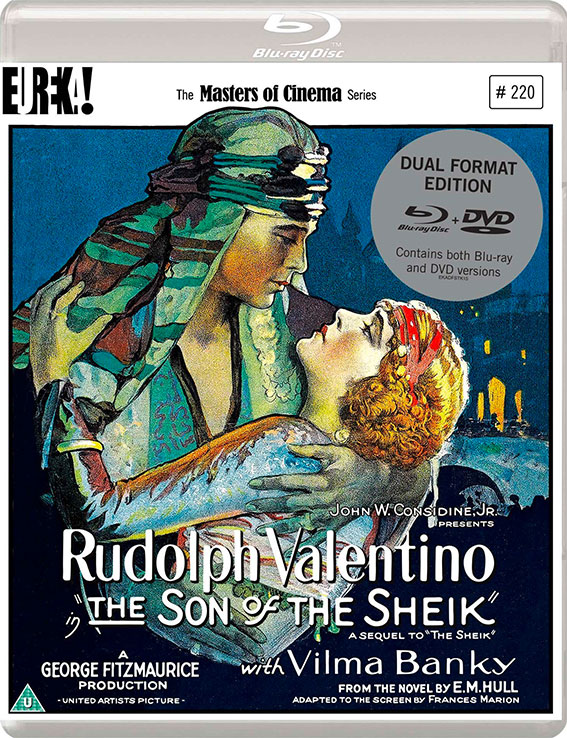 THE SON OF THE SHEIK (1926) | Dual Format (Blu-ray & DVD) | 17 February 2020
One of the most popular films from the silent era, director George Fitzmaurice's The Son of the Sheik stars Rudolph Valentino who gives perhaps the finest performance of his career. Unfortunately it would be his last, he died suddenly at the age of 31, just days before the film's release.
In this visually intoxicating sequel to Valentino's career-defining film The Sheik, the silent screen's greatest lover portrays a cultured yet untamed young man who is lured into a thieve's trap by  a beautiful dancer, Yasmin (Vilma Banky). After escaping, he kidnaps the damsel and holds her captive in his desert lair, dressing her in Arabian finery and threatening to unleash his violent passion upon her. Exotic romance saturates every frame of this Orientalist epic; its sadomasochistic fantasies are acted out against the lavish set design of William Cameron Menzies (The Thief of Bagdad) and lushly photographed by George Barnes (Sadie Thompson).
From a new restoration available for the first time on home video, and featuring a magnificent score by maestro Carl Davis, George Fitzmaurice's The Son of the Sheik comes to Dual Format for the first time in the UK. 
Dual Format features:
Presented in 1080p from a high-definition digital restoration, with a progressive encode on the DVD
DTS-HD MA 5.1 and uncompressed 2.0 audio options on the Blu-ray
Loitering Within Tent – A brand new video essay by David Cairns
Introduction to the film by Orson Welles
A collector's booklet featuring a new essay by critic and film historian Pamela Hutchinson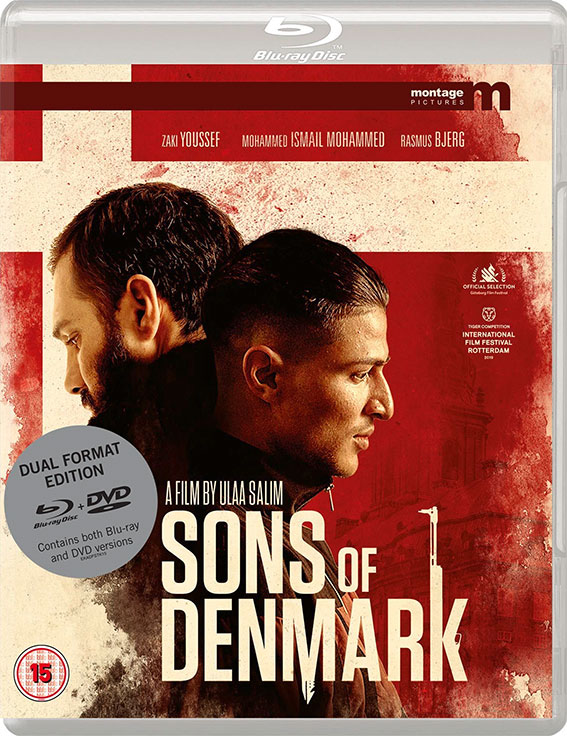 SONS OF DENMARK (2019) | Dual Format (Blu-ray & DVD) | 17 February 2020
Denmark 2025. One year after a major bomb attack in Copenhagen radicalisation around the country has intensified and ethnic tensions are running high. The next parliamentary election is near, and the extremely nationalist political leader Martin Nordahl is set for a landslide victory. 19-year-old Zakaria gets involved in a radical organisation, where he forms a bond with Ali. The two men cannot agree with the current state of the country, which is turning on its own citizens because of their migration background, and decide to act. However, they are both just tools in the hands of people with power. As the men try to make their mark, their brotherhood will be tested and their actions will have grave consequences on their lives.
With hints of Martin Scorsese and Jacques Audiard, director Ulaa Salim taps into a political climate that will feel all too familiar for audiences across Europe. An ambitious film that marks Salim out as a talent to keep an eye on.
Dual Format features:
1080p presentation on Blu-ray (with a progressive encode on DVD)
Optional English subtitles
Theatrical Trailer
A booklet featuring new writing on the film by film writer Jason Wood; and an interview with director Ulaa Salim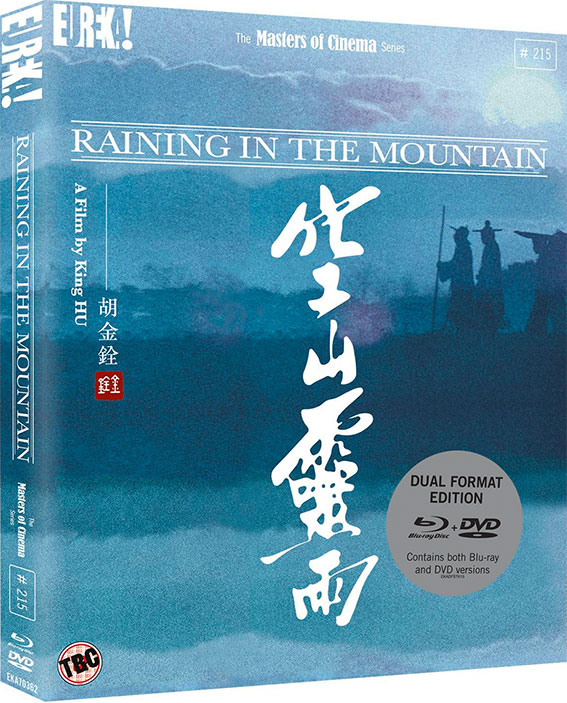 RAINING IN THE MOUNTAIN (1979) | Dual Format (Blu-ray & DVD) | 24 February 2020
Set in a remote Buddhist monastery in 16th Century China, Raining in the Mountain deals with a power struggle that ensues when the Abbot of the Three Treasures Temple announces his imminent retirement.
The ageing Abbot invites three outsiders to advise him on the critical choice of appointing his successor: Esquire Wen, a wealthy patron of the monastery, General Wang, commander-in-chief of the local military, and Wu Wai, a respected lay Buddhist master. Within the monastery, several disciples aspiring to the position begin to collude individually with Esquire Wen and General Wang. But these two invited advisers have come with seditious intent, scheming to obtain the priceless scroll housed in the monastery: the scriptural text of "The Mahayana Sutra," hand-copied by Tripitaka. Meanwhile, convicted criminal Chiu Ming has arrived at the monastery to atone as a monk. He is assigned to safeguard the scroll at the house of scriptures, and encounters thieving rivals White Fox who poses as Esquire Wen's concubine and General Wang's fearsome Lieutenant Chang, who originally framed Chiu Ming for the crime he did not commit.
Selected as one of the Best 100 Chinese Motion Pictures by the Hong Kong Film Awards in 2005, The Masters of Cinema Series is proud to present King Hu's Raining in the Mountain on Blu-ray and DVD for the first time in the UK, from a new 2K restoration completed in 2018 by the Taiwan Film Institute. 
Limited Edition Dual Format features:
Limited Edition O-Card [2000 units]
1080p transfer of the film on Blu-ray, from the Taiwan Film Institute's 2K restoration
Progressive encode on DVD
Optional English subtitles
Original Mandarin audio, fully restored and uncompressed in its original monaural presentation
Brand new and exclusive feature-length audio commentary by critic and Asian cinema expert Tony Rayns
Beyond Description – A brand new video essay by David Cairns
Trailer
A collector's booklet featuring new essays by Chinese-language film expert and author Stephen Teo; and Asian cinema expert David West, news editor at NEO magazine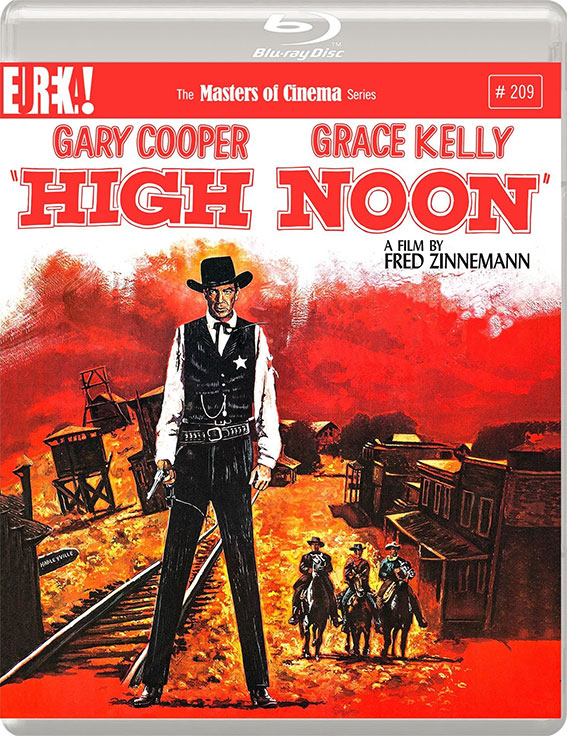 HIGH NOON (1952) | Blu-ray single disc re-release | 2 March 2020
One of the most treasured Hollywood classics, and one of the most influential and iconic Westerns ever made, High Noon remains a powerful study of heroism, and the tension between the individual and the society around him. One of the best films by director Fred Zinnemann (From Here to Eternity) – and produced by Stanley Kramer – High Noon is riveting entertainment and an acknowledged American masterpiece, yet one with surprisingly tumultuous roots.
In his Oscar-winning performance, Gary Cooper stars as small town Marshal Will Kane, preparing to retire and leave town with his young bride Amy (Grace Kelly). However, plans are derailed with the impending arrival of outlaw Frank and his brutal gang. Unfolding in real time, High Noon follows Will as he futilely tries to assemble a posse with the reluctant townspeople, who want Will to forget about a conflict – as does Amy, a Quaker pacifist who just wants to avoid violence. But as high noon approaches, Will realises he must do the moral thing…with or without help.
While the film has become a favourite of U.S. presidents from Eisenhower and Reagan to Clinton, its release was controversial: John Wayne (who had turned down the role) and Howard Hawks hated it, precisely because it was viewed as a thinly veiled allegory for the House Un-American Activities Committee hearings investigating communism at the time. Its politics make it even more intriguing now, but regardless, High Noon is one of the most important – and gripping films – of the 1950s.
Blu-ray features:
4K Digital Restoration
Optional English subtitles for the deaf and hard-of-hearing
Exclusive audio commentary by historian Glenn Frankel, author of High Noon: The Hollywood Blacklist and the Making of an American Classic
Exclusive audio commentary by western authority Stephen Prince
Video interview with film historian Neil Sinyard, author of Fred Zinnemann: Films of Character and Conscience
A 1969 audio interview with writer Carl Foreman from the National Film Theatre in London
The Making of 'High Noon' [22 mins]– a documentary on the making of the film
Inside 'High Noon' [47 mins] and Behind 'High Noon' [10 mins] – two video pieces on the making and context of the film
Theatrical Trailer
A collector's booklet featuring an essay by Philip Kemp; two archival pieces on the film by critic Richard Combs, including an analysis of the film's timekeeping; and On The Wayne, an article by Carl Foreman originally published in Punch Magazine in 1974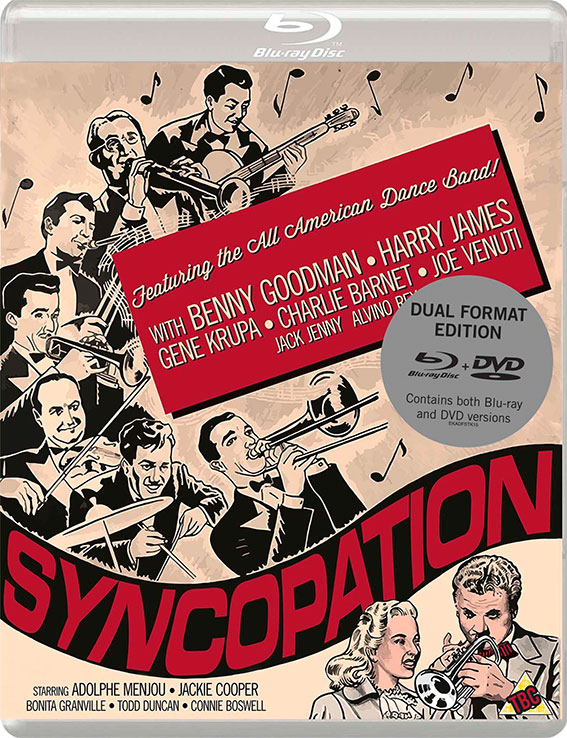 SYNCOPATION (1942) | Dual Format (Blu-ray & DVD) | 16 March 2020
A jazz trumpeter tries to woo a fellow musician in mourning for her dead lover, and sets up a band in an attempt to bring them closer together. Covering a quarter-century of American "syncopated" music (ragtime, jazz, swing, blues, and boogie boogie), Syncopation features music from the turn of the 20th century through prohibition, the Great Depression, and the outbreak of WWII. Featuring jazz greats Benny Goodman, Charlie Barnet, Gene Krupa, Harry James, and more.
Presented from a stunning 2K restoration and available for the first time in the UK on home video, Eureka Classics presents William Dieterle's Syncopation in a special Dual-Format edition.
Dual format features:
Presented in 1080p on Blu-ray from a 2K restoration completed by the Cohen Film Collection
Progressive encode on the DVD
LPCM 2.0 audio (Uncompressed on Blu-ray)
A collector's booklet featuring a new essay by Pasquale Iannone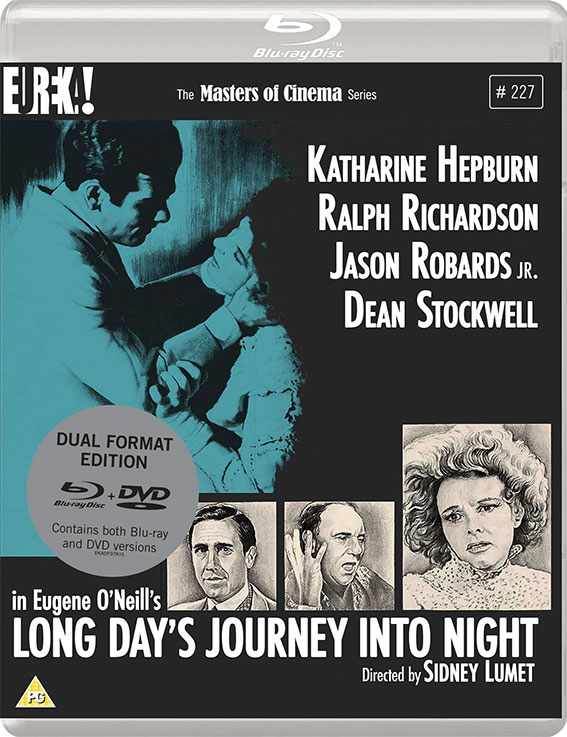 LONG DAY'S JOURNEY INTO NIGHT (1962) | Dual Format (Blu-ray & DVD) | 16 March 2020
Adapted directly from the play by Eugene O'Neil (considered the Nobel laureate's magnum opus), Long Day's Journey into Night is a four-act study of addiction and recrimination that the playwright claimed was written "in tears and blood". 
Taking place over a single, fateful day in the summer of 1912, the Tyrone family (modelled after O'Neil's own) confront their bitter failings and long-held resentments. Patriarch James (Ralph Richardson) is a renowned stage actor who's never forgotten his squalid Irish childhood, and has forsaken artistic ambition for commercial success. His wife Mary (Katharine Hepburn) has developed a morphine addiction, his eldest son Jamie (Jason Robards) is a violent alcoholic and failed actor, and his youngest (and clearly favoured) son Edmund (Dean Stockwell) is a nervous young man in poor health. All of them have something painful to say, and their silence is even worse.
Directed by Sidney Lumet (Serpico, The Offence), whose instinctive understanding of adaptation and near-telepathic rapport with actors made him the perfect director for the material (Lumet had previously adapted O'Neil's The Iceman Cometh into an acclaimed TV drama, also starring Jason Robards), The Masters of Cinema Series presents Long Day's Journey into Night in its UK debut on Blu-ray and DVD in a special dual-format edition.
Dual Format features:
1080p presentation of the film on Blu-ray, from a high-definition digital transfer
Progressive encode on DVD
Optional English subtitles
Brand new feature-length audio commentary by author Scott Harrison
Brand new and exclusive video essay by Lee Gambin
Trailer
A collector's booklet featuring new writing on the film by Alexandra Heller-Nicholas and Philip Kemp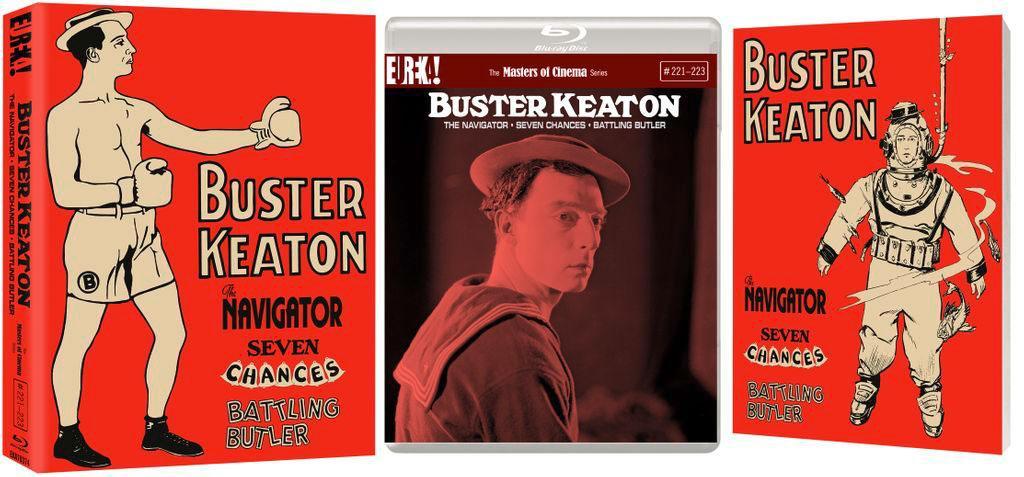 BUSTER KEATON: 3 FILMS (THE NAVIGATOR, SEVEN CHANCES and BATTLING BUTLER) | Limited Edition 3 Film Blu-ray Box Set | 30 March 2020
Presented from stunning 4K restorations, The Masters of Cinema Series presents three more films by the great Buster Keaton in their UK debuts on Blu-ray. 
The Navigator (1924, dir. Buster Keaton & Donald Crisp) – Wealthy Rollo Treadway (Keaton) suddenly decides to propose to his neighbour across the street, Betsy O'Brien (Kathryn McGuire), and sends his servant to book passage for a honeymoon sea cruise to Honolulu. When Betsy rejects his sudden offer however, he decides to go on the trip anyway, boarding without delay that night. Because the pier number is partially covered, he ends up on the wrong ship, the Navigator, which Betsy's rich father has just sold to a small country at war. Keaton was unhappy with the audience response to Sherlock Jr., and endeavoured to make a follow up that was both exciting and successful. The result was the biggest hit of Keaton's career. 
Seven Chances (1925, dir. Buster Keaton) – Jimmy Shannon (Keaton) learns he is to inherit seven million dollars, with a catch. He will only get the money if he is married by 7pm on his 27th birthday, which happens to be that same day! What follows is an incredible series of escalating set-pieces that could only have come from the genius of Buster Keaton.
Battling Butler (1926, dir. Buster Keaton) – A rich, spoiled dandy (Keaton) pretends to be a champion boxer, "Battling Butler", to impress the family of the girl he loves. When the real Butler shows up, he decided to humiliate the imposter by having him fight the "Alabama Murderer"!
Limited Edition Blu-ray box set features:
Limited Edition Hardbound Slipcase [3000 copies]
1080p presentations of all three films from the Cohen Film Collection's stunning 4K restorations, with musical scores composed and conducted by Robert Israel
The Navigator – Audio commentary by silent film historians Robert Arkus and Yair Solan
New and exclusive video essay by David Cairns covering all three films
The Navigator – A short documentary on the making of the film and Keaton's fascination with boats as sources of comedy, by film historian Bruce Lawton
A selection of rarely heard audio interviews with Buster Keaton (Runtime TBC)
FURTHER DISC EXTRAS TBC
A LIMITED EDITION 60-PAGE perfect bound collector's book featuring new writing on all three films; and a selection of archival writing and imagery