We used to review a lot of releases from horror specialist distributor Shameless back in the heyday of DVD and for reasons I have no good excuse for they've since fallen off our radar a little. Mind you, try searching for Shameless on the net and you'll have to wade through a few hundred pages dedicated to the UK TV series of the same name and its equally popular American remake to find any concrete information on this label. Sorry, but they had the name first and are still very much in business.
The arrival in our inbox of a press release announcing the label's next release thus filled us with slightly nostalgic delight, particularly as the title in question is Italian maestro Lucio Fulci's cult 1981 horror, The Beyond [E tu vivrai nel terrore! L'aldilà]. The second film in Fulci's Gates of Hell Trilogy, being preceded by City of the Living Dead (1980) and followed by The House by the Cemetery (1981), the film was not shown in its uncut original form in America until 1998, having been restored by Grindhouse Releasing and shown by a certain Quentin Tarantino, who is a big fan of the film. It also holds the number 71 slot in critic Steven Jay Schneider's 2009 book 101 Horror Movies You Must See Before You Die.
When jaded New Yorker (Catriona MacColl) inherits a New Orleans hotel, she calls on composed local doctor (David Warbeck) to contain the inexplicable and increasingly gory accidents that are plaguing the building and its grounds. But soon the Gates of Hell themselves open under the hotel, rendering their fight futile as the dead emerge to walk the earth.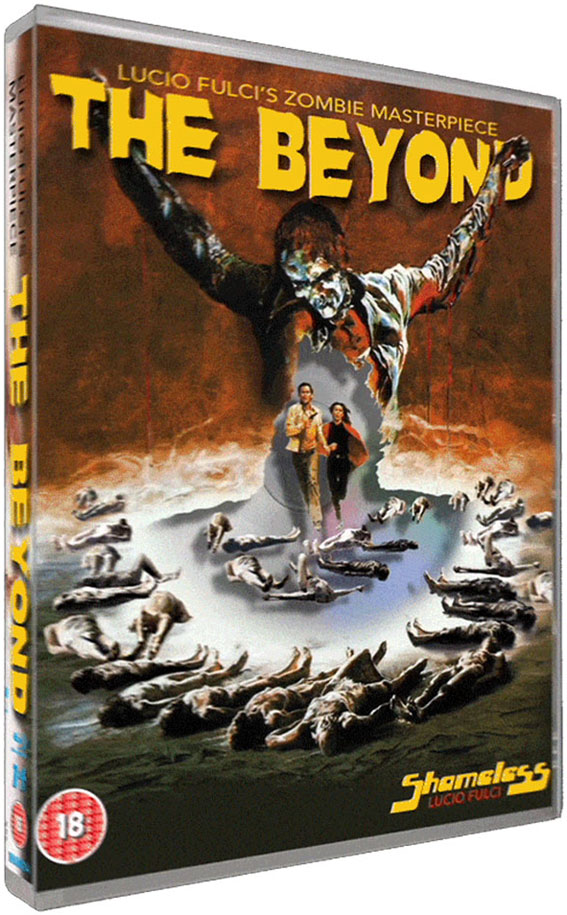 Featuring a new 2K scan of the film, The Beyond will be released in the UK on Special Edition Blu-ray by Shameless on 13 January 2020.
New special features:
Emily's Eyes – an interview with actor Cinzia Monreale (with English subtitles)
Arachnophobia – an interview with actor Michele Mirabella (with English subtitles)
Murder, They Wrote – a unique interview with scriptwriter Giorgio Mariuzzo on working with Lucio Fulci (with English subtitles)
Prologue four-way comparison showing the original colour, B&W, standard sepia and the new, fourth-way, a golden version of toning over colour
Archive extras:
Sergio Salvati (Director of Photography) feature-length audio commentary dissecting the film – with new English subtitles
A feature-length audio commentary from stars Catriona McCall and David Warbeck
Lucio Fulci speaks (short conversation on a film set)
Special Blu-ray feature
For the first time ever The Beyond is presented with four different versions of the prologue, seamlessly branched, allowing fans of Fulci's masterpiece to see the original colour footage which the film was actually shot on, as never seen before and show the various stages of the post-production process of this landmark film
The now accepted standard sepia
The original colour camera footage
The B&W version
A new fourth-way: presented as an homage to director Lucio Fulci and DOP Sergio Salvatti for the first time ever. For this new alternative prologue version Shameless have used the restored colour camera footage as a base on which a new golden toning was applied in reference to known considerations from Salvatti. The result is that the reds of the gore are now strikingly visible and all the light sources such as the torches and car headlights are much more luminous