Arrow Academy's sole March release is the long-awaited Blu-ray debut of a legendary auteur's most underrated and idiosyncratic films, backed up with a wealth of extras including a director commentary, visual essay, trailers and brand new artwork and a sumptuously illustrated booklet.
Returning to the city of his birth for inspiration, legendary maverick director Robert Altman helms an evocative, bullet-riddled tribute to the music and movies of his youth in Kansas City (1996), a Depression-era gangster flick as only he could make one.
Blondie O'Hara (Jennifer Jason Leigh) resorts to desperate measures when her low-level hood husband Johnny (Dermot Mulroney) gets caught trying to steal from Seldom Seen (Harry Belafonte), a local crime boss operating out of jazz haunt The Hey-Hey Club. Out on a limb, Blondie kidnaps laudanum-addled socialite Carolyn (Miranda Richardson), hoping her influential politician husband can pull the right strings and get Johnny out of Seldom Seen's clutches.
Nominated for the Palme d'Or at Cannes, and featuring a remarkable soundtrack performed live by some of the best players in contemporary jazz, one of Altman's most underrated and idiosyncratic films finally makes its long-awaited Blu-ray debut.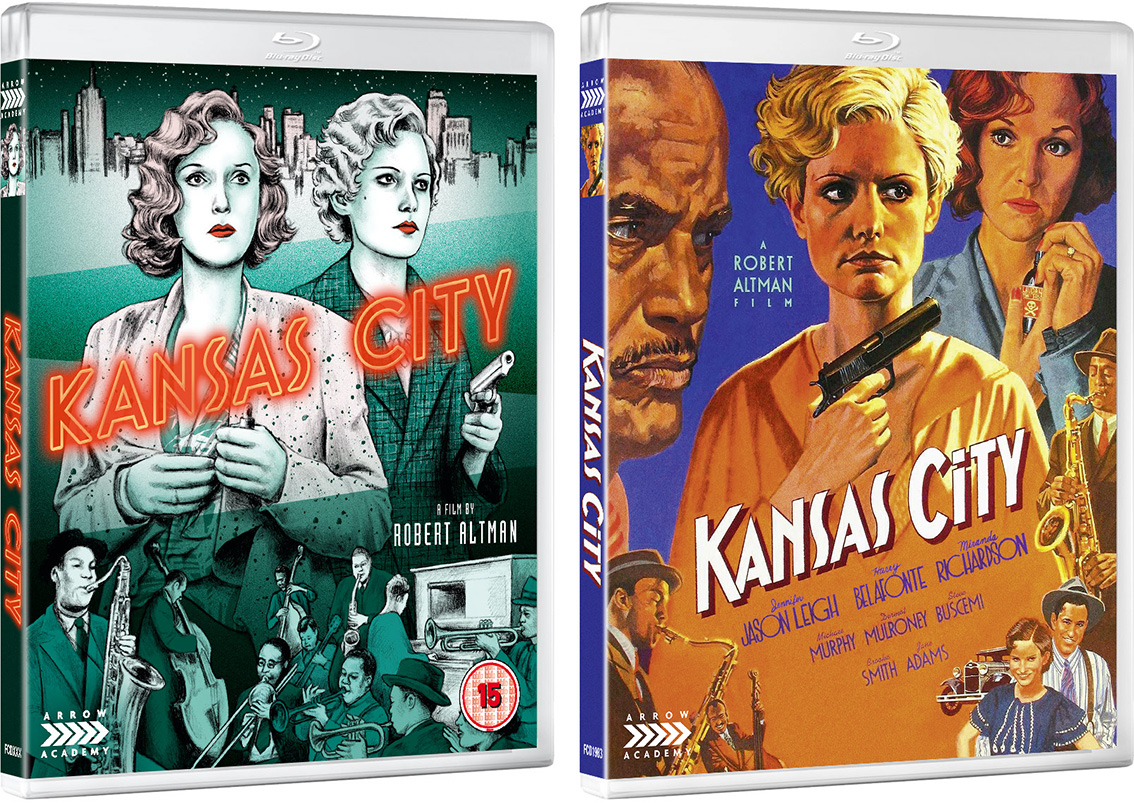 Kansas City makes its UK Blu-ray debut on 3 March 2020 on Arrow's Arrow Academy label at the RRP of £24.99
Special Edition Blu-ray contents:
High Definition Blu-ray (1080p) presentation
Original 2.0 and 5.1 DTS-HD MA audio
English subtitles for the deaf and hard of hearing
Audio commentary by director Robert Altman
Newly filmed appreciation by critic Geoff Andrew
Gare, Trains et Déraillement, a 2007 visual essay by French critic Luc Lagier, plus short introduction to the film narrated by Lagier
Robert Altman Goes to the Heart of America and Kansas City: The Music, two 1996 promotional featurettes including interviews with cast and crew - Electronic press kit interviews with Altman, Leigh, Richardson, Belafonte and musician Joshua Redman, plus behind-the-scenes footage
Four theatrical trailers
TV spots
Image gallery
Reversible sleeve featuring original and newly commissioned artwork by Jennifer Dionisio
FIRST PRESSING ONLY: Illustrated collectors' booklet featuring new writing by Dr Nicolas Pillai, original press kit notes and an excerpt from Altman on Altman