Producer Stephen Woolley (Mona Lisa, Carol) and director Michael Caton-Jones' (Memphis Belle, Our Ladies) account of the 1963 Profumo affair that rocked the British establishment conjures up London on the brink of the Swinging Sixties, where members of high society indulge their baser instincts careless of the consequences. On 24 February the BFI will bring Scandal to Blu-ray for the first time worldwide, presenting it in a Dual Format Edition . Numerous special features include commentaries by Stephen Woolley and writer Michael Thomas, and by Michael Caton-Jones; interviews, rare short films and more.
After becoming enchanted by exotic dancer Christine Keeler (Joanne Whalley), a politically connected doctor Stephen Ward (John Hurt) invites her to live with him. Through his contacts and parties she begins to date Conservative ministers, including Secretary of State for War John Profumo (Ian McKellen). When the affair becomes public, scandal tears through the government and threatens the lifestyles – and even the freedom – of those involved.
Scandal was screened in competition at the Cannes Film Festival in 1989. At the Golden Globes the following year, Bridget Fonda was nominated Best Supporting Actress for her role as Mandy Rice-Davies.This edition of the film has been newly restored from original materials. It will be launched with a special event at BFI Southbank on Thursday 13 February at 18:40. After a screening of the film in NFT1, there will be an on-stage discussion between director Michael Caton-Jones, producer Stephen Woolley, writer Michael Thomas and executive producer Joe Boyd. More details here: https://whatson.bfi.org.uk/Online/scandalbluraydvdlaunch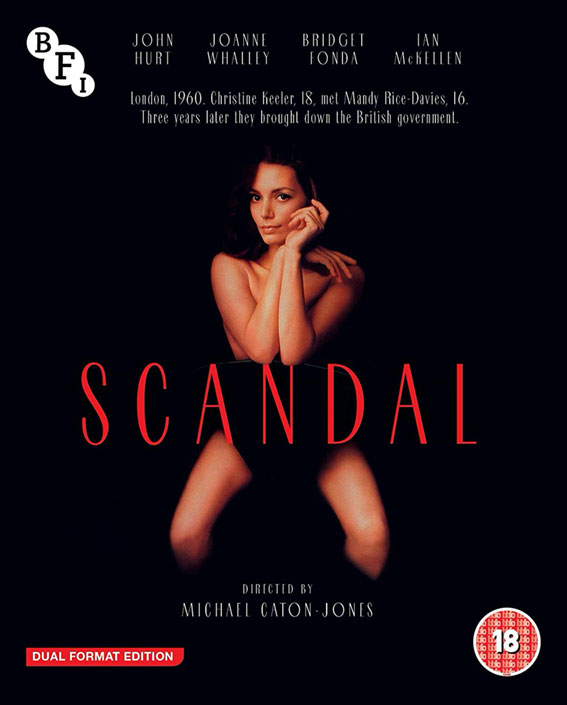 Scandal will be released as a dual format edition (Blu-ray & DVD) by the BFI on 24 February 2020 at the RRP of £22.99. The film is simultaneously released on BFI Player, iTunes and Amazon.
Special features:
Here's a clip: