Eureka has announced its April home entertainment releases, which feature classics from America, Hong Kong and Japan. On 6 April Rio Grande, the intelligent and entertaining final instalment of John Ford's Cavalry Trilogy starring John Wayne and Maureen O'Hara comes to Blu-ray on the Masters of Cinema label. On 20 April Tsui Hark's celebrated supernatural adventure Zu Warriors From the Magic Mountain [Shu Shan - Xin Shu shan jian ke] makes its worldwide Blu-ray debut on the Eureka Classics label. Finally, on 27 April, Masaki Kobayashi's ambitious anthology of Japanese ghost tales Kwaidan [Kaidan] debuts on Blu-ray, also on the Masters of Cinema label.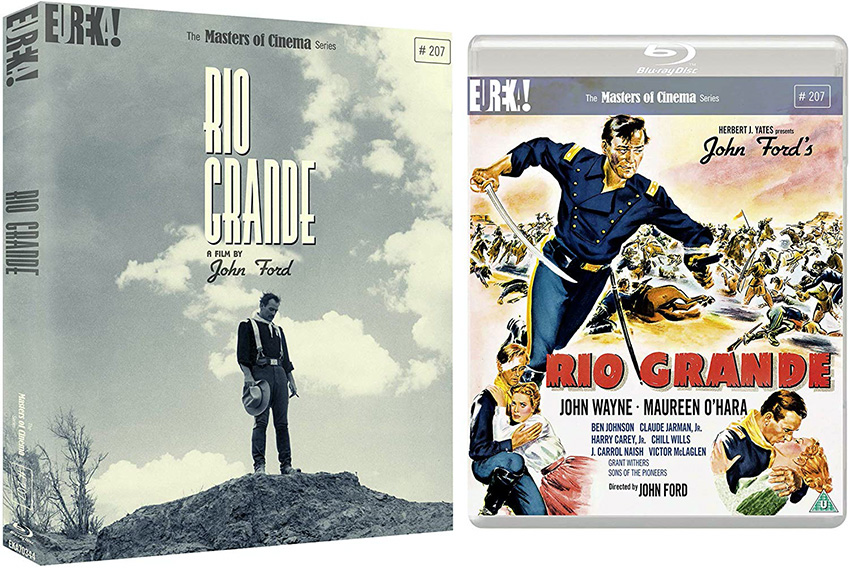 RIO GRANDE (1950) | Masters of Cinema Blu-ray | 6 April 2020
Perhaps one of the most underrated of the collaborations between director John Ford and star John Wayne, Rio Grande manages to be both a conclusion and a new beginning for this most iconic of actor-filmmaker collaborators. The film is the final entry in Ford and Wayne's "Cavalry Trilogy, " following their hits Fort Apache (1948) and She Wore a Yellow Ribbon (1949). Yet it also marks the first of five appearances Wayne made with actress Maureen O'Hara, three of which were directed by Ford. 
Wayne is Lt. Col. Kirby Yorke, attached to the Texas frontier in 1879 to protect settlers from attacks by Apaches. When Yorke's son a West Point flunkee turned Army private is assigned to his father's regiment, tensions flare upon the arrival of Yorke's estranged wife Kathleen (O'Hara), who wants their teenaged son out of Yorke's unit. After Apaches attack, the stakes of Yorke's mission escalate, and he must journey to Mexico where the Apaches are hiding out. With his son and two old recruits (Ford/Wayne regulars Ben Johnson and Harry Carey Jr.) as accompaniment, Yorke faces his toughest battle. 
The Quiet Man (1952) may be the most fondly remembered collaboration between Ford, Wayne, and O'Hara, but ironically, that classic wouldn't even exist if not for Rio Grande, as studio Republic was so (incorrectly!) certain that the later film would lose money, that they only agreed to its production on the condition that Ford and his collaborators make another western first to cover the costs. But Rio Grande stands on its own as yet another outstanding meeting of these remarkable talents.
Masters of Cinema Blu-ray contents:
Limited Edition O-Card (First print run only) 
1080p presentation on Blu-ray, from a new transfer completed by Paramount s preservation department in 2019 
Optional English subtitles for the deaf and hard-of-hearing
Brand new and exclusive feature-length audio commentary by western authority Stephen Prince
Scene specific audio commentary with Maureen O Hara
A video essay on the film by John Ford expert and scholar Tag Gallagher
The Making of Rio Grande archival featurette
Theatrical trailer
PLUS: a collector s booklet featuring a new essay by western expert Howard Hughes; a new essay by film writer Phil Hoad; transcript of an interview with John Ford; excerpts from a conversation with Harry Carey, Jr.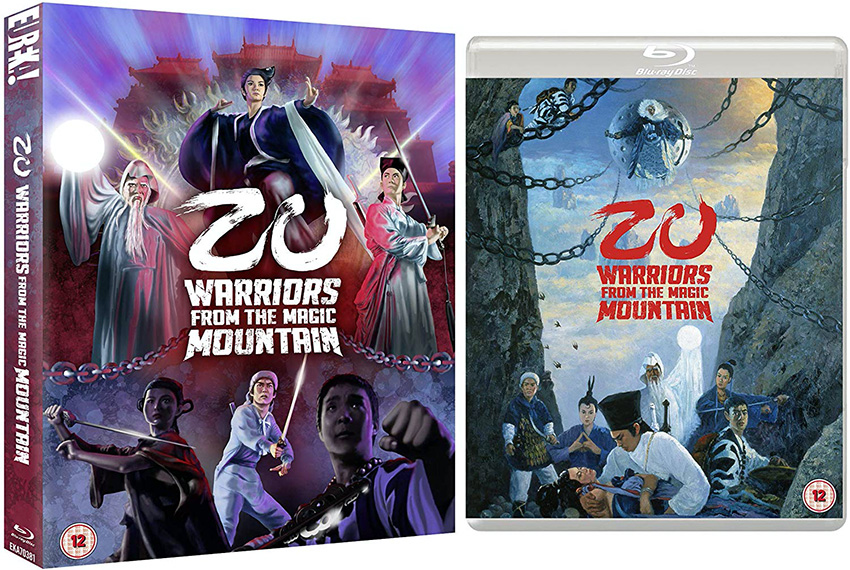 ZU WARRIORS FROM THE MAGIC MOUNTAIN (1983) | Eureka Classics Blu-ray | 20 April 2020
One of the most important cinematic achievements in Hong Kong cinema, Tsui Hark's Zu Warriors from the Magic Mountain birthed the modern-day special effects industry in Hong Kong, and influenced filmmakers around the world, including John Carpenter (who credited the film as the inspiration for Big Trouble in Little China).
Featuring an all-star cast led by Yuen Biao (Wheels on Meals, Project A) as young soldier Dik Ming-kei, currently caught in a war between two rival armies during Tang Dynasty. Taking sanctuary in a cave within the ominous Zu Mountain, he becomes entangled in a battle with supernatural forces beyond his comprehension.
Featuring breath-taking art design, stunning cinematography, and ground-breaking special effects, Eureka Classics presents Zu Warriors from the Magic Mountain from a brand new 2K restoration making its worldwide debut on Blu-ray.
Eureka Classics Blu-ray contents:
Limited Edition O-CARD with new artwork by Darren Wheeling [2000 units] 
1080p presentation on Blu-ray from a brand new 2K restoration 
Cantonese, Mandarin, and English soundtrack options, original monaural presentations 
Newly translated English subtitles
Brand new and exclusive feature length audio commentary by critic and Asian cinema expert Tony Rayns 
Brand new and exclusive interview with Tsui Hark a lengthy and in-depth interview with director Tsui Hark filmed in 2020 exclusively for this release 
Zu: Time Warrior [93 mins] the export cut of the film produced for European theatres, featuring a wraparound segment with Yuen Biao as a modern-day college student who is transported, Wizard of Oz style, to 10th Century China 
Tsui Hark episode of Son of the Incredibly Strange Film Show originally aired on British television in 1989 
Alternate opening credits, restored to their original Western presentation
Archival Interview with Yien Biao [12 mins] 
Archival Interview with Mang Hoi [20 mins] 
Archival interview with Moon Lee [20 mins] 
Deleted Scenes
Trailers
PLUS: A collector s booklet featuring new writing on the film [2000 units]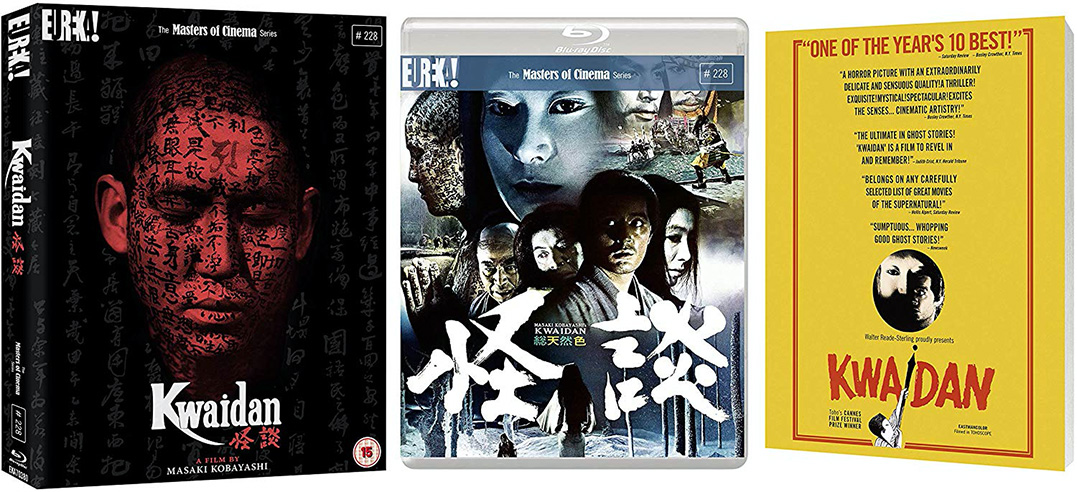 KWAIDAN (1964) | Masters of Cinema Blu-ray | 27 April 2020
Winner of the Special Jury Prize at Cannes, Kwaidan features four nightmarish tales adapted from Lafcadio Hearn's classic Japanese ghost stories about mortals caught up in forces beyond their comprehension when the supernatural world intervenes in their lives: "The Black Hair", "The Woman of the Snow", "Hoichi the Earless", and "In a Cup of Tea".
Breathtakingly photographed entirely on hand-painted sets, the film is an abstract wash of luminescent colours from another world. The Masters of Cinema Series presents the complete 183-minute original Japanese cut of Masaki Kobayashi's masterpiece on Blu-ray for the first time in the UK. 
Masters of Cinema Blu-ray contents:
Hardbound Slipcase 
1080p presentation on Blu-ray from Criterion s 2K digital restoration of Kobayashi s original director s cut 
Original monaural Japanese soundtrack 
Optional English subtitles 
Kim Newman on Kwaidan: a new interview with the film critic and writer 
Shadowings [35 mins] a new video essay by David Cairns and Fiona Watson 
Original trailers
PLUS: A 100-PAGE Perfect Bound Illustrated Collector s book featuring reprints of Lafcadio Hearn s original ghost stories; a survey of the life and career of Masaki Kobayashi by Linda Hoaglund; and a wide-ranging interview with the film maker the last he d ever give