There is, the press release assures us, no fooling around from Arrow Video this April, with the Blu-ray debut of a stormy cult slasher, a deliriously violent slice of splatterpunk madness from Russia, and a sumptuous limited edition release of a superbly effective horror debut. Each film has been given the Arrow treatment with a wealth of extras, including short films, soundtracks, and commentaries, as well as striking new sleeve artwork, collector's booklets featuring specially-commissioned writing, and much more.
First up in April is The Wind, from prolific genre filmmaker Nico Mastorakis, the director behind such cult classics as Hired to Kill and Island of Death. Next, shades of early Tarantino, Edgar Wright and Sam Raimi in Why Don't You Just Die!, a violent, stylish and riotously entertaining slice of family life, Moscow style, described as "a splatterpunk action comedy drenched in gleefully dark Russian humor" (The Hollywood Reporter) and "an amazing first feature from a filmmaker to watch" (Screen Anarchy). Finally in April, debut filmmaker Lukas Feigelfeld has crafted one of the most celebrated horror debuts in recent years with Hagazussa: A Heathen's Curse, one of the most original takes on the subject of witchcraft, which echoes Robert Eggers' The Witch, but draws on broader influences including the creeping dread and hallucinogenic imagery of David Lynch and Panos Cosmatos.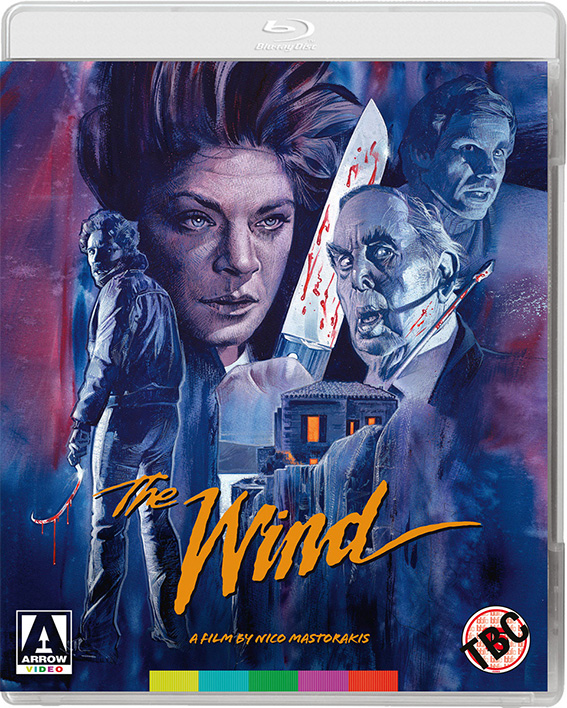 The Wind (1986) | Blu-ray | 13 April 2020 | £24.99
What would you do if going outside meant being killed by a raging hurricane, but staying indoors meant being hacked to pieces by a sickle wielding maniac?
When mystery novelist Sian Anderson (Meg Foster – They Live) arrives in the remote Greek town of Monemvasia, Elias Appleby (Robert Morley – The African Queen), the pompous British landlord of the house she's renting warns her of two dangers: the wind, which gets dangerously strong at night, and Phil (Wings Hauser – Vice Squad), his sleazy and suspicious American handyman. As night falls and the wind starts howling, Sian witnesses the shocking sight of Phil burying Elias's dead body in a shallow grave in his front garden! Trapped indoors from the raging, tree-branch-breaking wind, Sian must play a deadly game of cat-and-mouse with the murderous Phil, who'll stop at nothing to silence this inconvenient witness!
A tense and thrilling blend of Euro-horror and late 80s slasher, The Wind is a stalk 'n' slash hidden gem, presented here for the first time on Blu-ray. Get ready to be blown away!
Special Edition Blu-ray contents:
New restoration by Arrow Films from a 4K scan of the original negative, approved by writer-director Nico Mastorakis
High Definition (1080p) Blu-ray presentation
Optional English subtitles for the deaf and hard of hearing
Optional Greek subtitles
Original DTS-HD Master Audio 5.1 surround and LPCM Stereo 2.0 Audio
Blowing The Wind – Brand new interview with Director Nico Mastorakis
The Sound of The Wind – The complete soundtrack composed by Hans Zimmer and Stanley Myers
A collection of trailers for the films of Nico Mastorakis
Reversible sleeve featuring original and newly commissioned artwork by Graham Humphreys
FIRST PRESSING ONLY: Illustrated collectors' booklet featuring new writing on the film by critic and author Kat Ellinger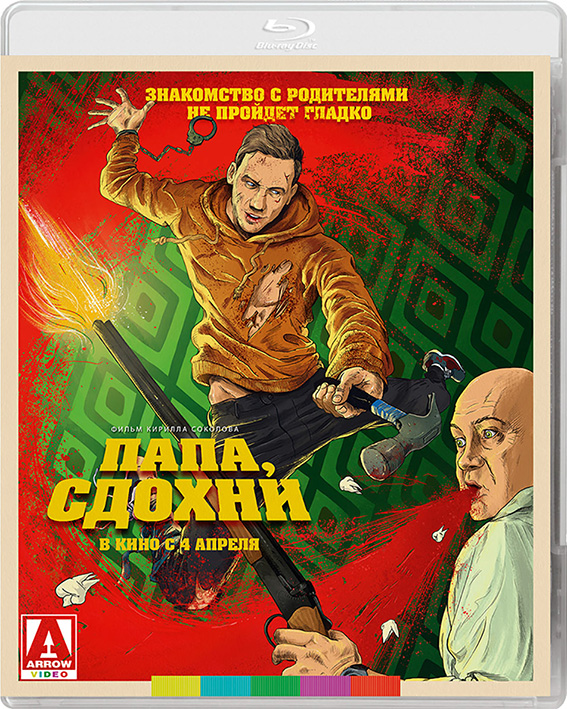 Why Don't You Just Die! (2018) | Blu-ray | 20 April 2020 | £19.99
Matvey (Aleksandr Kuznetsov) has just one objective: to gain entry to his girlfriend's parents' apartment and kill her father Andrey (Vitaliy Khaev) with a hammer to restore her honour. But all is not as it initially seems, and Matvey's attempts to bludgeon the family patriarch to death don't quite go to plan as Andrey proves a more formidable – not to mention ruthless – opponent than he anticipated… and Matvey, for his part, proves stubbornly unwilling to die.
Making his feature debut, writer/director Kirill Sokolov presents a rousing tale of family, modern relationships and the dark places they can take you to when things turn sour. Featuring a soundtrack that veers between Ennio Morricone-esque western riffs and toe-tappingly catchy pop numbers, Why Don't You Just Die! delivers laughs, shocking twists and copious quantities of blood and gore, and establishes Sokolov as one of cinema's brightest rising stars.
Special Edition Blu-ray contents:
High Definition Blu-ray (1080p) presentation
Original lossless DTS-HD Master Audio 5.1 and PCM 2.0 stereo soundtracks
Optional English subtitles
Brand new interview with author and critic Kim Newman, exploring Why Don't You Just Die! within the context of the long-standing tradition of single location cinema
Exclusive behind-the-scenes footage from rehearsals and the film set
Four short films by Kirill Sokolov: Could Be Worse, The Outcome, The Flame and the award-winning Sisyphus is Happy (Best Director and Gold Frame awards, 2013 Unprecedented Cinema International Festival of Short Film)
Theatrical trailer
Kirill Sokolov's complete original storyboard for the film (BD-ROM content)
Reversible sleeve featuring two choices of artwork
FIRST PRESSING ONLY: Illustrated collector's booklet featuring new writing by Neil Mitchell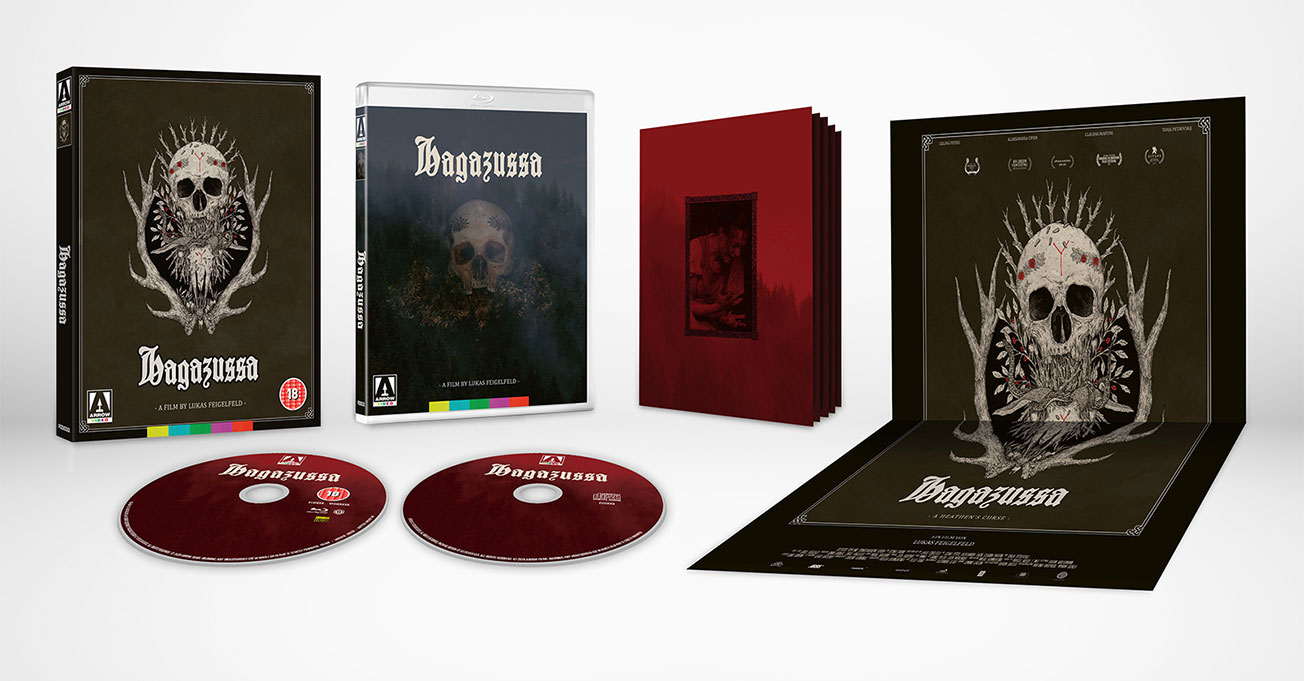 Hagazussa: A Heathen's Curse (2017) | Limited Edition Blu-ray | 27 April 2020 | £24.99
In an isolated Alpine hut at the turn of the 15th Century, Albrun is a young girl growing up alone. As an adult, she is a single mother and a marked woman, outcast by a society twisted in deep-rooted superstitions and misogyny. Still haunted by the death of her own mother and increasingly abused by the community around her, Albrun starts to defy the role she has been dealt in life and embarks on a path of self-empowerment – the price of which may be an even greater darkness than she has ever known before.
Described as "a spellbinding audiovisual symphony" (The Hollywood Reporter) and ranked 3rd in Rotten Tomatoes "Best Horror Movies of 2019", Hagazussa: A Heathen's Curse is a journey into the madness prevalent both in our minds and in the world around us, and whether the difference between the two is always as clear as we hope for it to be.
2-Disc Director-approved Limited Edition Blu-ray contents:
Limited Edition Blu-ray and Soundtrack CD collection (2000 copies)
High Definition Blu-ray (1080p) presentation
Original DTS-HD Master Audio 5.1 surround and LPCM Stereo 2.0 Audio
Optional English subtitles
Reversible sleeve featuring artwork by Adrian Baxter
Booklet featuring new writing on the film by Kier-La Janisse and press book extracts, illustrated with original stills
Double-sided fold-out poster featuring two artworks
Slipcover featuring original artwork by Adrian Baxter
Disc 1 [Blu-ray] – Hagazussa
Audio commentary by critic and author Kat Ellinger
Select scene audio commentary by writer-director Lukas Feigelfeld
Beton [Concrete] (2013, 55 mins) and Interferenz (2013, 48 mins), two short films by Lukas Feigelfeld
Deleted scene with optional commentary by Feigelfeld
MMMD music video
Theatrical trailer
Teaser
Disc 2 [CD] – Hagazussa soundtrack [Limited Edition exclusive]
CD containing the complete Hagazussa Soundtrack by MMMD