Eureka Enterainment today announced its May Blu-ray releases and it's a seductive quartet. Sergio Leone's criminally underrated final western A Fistful of Dynamite (AKA Duck You Sucker!) starring Rod Steiger and James Coburn, will be re-released on Blu-ray as a 2-disc set. Maybe this time we'll actually get our review together this time. Also coming in May is Johnnie To's gloriously inventive and empathetic action drama Throw Down, Sergio Corbucci's thrilling spaghetti western, The Specialists, and the final instalment in Fritz Lang's 'Dr. Mabuse' trilogy, The Thousand Eyes of Dr. Mabuse.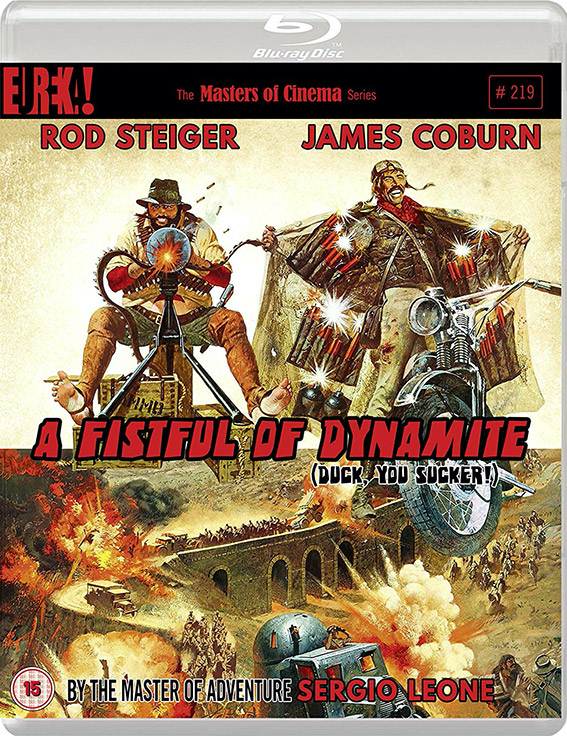 A FISTFUL OF DYNAMITE (Italy/Spain 1971) | 2-disc Blu-ray | 11 May 2020
From Sergio Leone, the acclaimed director of A Fistful of Dollars, For a Few Dollars More, The Good, the Bad and the Ugly and Once Upon a Time in the West comes his final Western, A Fistful of Dynamite (aka Duck, You Sucker!) and released in some territories as Once Upon A Time... the Revolution. 
Starring acting giants Rod Steiger (In the Heat of the Night) as Juan Miranda, an amoral peasant-turned-outlaw, and James Coburn (Pat Garrett and Billy the Kid) as John Mallory, a dynamite-tossing Irish revolutionary who has fled to Mexico after becoming a fugitive in his own country. Together, they're a devilishly volatile mix of anti-establishment philosophies and violent tendencies as they attempt to liberate political prisoners, defend their compatriots against a well-equipped militia, and risk their lives on a train filled with explosives. 
Featuring a haunting and rousing score by iconic composer Ennio Morricone, A Fistful of Dynamite has risen in stature over the years and is now recognised alongside The Dollars Trilogy and Once Upon A Time in the West as a true masterpiece.
2-Disc Blu-ray edition contents:
Two versions of the film presented in 1080p across two Blu-ray disc, including a transfer from the 2K restoration completed by Cineteca di Bologna in 2009. 
Optional English subtitles for the deaf and hard-of-hearing 
Original Mono Audio available on both versions 
Audio Commentary by filmmaker Alex Cox 
Audio Commentary by film historian Sir. Christopher Frayling
A brand new and exclusive interview with film critic and writer Kim Newman
A brand new and exclusive interview with Austin Fisher, author of Radical Frontiers in the Spaghetti Western: Politics, Violence and Popular Italian Cinema
The Myth of Revolution [22 mins] Sir Christopher Frayling on Duck, You Sucker! 
Sergio Donati Remembers Duck, You Sucker! [7 mins] 
Sorting Out The Versions: An Analysis of Duck, You Sucker! [12 mins] 
Once Upon A Time in Italy [6 mins] featurette
Restoration, Italian Style [6 mins] 
Location Comparisons [9 mins] 
Radio Spots
Trailer
PLUS: A collector s booklet featuring writing on the film by Simon Ward, and western authority Howard Hughes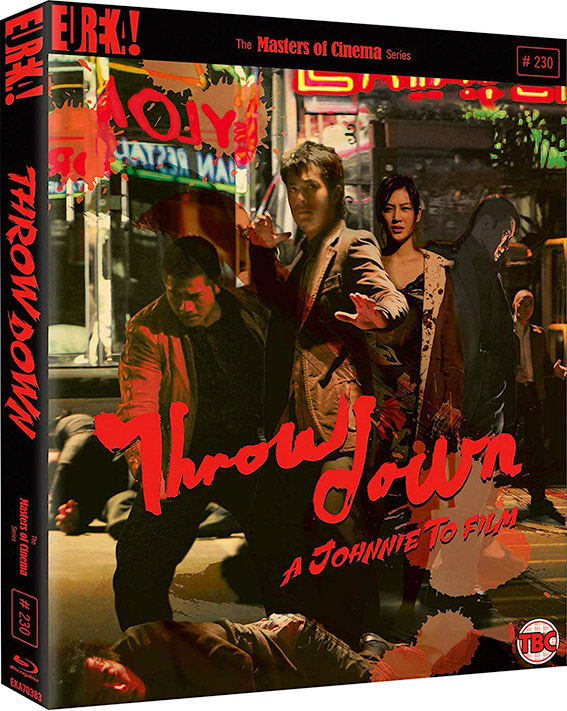 THROW DOWN [YAU DOH LUNG FU BONG] (Hong Kong/China 2004) | Blu-ray | 11 May 2020
In this visually arresting action drama from acclaimed director Johnnie To (Mad Detective, Election), legendary Judo fighter Szeto Bo (Louis Koo; Flash Point, The Legend of Zu) unexpectedly gave up the sport and now lives the life of an alcoholic gambler who runs a pub. However, cocky Judo newcomer Tony (Aaron Kwok) wants to challenge him, while old foe Kong (Tony Leung Ka Fai, Ashes of Time) demands Szeto to finish the match that never took place, Soon Szeto's pub becomes the ultimate arena where the greatest Judo fighters challenge one another. 
Filled with brutal, no-holds-barred Judo fight scenes, Throw Down is director To's ultra-stylish homage to the great Japanese director Akira Kurosawa, and is an emotional tale of one man's determination to rediscover himself and win at all costs. The Masters of Cinema Series presents Throw Down in its UK debut from a 4K restoration.
Blu-ray contents:
LIMITED EDITION O-CARD SLIPCASE [2000 units]
1080p presentation on Blu-ray, from a stunning 4K restoration
Cantonese and English audio options
Optional English subtitles
Brand new and exclusive feature-length audio commentary by Asian film expert Frank Djeng (NY Asian Film Festival)
Audio commentary by Hong Kong film expert Ric Meyers
Lengthy interview with director Johnnie To (40 mins)
Making of Throw Down featurette
Theatrical trailer and TV spots
Reversible sleeve
A collector's booklet featuring new writing on the film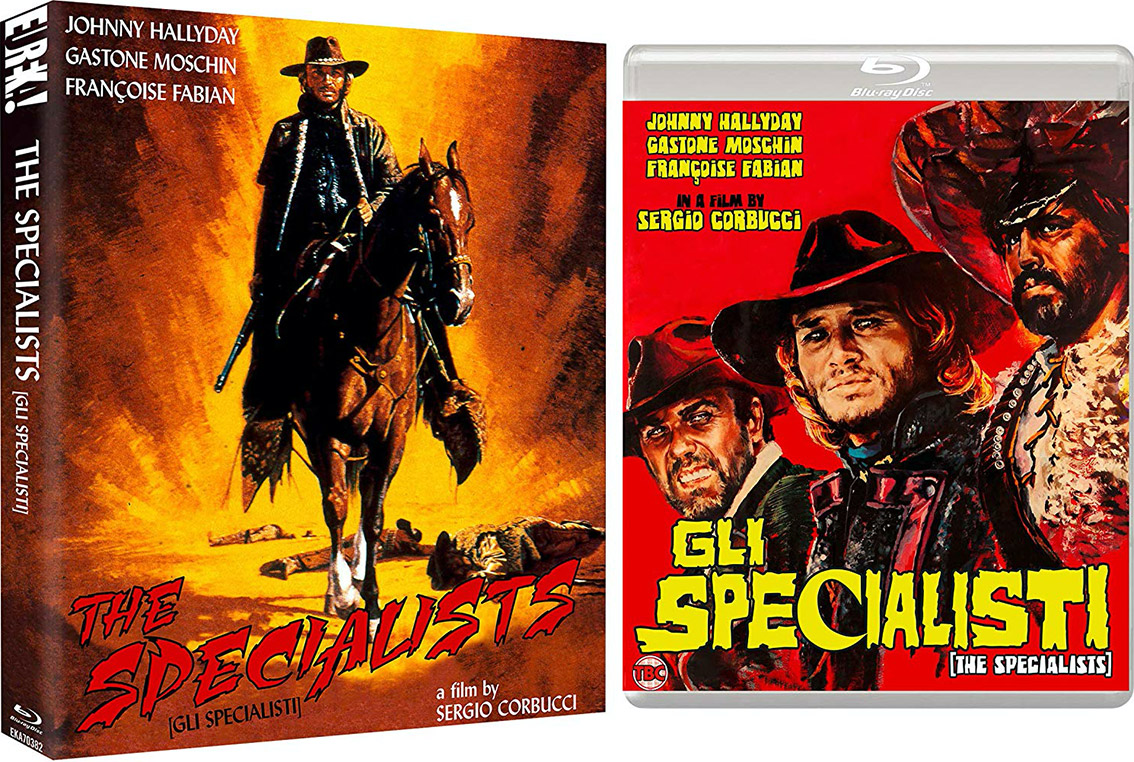 THE SPECIALISTS [GLI SPECIALISTI] (Italy | France | West Germany 1969) | Blu-ray | 18 May 2020
From Sergio Corbucci, the legendary director of Django, Navajo Joe, The Great Silence, Companeros and The Mercenary comes The Specialists (Gli Specialisti, aka Drop Them or I'll Shoot), a thrilling spaghetti western starring French music and film great Johnny Hallyday (The Man on the Train, Détective, Vengeance). 
Notorious gunfighter Hud Dixon (Hallyday) arrives in Blackstone, a town where his brother was wrongfully accused of robbing a bank and lynched for it. As Hud seeks revenge, he starts to discover the truth behind the stolen loot, and has to contend with an idealistic sheriff, a beautiful and seductive female banker, a corrupt businessman and a one-armed Mexican bandit, who was once his friend. 

Also starring Gastone Moschin (The Conformist, Caliber 9), Françoise Fabian (Belle de Jour, My Night at Maud's), and gorgeously filmed by Dario Di Palma (The Seduction of Mimi, The Oldest Profession), Eureka Classics presents Gli Specialisti on Blu-ray from a new 4K restoration. 
Blu-ray contents:
LIMITED EDITION O-CARD SLIPCASE [First Print Run of 2000 units] 
1080p presentation on Blu-ray from an incredible 4K restoration
Restored Italian and French audio options
Rarely heard English dub track
Optional English subtitles
Feature-length audio commentary by filmmaker Alex Cox
A brand new and exclusive interview with Austin Fisher, author of Radical Frontiers in the Spaghetti Western: Politics, Violence and Popular Italian Cinema 
Trailer
PLUS: A LIMITED EDITION collector s booklet [First Print Run of 2000 units] featuring new writing by western authority Howard Hughes on both the film, and the "French-western" sub-genre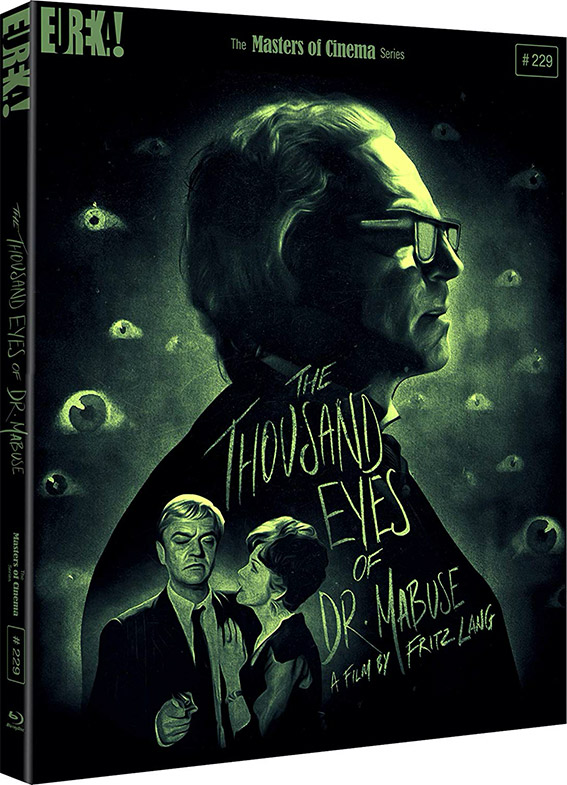 THE THOUSAND EYES OF DR. MABUSE [DIE 1000 AUGUN DES DR. MABUSE] | Blu-ray | 11 May 2020
After enjoying fantastic success with Fritz Lang's two-part Indian Epic in 1959, German producer Artur Brauner signed the great director to direct one more film. The result would be the picture that, in closing the saga he began nearly forty years earlier, brought Lang's career full-circle, and would come to represent his final celluloid testament by extension: his final film masterpiece. 

The Thousand Eyes of Dr. Mabuse [Die 1000 Augen des Dr. Mabuse] finds that diabolical Weimar name resurfacing in the Cold War era, linked to a new methodology of murder and mayhem. Seances, assassinations, and Nazi-engineered surveillance tech all abound in Lang s paranoid, and ultimate, filmic labyrinth. 

One of the great and cherished "last films" in the history of cinema, The Thousand Eyes of Dr. Mabuse provides a stylistic glimpse into the 1960s works on such subjects as sex-crime, youth-culture, and LSD that Lang would unfortunately never come to realise. Nonetheless, Lang s final film remains an explosive, and definitive, closing statement.
Blu-ray contents:
LIMITED EDITION O-CARD SLIPCASE [First Print Run of 2000 copies only] 
1080p presentation on Blu-ray
Original German soundtrack
Optional English audio track, approved by Fritz Lang
Optional English subtitles
Feature-length audio commentary by film-scholar and Lang expert David Kalat
2002 interview with Wolfgang Preiss
Alternate ending
Reversible sleeve featuring newly commissioned and original poster artwork
PLUS: a collector s booklet featuring a new essay by Philip Kemp; vintage reprints of writing by Lang; an essay by David Cairns; notes by Lotte Eisner on Lang s final, unrealised projects