Ten years into his small-town romance with Abby, bartender Hank wakes up alone in an empty home with nothing but a cryptic parting note for company. As Hank drinks himself into heartbreak and depression, Abby's sudden departure soon becomes the least of his concerns as a mysterious monster starts clawing at his door on a nightly basis.
As the threat outside his door intensifies, Hank calls on Abby's police officer brother Shane and best friend Wade for help. With no trace of the monster – and his behaviour becoming more erratic – his friends remain unconvinced of the creature lurking outside, and Hank slips further into his own paranoia and loneliness.
Expertly directed by Jeremy Gardner (who also takes the lead role) and Christian Stella (creators of cult favourites The Battery and Tex Montana Will Survive!), and co-produced by the team behind Spring and The Endless, After Midnight is a slow-burning, genre-bending gem about breaking up, moving on and facing your monsters-both real and imaginary.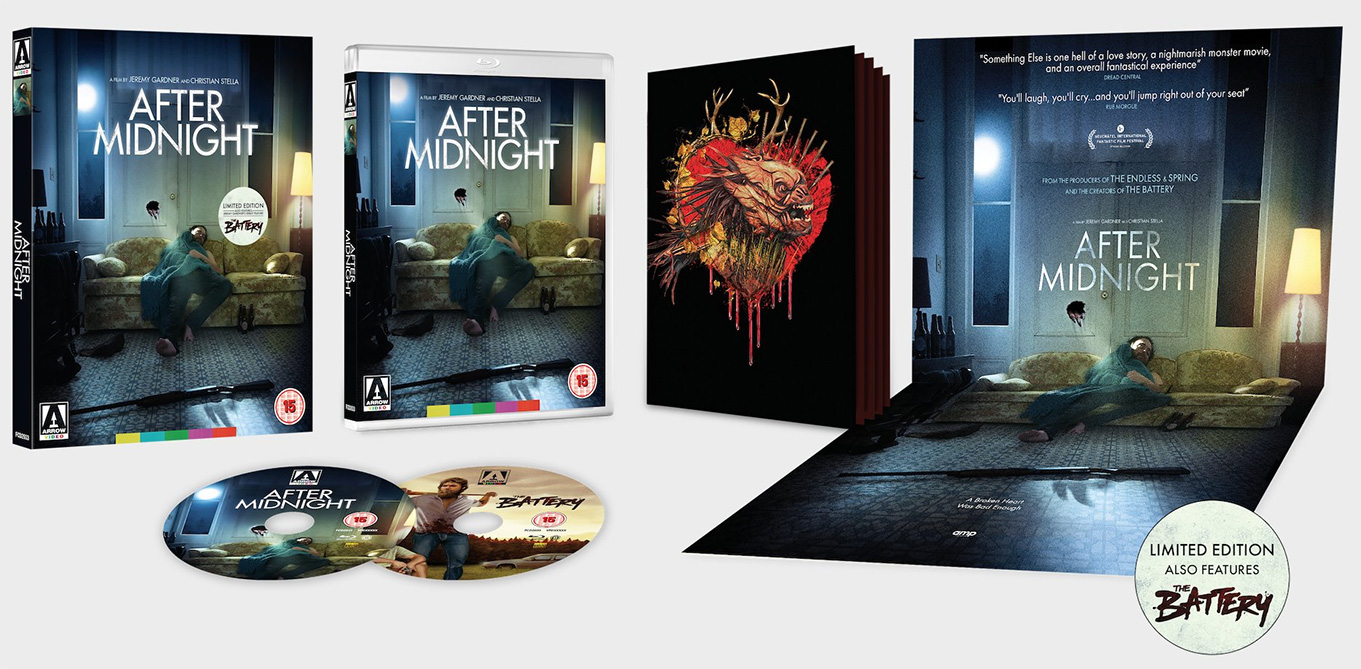 After Midnight is available to watch now on The Arrow Video Channel and Digital HD, and will be released on 2-disc Special Edition Blu-ray on 8 June by Arrow Video at the RRP of £24.99.
2-disc Blu-ray Special Edition contents:
Limited to 2,500 units
High Definition Blu-ray (1080p) presentations of After Midnight and Jeremy Gardner's first feature, The Battery – available on Blu-ray for the first time in the UK
Optional English subtitles for the deaf and hard of hearing
Reversible sleeve with a choice of artwork designs
Reversible fold-out poster
Limited edition collector's booklet containing new writing on After Midnight by William Dass and an archive piece on The Battery by Jeremy Gardner
DISC ONE – AFTER MIDNIGHT
Original 5.1 and 2.0 Stereo audio soundtracks
Audio commentary with directors Christian Stella and Jeremy Gardner
Lakeland Florida Q&A, featuring Stella, Gardner, actors Ashley Song, Nicola Masciotra and Taylor Zaudtke, script supervisor Elise Stella and 2nd assistant director Juan Ortiz
Pitching 'Something Else' – Stella and Gardner pitch the character of Wade to Henry Zebrowski. Featuring an intro by producer Aaron Moorhead
Self-interview while self-quarantined during the coronavirus outbreak. Brand new interview with actor and producer Justin Benson, recorded exclusively for this release
Brea and Barak find Fantastic Fest Scooters. Actors Brea Grant and Barak Hardley hunt down scooters following the Fantastic Fest screening of After Midnight
Behind-the-scenes featurette
Outtakes
Behind-the-scenes image gallery
Official international and UK trailers
DISC TWO - THE BATTERY
Original stereo audio 
Audio commentary featuring writer, director and actor Jeremy Gardner, producer and actor Adam Cronheim, and director of photography Christian Stella 
The Making of The Battery, feature-length 90-minute documentary on the making of the film
Featurette on the music of The Battery
Outtakes
Theatrical trailer