Third Window Films has announced the release of its second collection of newly remastered 60s and 70s Pink Cinema films from Japan for a Dual Format release in May. Pink Films Vol. 3 & 4 will consist of Abnormal Family, the 1984 debut feature from director Masayuki Suo, and Blue Film Woman, one of a staggering 18 films directed by the prolific Kan Mukai in 1969.
ABNORMAL FAMILY [HENTAI KAZOKU: ANIKI NO YOMESAN] (1984)
The debut film of the director of the international hit comedy Shall We Dansu? (1996) follows the Mamiya family after the latest arrival of the voluptuous new bride of over-sexed eldest son Kôichi. Kazuo sees his new sister-in-law as a source of release from study stress, while his sister Akiko, after donning her Office Lady uniform heads straight to a workplace that offers much more in the way of financial incentive. Suo's only ever pink film is a bawdy pastiche of the works of Ozu Yasujirô, presenting this far-from-typical family through idiosyncratic editing and compositional.
BLUE FILM WOMAN [BURÛ FIRUMU NO ONNA] (1969)
Blue Film Woman is a feverish mishmash of horror, blackmail sexploitation and trippy nightclub sequences revolving around the daughter of a stockbroker who is brought to his knees by an unexpected financial crash. In order to stave off bankruptcy, he offers up his wife to his sleazy, reptilian creditor Uchiyama who, after prodding and pawing over her, locks her up in the shed at the bottom of the garden where his mentally challenged son Hiroshi lurks in the attic. She manages to escape from his clutches in the nick of time, only to be mown down by a passing car. With her father now reduced to a gibbering wreck, it is left to daughter Mariko to seek revenge. Rising from her job as a nightclub go-go dancer to a high-class call girl catering for prosperous businessmen, Mariko deploys all the tools of her trade to bring down those responsible for her family's demise.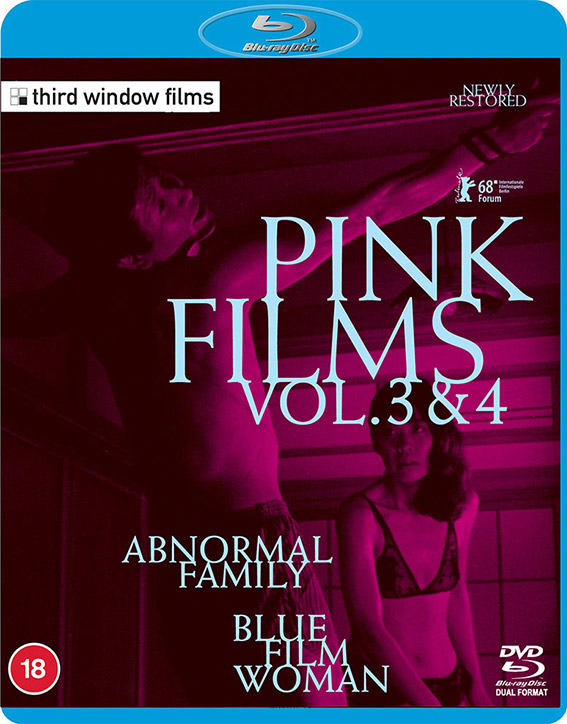 Pink Films Vol. 3 & 4 will be released as a Dual Format edition (Blu-ray & DVD) by Third Window Films on 25 May 2020 at the RRP of £19.99.
Special features:
Pink Thrills: Jasper Sharp on Pink Eiga – a 35 minute video essay on pink cinema