This July's Arrow Video releases are suitably scorching for the height of summer, withthe deliriously entertaining action adventure Bloodstone, an overlooked slice of deep South USA gothic in the shape of Black Rainbow, depraved and violent Japanese treasure Inferno of Torture, and a unique new Korean spin on the zombie genreZombie for Sale. The beautifully presented, pristine hi-def prints are accompanied by collector's booklets, brand new commentaries, and the usual selection of rare and informative extras.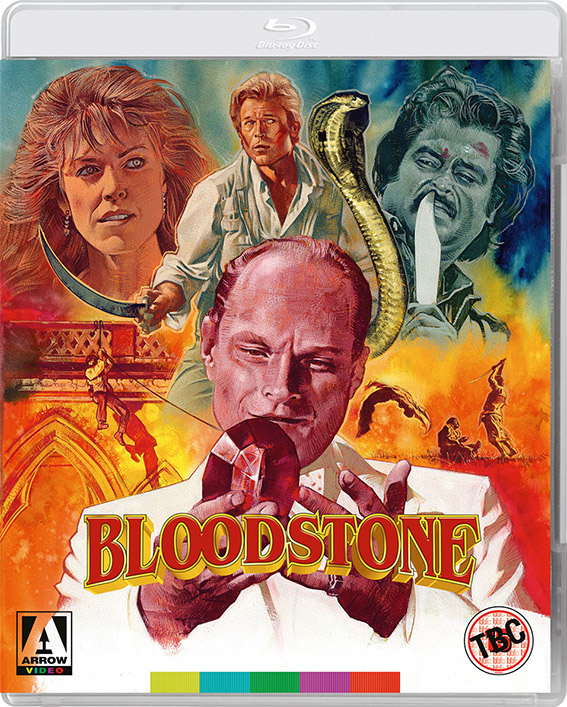 BLOODSTONE (1988) | Blu-ray | 20 July 2020 | £24.99
A man of action who can fight with the best of them and a cab driver who would give the Transporter a run for his money, pair up to save a young girl from the clutches of an evil criminal magnate in the exciting adventure thrill-ride Bloodstone!
The Bloodstone, a priceless stolen ruby, accidentally ends up in the possession of American newlyweds Sandy (Brett Stimely, Cannibal Women in the Avocado Jungle of Death) and Stephanie (Anna Nicholas, Remington Steele). Now, their honeymoon in India is interrupted as they become the target of international fence Van Hoeven (Christopher Neame, The Prestige) and his evil henchmen. When Van Hoeven kidnaps Stephanie and ransoms her for the jewel, Sandy joins forces with cabby and dormant stunt-driver Shyam Sabu (Rajinikanth, 2.0) to rescue his young bride.
Co-written and produced by genre film luminary Nico Mastorakis (Island of Death, The Wind) and featuring a stellar performance by legendary Tamil superstar Rajinikanth in his first English-language role, Bloodstone is an action-packed romp full of thrills, kick-ass one liners and venomous cobras!
Blu-ray Special Edition contents:
High Definition Blu-ray (1080p) presentation
Original 2.0 Stereo PCM Uncompressed audio and 5.1 Surround audio options
Optional English subtitles for the deaf and hard of hearing
Optional Greek subtitles
Brand new audio commentary by Bryan Reesman
Keeping it to Myself – brand new interview with producer and co-writer Nico Mastorakis
Brand new video essay on Bloodstone's star Rajinikanth by Indian cinema expert Josh Hurtado
Trailers
Image gallery
Original screenplay [BD-ROM content]
Reversible sleeve featuring original and newly-commissioned artwork by Graham Humphreys
FIRST PRESSING ONLY: Illustrated collector's booklet featuring new writing on the film by Mark Cunliffe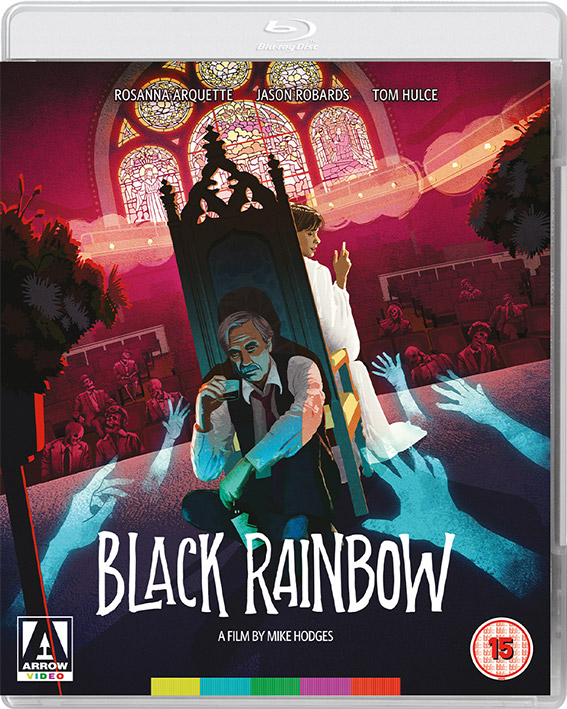 BLACK RAINBOW (1989) | Blu-ray | 6 July 2020 | £24.99
Mike Hodges (Flash Gordon, Get Carter) wrote and directed this supernatural chiller as a meditation on the human race's ability to destroy the world, a gothic tale of suspense and the occult, guaranteed to send shivers down your spine.
Martha Travis (Rosanna Arquette, Pulp Fiction, Crash) is a travelling clairvoyant on the road with her sceptic father (Jason Robards, Once Upon a Time in the West, Magnolia). During a séance Martha communicates a message from a dead man to his wife in the audience. Shocked, the wife insists her husband is still alive. Later that evening the husband is killed by a ruthless assassin. As Martha foresees more and more tragic events journalist Gary Wallace (Tom Hulce, Amadeus, Animal House) follows the pair in pursuit of a hot story… with catastrophically eerie results.
Sent direct-to-video by its struggling distributor on initial release, Black Rainbow unfairly never got the exposure it deserved, newly restored from the original negative audiences can now discover the darkness at the end of the rainbow, as never before.
Director-Approved Blu-ray Special Edition contents:
Brand new restoration from the original negative approved by writer-director Mike Hodges
Original stereo 2.0 PCM uncompressed audio and 5.1 DTS-HD Master Audio Surround Sound options
Optional English subtitles for the deaf and hard of hearing
New audio commentary by film historians Kat Ellinger and Samm Deighan
Archival audio commentary by Mike Hodges
Message in a Bottle: Archival 'Making of' documentary
Archival interviews with Jason Robards, Tom Hulce, Rosanna Arquette - Archival featurettes '8 Minutes'; 'Disasters'; 'Seeing the Future'; 'Behind the Rainbow' featuring interviews with Hodges, Arquette, Robards, producer John Quested including behind-the-scenes imagery
Trailer
Reversible sleeve featuring original and newly commissioned artwork by Nathanael Marsh
FIRST PRESSING ONLY: Booklet featuring new writing on the film by author Alexandra Heller-Nicholas, Mike Hodges and more illustrated with stills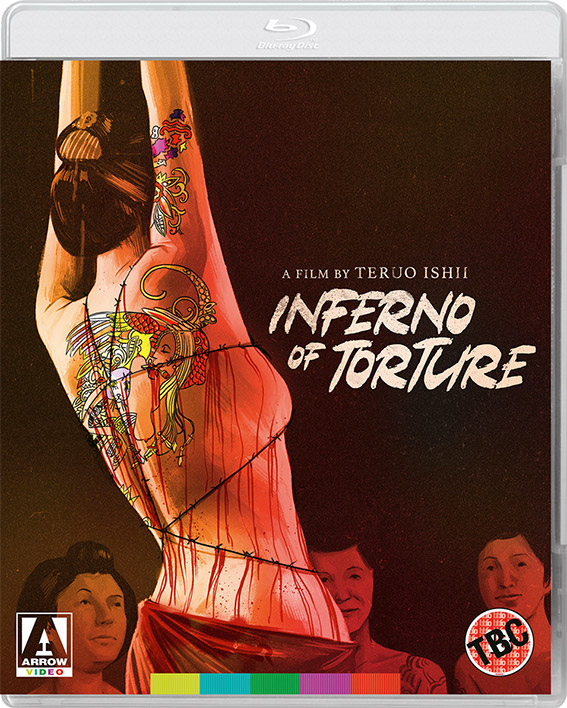 INFERNO OF TORTURE [TOKUGAWA IREZUMI-SHI: SEME JIGOKU] (1969) | Blu-ray | 6 July 2020 | £24.99
Exploitation legend Teruo Ishii (Horrors of Malformed Men, Orgies of Edo) delivers one of his most extreme visions of violent eroticism in this, the sixth in his abnormal love series. Tattoos and torture await women forced into servitude in Ishii's Inferno of Torture.
Unable to repay a local lender, Yumi (Yumika Katayama) takes up an offer to serve as a geisha for two years with a promise of freedom once her debt is repaid. She quickly realises that this is less a house of geishas than an extremely cruel brothel specialising in supplying western visitors with tattooed playthings. Taken under the wing of one of the leading tattoo artists vying for a coveted spot in the Shogun's good graces through his work, Yumi's body becomes a battleground as a rival artist becomes determined not to lose his spot at the top. When the madam, Otatsu (Mieko Fujimoto) trains her eye on the blossoming relationship between the benevolent artist Horihide (Teruo Yoshida) and his model, she makes sure that her stay is less than hospitable, inspiring the torturous inferno of the title.
Following Ishii's legendary Shogun's Joy of Torture and Orgies of Edo, the prolific filmmaker still manages to turn up the heat in this incredibly violent and salacious entry in a filmography unlike any other. From the film's opening scene depicting some of the most perverse violence ever captured on screen, through to the shock ending that will leave the audience's mouths agape, there's nothing quite like Inferno of Torture. Tender romance clashes with vile sadism as a sea of tattooed female flesh floods nearly every frame of this film depicting Japan's Edo period as only Ishii could.
Blu-ray Special Edition contents:
High Definition Blu-ray (1080p) presentation
Original uncompressed mono audio
Optional English subtitles
Audio Commentary by Japanese cinema expert Tom Mes
Erotic Grotesque Nonsense & the Foundations of Japan's Cult Counterculture - a condensed version of Jasper Sharp's Miskatonic Institute lecture
Trailer
Reversible sleeve featuring original and newly-commissioned artwork by Jacob Phillips
FIRST PRESSING ONLY: Collector's booklet featuring new writing on the film by Chris D.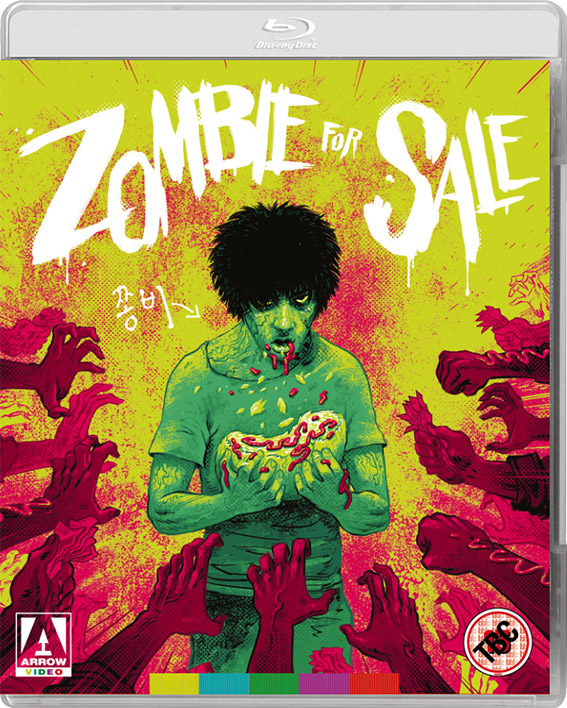 ZOMBIE FOR SALE [GIMYOHAN GAJOK] (2019) | Blu-ray | 6 July 2020 | £24.99
An infectiously funny slice of modern Korean cinema where Train to Busan, The Quiet Family and Warm Bodies collide to create a memorable rom-zom-com from first time director Lee Min-jae.
When the illegal human experiments of Korea's biggest Pharmaceutical company go wrong, one of their "undead" test subjects escapes and ends up in a shabby gas station owned by the Park family – a band of misfits spanning three generations who hustle passers-by to make ends meet. When the Park family uncover their undead visitor, he bites the head of their household, who instead of transforming into an undead ghoul becomes revitalised and full of life! The family then hatch a plan to exploit this unexpected fountain of youth, allowing locals to pay to be bitten too, until things go wrong… 
With a cabbage-munching zombie who prefers ketchup over blood, and a dysfunctional family that gives the Kim family of Parasite a run for their money, Zombie for Sale will warm the deadest of hearts and breathe some new life into the zombie genre.
Blu-ray Special Edition contents:
High-Definition Blu-ray (1080p) presentation
Original uncompressed Stereo and 5.1 DTS-HD MA options
Newly-translated English subtitles
Brand new audio commentary with filmmakers and critics Sam Ashurst and Dan Martin
Q&A with director Lee Min-Jae from a 2019 screening at Asian Pop-Up Cinema in Chicago, moderated by film critic and author Darcy Paquet
Eat Together, Kill Together: The Family-in-Peril Comedy - brand new video essay by critic and producer Pierce Conran exploring Korea's unique social satires
Making-of Featurette
Behind-the-Scenes footage 
Original Trailer
Reversible sleeve featuring original and newly-commissioned artwork by Mike Lee-Graham
FIRST PRESSING ONLY: Collector's booklet featuring new writing by Josh Hurtado