Five years in the making, Women Make Film: A New Road Movie Through Cinema is Mark Cousins' bold follow-up The Story of Film: An Odyssey uses hundreds of clips from films directed by women to show how movies are made.
Presented in thematic chapters and narrated by Tilda Swinton, Jane Fonda, Adjoa Andoh, Sharmila Tagore, Kerry Fox, Thandie Newton and Debra Winger, Women Make Film: A New Road Movie Through Cinema looks at how a great opening shot is done, how to frame an image, how to introduce a character, how to film sex, dance and death, how work and love are portrayed in cinema, and how the genres such as comedy, melodrama and sci-fi work.
Many famous female directors are included, but so are scores of forgotten women from every period in film history and from five continents. Women Make Film is a revealing eye-opener, a celebration of the art and craft of cinema, and a j'accuse to film history.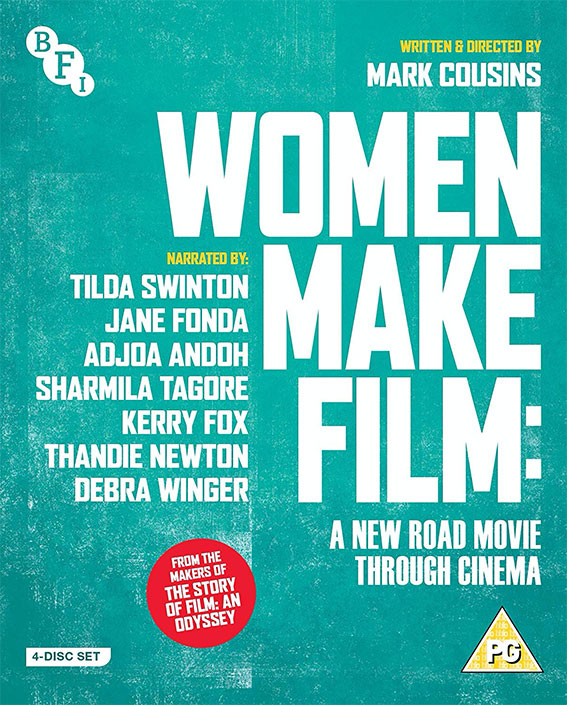 On 18 May 2020, Women Make Film will be released by the BFI on Blu-ray in a 4-disc set with additional features at the RRP of £49.99. On the same day it will be released on BFI Player's Subscription service in five episodes; one will uploaded each week from 18 May–5 June.
Blu-ray special features:
The Making of… (2020, 13 mins): a video essay by Mark Cousins in which he discusses the influences, motivations and methodology of Women Make Film 
Mark Cousins and Barbara Kopple Q&A (2020, 18 mins): a discussion following a screening of Women Make Film at Toronto International Film Festival 
Together (1956, 48 mins): two deaf-mute dock workers eke out a humble East End existence in Lorenza Mazzetti's striking and poetic film
Trailer
Illustrated booklet with an introduction by Cari Beauchamp, an essay by Mark Cousins, biographies and full credits