Unavailable worldwide for 30 years, at last Pet Shop Boys' 1988 feature film It Couldn't Happen Here makes its overdue debut on Blu-ray and DVD in June in a Dual Format edition, courtesy of the BFI.
Packed full of iconic tracks, It Couldn't Happen Here is a singularly strange, striking and sensational pop movie par excellence. Numerous extras include a 48-page digi-book that contains a new interview with Neil Tennant, a new feature commentary with director Jack Bond, co-writer James Dillon and cinematographer Simon Archer, and new interviews with Jack Bond and choreographer Arlene Phillips.
Jack Bond (The Blueblack Hussar) originally set out to make an extended pop video based on Pet Shop Boys' 1987 album Actually. What he ended up with was a flamboyantly full-scale feature film that finds Neil Tennant and Chris Lowe embarking on an outstanding musical odyssey from coast to capital, encountering the eccentric likes of screen legends Joss Ackland, Gareth Hunt and Barbara Windsor along the way. Perfect pop surrealism meets road movie to the sound of hits from the duo's fantastic first two studio albums, including all-time classics West End Girls, It's a sin and Always on my Mind.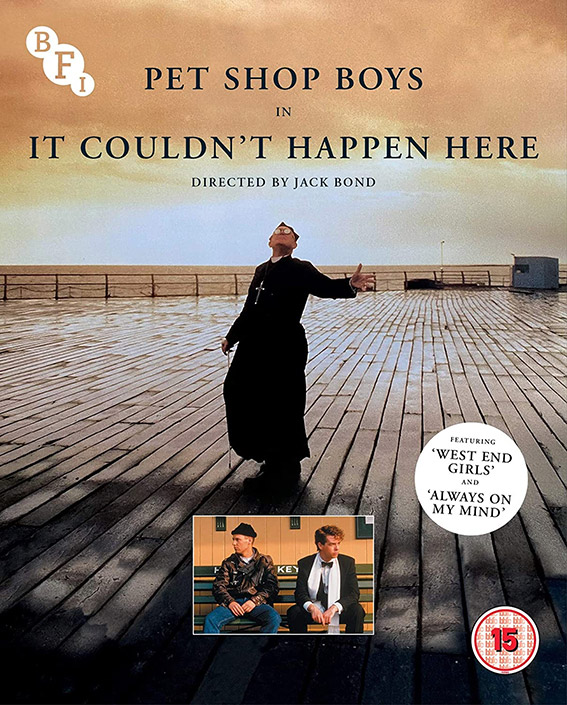 It Couldn't Happen Here will be released as a Dual Format Edition (Blu-ray & DVD) by the BFI on 15 June 2020 at the RRP of £24.99.
Special features:
Limited edition 48-page digi-book includes a new interview with Neil Tennant of Pet Shop Boys and previously unseen excerpts from his personal production diary, as well as an introduction to the film by director Jack Bond and writing on the film by Anthony Nield, Jason Wood, Omer Ali, John Ramchandani, William Fowler and Vic Pratt
Comprehensive feature commentary by writer and director Jack Bond, art director James Dillon and lighting cameraman Simon Archer (2020)
West End Boy: Jack Bond (2020, 27 mins): the director discusses his eclectic career as a filmmaker and his enterprising approach to the making of It Couldn't Happen Here
It Can Happen Here: Arlene Phillips (2020, 26 mins): the renowned choreographer reflects upon a life in dance – and the trials and tribulations of working on It Couldn't Happen Here
Always on My Mind (1987, 5 mins): the full-length promotional video for Pet Shop Boys' acclaimed 'Christmas Number One' hit, featuring Joss Ackland
Actually: an unfilmed early version of the script for the film, included here in its entirety for the first time anywhere
As it Happened: image galleries, including the complete final version of the script, the director's shot lists, Pet Shop Boys reference lyric sheets and promotional materials for It Couldn't Happen Here
Original theatrical trailer (digitally reconstructed for this release)