The BFI have announced the release of Ozu Yasujirō's The Flavour of Green Tea Over Rice [Ochazuke no aji], which is coming to Blu-ray and DVD in a Dual Format edition, and to stream or buy over iTunes and Amazon Prime. On BFI Player from 5 June 2020 within a collection of 25 Yasujirô Ozu films released on BFI Player's Subscription service as part of JAPAN 2020, a major new BFI season launching this month.
Ozu Yasujirō's films use minimalist storytelling and an emphasis on character to paint a portrait of family life and the relationships between the generations. Made the year before his career defining masterpiece Tokyo Story (which will be released on Blu-ray by the BFI on 15 June), The Flavour of Green Tea Over Rice one of Ozu's most beautiful domestic sagas, a subtly piercing portrait of a marriage coming quietly undone.
Secrets and deceptions strain the already tenuous relationship of a childless, middle aged couple, as the wife's city bred sophistication clashes with the husband's small town simplicity, and a generational sea change in the form of their headstrong, modern niece sweeps over their household. Ozu's expert grasp of family dynamics receives one of its most spirited treatments, with a wry, tender humour and an expansiveness that moves the action from the home, to the baseball stadiums and the shops of post-war Tokyo.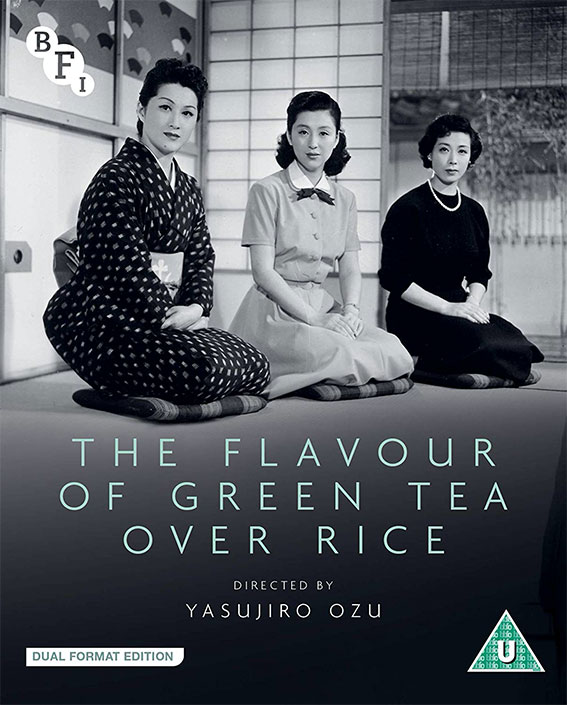 The Flavour of Green Tea Over Rice will be released on UK Dual Format (Blu-ray & DVD), iTunes and Amazon Prime on 18 May 2020 at the RRP of £19.99 for the disc edition.
Dual Format contents:
Re-mastered at 4K and presented in High Definition for the first time in the UK
Feature-length audio commentary by critic and Asian-cinema expert Tony Rayns
Alternative unrestored audio track
The Mystery of Marriage (1932, 34 mins): educational filmmaker and pioneering female director Mary Field draws peculiar and poignant parallels between the mating rituals of humans, animals and mould in this eccentric, entertaining educational film
The Good Housewife 'In Her Kitchen' (1949, 9 mins): the fourth wall is shattered in this imaginative public information film, filled with good advice for kitchen users – whether they have a refrigerator or not
*** First pressing only*** Illustrated booklet with an extended archival essay by Tom Milne, notes on the special features and credits