Revered as one of the most influential filmmakers of all time, Michelangelo Antonioni (L'Avventura, The Red Desert) has been credited as one the creators of modern cinema, influencing the French New Wave with this debut masterpiece and informing the work of Ingmar Bergman, Martin Scorsese and Stanley Kubrick to name just a few.
CultFilms is prsenting the debut feature and first monumental work from Antonioni, Story of a Love Affair [Cronaca di un Amore]. Inspired by James M. Cain's novel The Postman Always Rings Twice and pulling in influences from Italian neo-realism, Antonioni's masterful debut combines noir-thriller and sensual drama, with mesmerising performances from its leads Massimo Girotti and Lucia Bosè.
Paola (Lucia Bosè) is a strikingly beautiful young woman married to a rich older industrialist who decides to have her past investigated. The detective's enquiry reaches Paola's former lover Guido (Massimo Girotti), prompting him to seek her out after seven years, reigniting their passion. 
Antonioni's breathtaking story chronicles the illicit love affair between Paola and Guido without judgement. His ground-breaking techniques, such as long and sweeping one-take shot and scintillating black and white photography are presented here in HD for the first time, from a painstaking 2K restoration, finally doing justice to the director's debut masterpiece. Long overlooked, Story of a Love Affair is ripe for discovery in its seventieth anniversary year.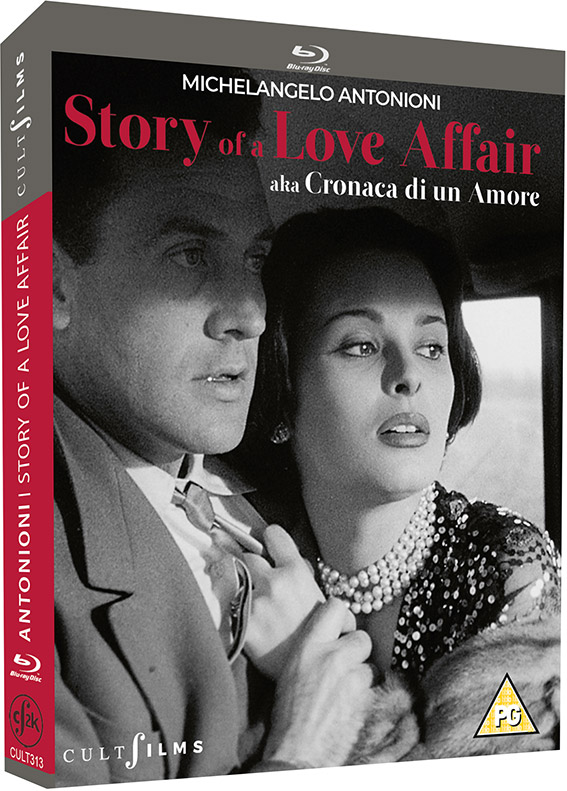 Story of a Love Affair will be released on Blu-ray and Digital on 27 July 2020 by CultFilms at the RRP of £16.50 if you order direct from the distributor.
Special features:
Premiere cinema presentation of the restored film, with Antonioni, Lucia Bosè and Dario Argento and more
When a First Work Is already a Masterpiece – review by renowned Italian film critic Tullio Kezich
The genesis of the film by Assistant Director and co-writer Francesco Maselli
The making-of the film with Francesco Maselli plus interviews
Restoring a masterpiece by cinematographer Giuseppe Rotunno (The Leopard, Boccaccio 70, Amarcord)