This November, the good people at Indicator embark on a major project – a deep dive into the murky, cynical, shadowy world of film noir that will comprise multiple releases across numerous volumes over the coming years. To begin, they are digging into the Columbia vaults with Columbia Noir #1, the first in a series of collections devoted to the studio's output, encompassing outright classics like Irving Lerner's Murder by Contract, forgotten gems like Gordon Douglas' Between Midnight and Dawn, and such major filmmakers as Edward Dmytryk, Nicholas Ray and Robert Rossen.
Released 16 November, Columbia Noir #1 showcases six tough, no-nonsense noirs from six of the genre's toughest, no-nonsense directors: Budd Boetticher's Escape in the Fog, in which a nurse and a war veteran take on Nazi spies in San Francisco; Joseph H Lewis' The Undercover Man, inspired by the real-life case against Al Capone; Richard Quine's Drive a Crooked Road, which finds Mickey Rooney moving away from comedies and musicals to a tougher persona; Phil Karlson's 5 Against the House, starring Kim Novak as a nightclub singer embroiled in a casino heist; Vincent Sherman's The Garment Jungle, from which Kiss Me Deadly director Robert Aldrich was famously fired; and Don Siegel's police procedural The Lineup, based on the radio and television series, and as brutal a film as he ever made.
Mastered from the finest available materials, this essential collection contains expertly encoded presentations, a range of new and archival extra features, including commentaries on all six films, English subtitles for the deaf and hard-of-hearing, and a 120-page book with new essays, historical articles, contemporary reviews and film credits.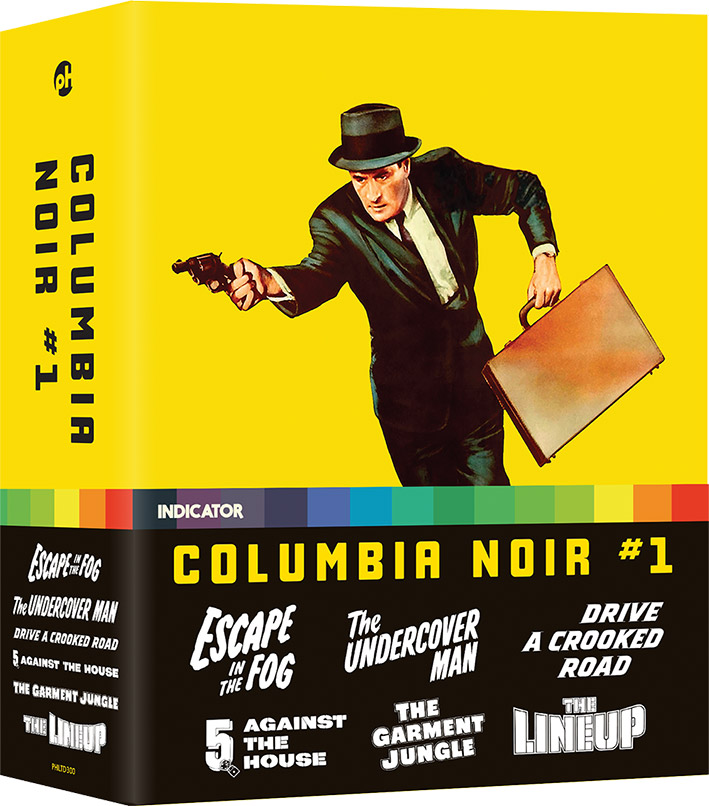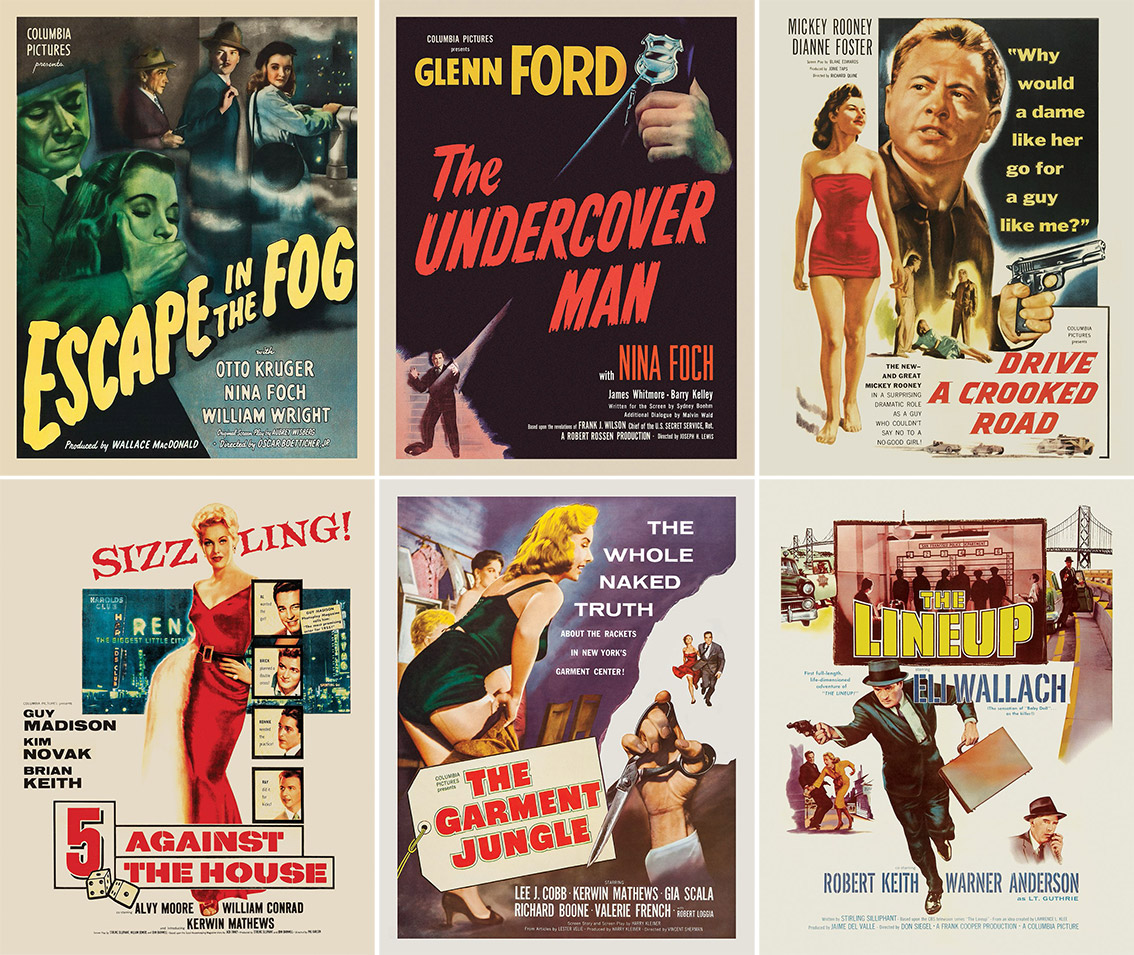 INDICATOR LIMITED BLU-RAY EDITION BOX SET SPECIAL FEATURES:
2K restorations of Escape in the Fog, The Undercover Man and The Garment Jungle
High Definition presentations of Drive a Crooked Road, 5 Against the House and The Lineup
Original mono soundtracks
Audio commentary with film historian Pamela Hutchinson on Escape in the Fog(2020)
Audio commentary with writer and film programmer Tony Rayns on The Undercover Man (2020)
Audio commentary with critic Nick Pinkerton on Drive a Crooked Road (2020)
Audio commentary with critic David Jenkins on 5 Against the House (2020)
Audio commentary with film historian Kevin Lyons on The Garment Jungle(2020)
Audio commentary with author James Ellroy and the Film Noir Foundation's Eddie Muller on The Lineup (2009)
Audio commentary with film historian David Del Valle and author and screenwriter C Courtney Joyner on The Lineup (2020)
Introduction to Drive a Crooked Road by Martin Scorsese (2014)
It's a Jungle Out There (2007): archival interview with actor Robert Loggia conducted after a screening of The Garment Jungle
Appreciation of The Garment Jungle by Tony Rayns (2020)
The Influence of Noir (2009): appreciation of The Lineup by filmmaker Christopher Nolan
Two episodes of The Lineup radio series: The Candy Store Murder (1950), written by Blake Edwards and Richard Quine; and The Case of Frankie and Joyce (1951)
Screen Snapshots: Mickey Rooney, Then and Now (1953): Columbia Pictures promotional short featuring the famed performer looking back at his series of Mickey Maguire comedies
Man on a Bus (1955): short film directed by Joseph H Lewis for the United Jewish Appeal, featuring a star-studded cast, including Walter Brennan, Broderick Crawford, Lassie, and Ruth Roman, and presented in High Definition
Original theatrical trailers for Drive a Crooked Road, 5 Against the House, The Garment Jungle and The Lineup
The Lineup trailer commentary: short critical appreciation by A History of Violence screenwriter Josh Olson
Image galleries: promotional and publicity materials
New and improved English subtitles for the deaf and hard-of-hearing
Limited edition exclusive 120-page book with new essays by Iris Veysey, Paul Duane, Jill Blake, Wheeler Winston Dixon, Nathalie Morris, and Sergio Angelini; archival interview extracts with Budd Boetticher, Joseph H Lewis, Phil Karlson, and Robert Aldrich; extracts from the autobiographies of Don Siegel and Vincent Sherman; and film credits
World and UK premieres on Blu-ray
Limited edition box set of 6,000 numbered units
MORE EXTRAS TO BE ANNOUNCED
All extras subject to change