Starring screen legend Bette Davis and superbly directed by Frank Capra (It's a Wonderful Life), the 1961 Pocketful of Miracles is a remake of his earlier film Lady for a Day (1933) and is pure Hollywood magic – an unforgettable combination of comedy, whimsy and romance that was nominated for three Oscars – Best Supporting Actor for Peter Falk, Best Costume Design for Edith Head and Walter Plunkett, and Best Song for 'Pocketful of Miracles' by Jimmy Van Heusen and Sammy Cahn. On 21 September the BFI brings this charming MGM classic to Blu-ray for the first time in the UK. Special features include a new audio commentary and A Pocketful of Archive Shorts – seven films from the BFI National Archive that explore similar themes to those in the feature.
For years Apple Annie (Bette Davis), a poor Broadway fruit seller, has mislead her overseas-educated daughter Louise into thinking she is a wealthy New York socialite. With Louise's engagement to a Spanish noble, a reunion and a society wedding are on the horizon and Annie's fabrication risks being revealed. To maintain the ruse, local racketeer Dave the Dude (Glenn Ford) engages a colourful crop of 42nd Street characters to help imitate high society. But will Annie be able to maintain the masquerade?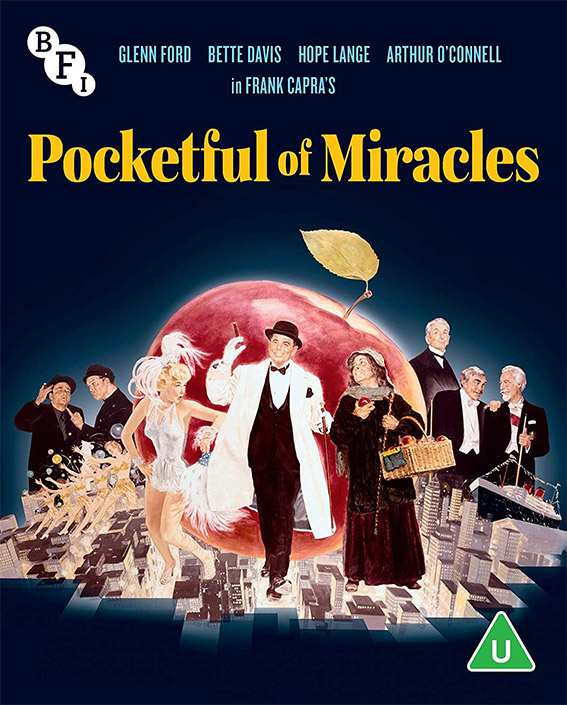 Pocketful of Miracles will be released on UK Blu-ray on 21 September 2020 by the BFI at the RRP of £19.99.
Blu-ray special features:
Audio commentary by Jim Hemphill (2020)
A Pocketful of Archive Shorts: a tangential dive into archive film, exploring some of the themes and iconography of Pocketful of Miracles featuring Street Scene – Men with Cart (1898, 1 min); Beggar's Deceit (1900, 1 min) ;Cunard Mail Steamer Lucania Leaving For America (extract) (1901, 3 mins); American Liner 'Lusitania' Entering New York Harbour (1911, 1 min); Fruitlands of Kent (1934,12 mins); Love on the Wing (1939, 4 mins); I Am a Reporter (1961, 13 mins)
Image gallery
Trailer
First pressing only – Illustrated booklet with new writing by Leigh Singer, Maura Spiegel and Sarah Wood, notes on the extras and full credits
Here's a clip: