The 1966 After the Fox is a wildly funny farce gives Peter Sellers free rein as he assumes a plethora of disguises, and is stylishly directed by Vittorio De Sica (Shoeshine, Bicycle Thieves) from an original screenplay by the brilliant Neil Simon (The Odd Couple). On 21 September 2020 the BFI brings this MGM madcap comedy caper to Blu-ray for the first time in the UK. Numerous special features include a new interview with co-star Britt Ekland and a video essay by the BFI's Vic Pratt (who produced this release) about the enigma of Peter Sellers and his multiple roles.
Millions of dollars in stolen gold bullion must be smuggled from Cairo to Italy, and there's only one criminal mastermind capable of doing it: Aldo Vanucci, aka The Fox, played by the one and only Peter Sellers. Vanucci devises the perfect plan to bring the loot ashore, posing as a flamboyant Italian film director and casting a faded, egotistical matinee idol (Victor Mature) and his own sister (Britt Ekland) in a fake movie – about, of course, a gold heist.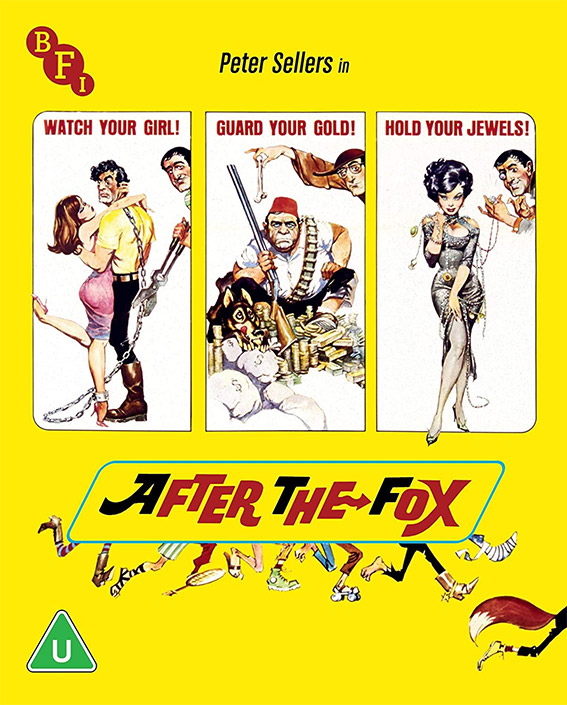 After the Fox will be released on Blu-ray by the BFI on 21 September 2020 £19.99.
Blu-ray special features:
After the Fox: A Socially Distanced Interview (2020, 15 mins): Britt Ekland looks back on the early days of her acting career and remembers the making of After the Fox
Peter Sellers: Master of Disguise (2020, 14 mins): the BFI's Vic Pratt revisits the enigma of Peter Sellers and his multiple roles in this video essayillustrated with promotional images for After the Fox
DDR Magazin Nummer 11 (1962, 12 mins): After the Fox directorVittorio De Sica – paying a visit to Berlin – features prominently in this fascinating East German newsreel producedin the Cold War era
Robbery (1897, 1 min): could this Victorian novelty reel be the earliest heist comedy?
The Man With the Velvet Voice: Maurice Denham (1961 + 1975, 72 mins): the mellow tones of velvet-voiced actor MauriceDenham – who plays an authoritative supporting role in After the Fox – ring out in two rarities from the BFI NationalArchive: the CFF classic The Last Rhino and BTF film Go As You Please… in Britain
Original trailer
*** First pressing only*** Illustrated booklet with new writing by Vic Pratt, Dr. Deborah Allison and Howard Hughes, notes on the extras and full credits
Here's a clips: