Second Run has announced its first Blu-ray release of 2022, which is Czech director Jan Němec's 1966 The Party and the Guests [O slavnosti a hostech] and is due for release at the end of this month.
A group of friends on an afternoon picnic are accosted by mysterious authority figures and compelled to join a lavish banquet in the woods. Jan Němec's surreal and sinister fable is a barbed satire of authoritarianism and conformity, as each of the 'guests' find their place among the revellers, succumbing to the will of their menacing hosts.
Distinguished by being 'banned forever' by Czech authorities, Nemec's disquieting film was considered the most politically dangerous film made during the short flowering of Czechoslovak cinema in the 1960's.
This new Second Run Blu-ray release of The Party and the Guests also contains Jiří Trnka's renowned animated short film The Hand (1965), another surreal and savage indictment of totalitarianism (again banned by Czech authorities), making its world premiere on Blu-ray.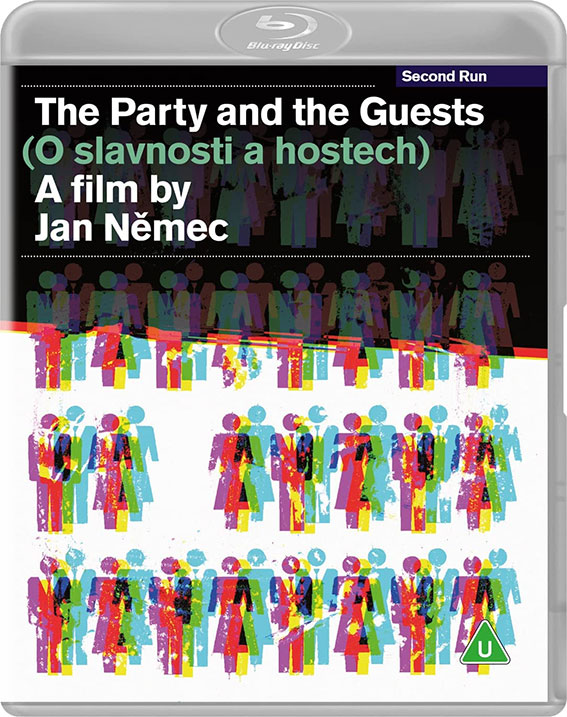 The Party and the Guests will be released on UK Blu-ray by Second Run on 31 January 2022, priced at £17.99 on Amazon.
BLU-RAY SPECIAL EDITION CONTENTS:
The Party and the Guests [O slavnosti a hostech] presented from an HD transfer of the new 4K restoration by the Czech National Film Archive. 
The Hand (Ruka, 1965): Jiří Trnka's renowned animated film presented from a new HD restoration and for the first time ever on Blu-ray. 
Audio commentary by author Jonathan Owen. 
Projection Booth audio commentary with film historians Mike White, Samm Deighan and Kat Ellinger. 
A filmed appreciation by Peter Hames 
24-page booklet featuring Michael Brooke's substantial essay on the film. 
New and improved English subtitle translation. 
World premiere on Blu-ray.