Third Window Films has announced the first video release (in any format) outside of Japan of Burst City and Gojoe director Ishii Sogo's punk classic, Crazy thunder Road [Kuruizaki Sandā Rōdo], featuring a new restoration supervised by the director alongside many new and exclusive extras.
Hailed as Japan's Mad Max, Ishii Sogo's high-octane, loud-and-proud breakthrough hit was one of that country's great success stories, a graduation project from a film school punk rocker bought by Toei Studios and released nationwide. 
The plot involves Ken, a gang leader dreaming of a quiet life with his girlfriend Noriko, and Jin, Ken's maverick successor, who isn't about to let yakuza kingpins or right-wing nutjobs tell him what to do or whom to kill. Jin's violent individualism in a world where even outlaws follow the bosses' orders references the doomed anti-establishment heroes of Kinji Fukasaku, but Crazy Thunder Road points toward a new style of genre filmmaking-fast-paced, quick-witted and brilliantly stylized.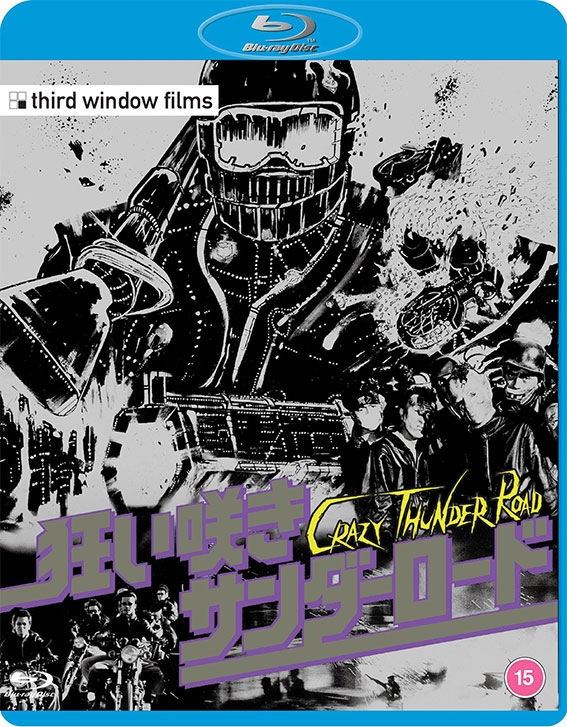 Crazy Thunder Road will be released on UK Blu-ray by Third Window Films on 21 February 2022 at the RRP of £19.99.
BLU-RAY BONUS FEATURES:
New master approved by the director
New interview with Ishii (Sogo) Gakuryū
Audio commentary by Tom Mes
ideo Essay: Jasper Sharp on Jishu Eiga