On 25 April in the UK and 26 April in the US and Canada, beloved British independent label Indicator offers up a heady mix of British comedy which explores the fantasies and failings of the male of the species in the shape of Stanley Long's Adventures: A Seventies Sex Comedy Threesome and Chris Cooke's One for the Road, one of the great, unsung British films of the twenty-first century.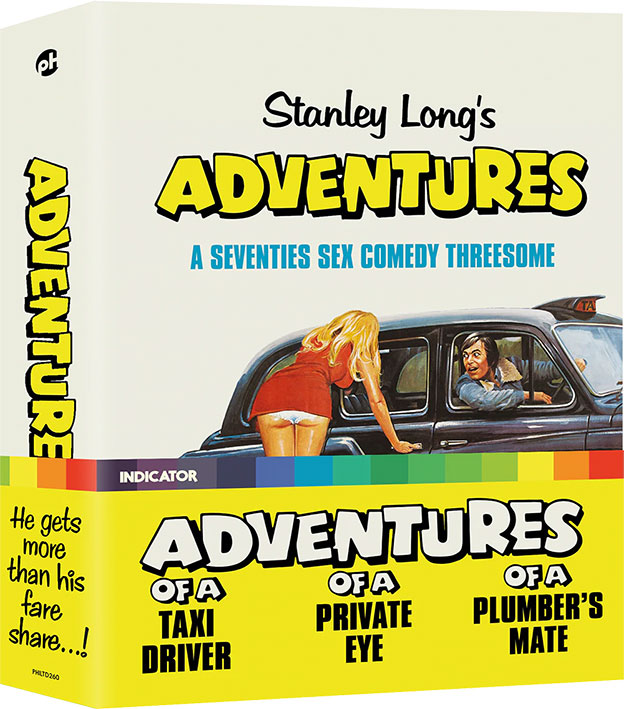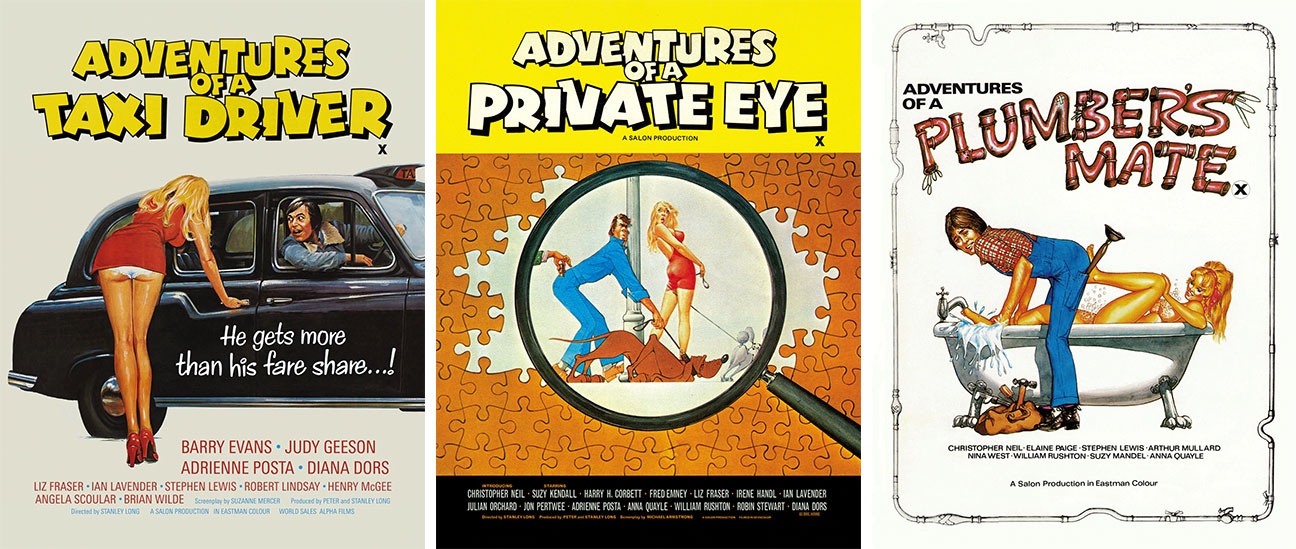 STANLEY LONG'S ADVENTURES: A SEVENTIES SEX COMEDY THREESOME
Limited Edition Blu-ray | 25 April 2022 | £32.99
Once dubbed the 'King of Sexploitation' by the tabloid press, Stanley Long was the godfather of the British sex film. Starting out with 8mm striptease reels in the 1950s before moving into nudist documentaries, Long went on to produce and direct a string of extremely popular X-rated movies which told tales of wife swapping, groupies and other saucy goings on. He reached the pinnacle of commercial success with this trio of incredibly successful 'on the job' sex comedies.
Adventures of a Taxi Driver, starring sitcom actor Barry Evans, set the template with the antics of a cabbie who 'gets more than his fare share'. Securing international distribution – as well as becoming the most successful comedy at the British box office in 1976 – it prompted two sequels, each featuring more of the same but with a different lead actor (future hit-record producer Christopher Neil).
Boasting supporting casts which burst with top-tier British acting talent – including Harry H Corbett (Steptoe and Son), Diana Dors (Berserk), Judy Geeson (Inseminoid), Suzy Kendall (To Sir, with Love), future musical theatre sensation Elaine Paige, and former Doctor Who Jon Pertwee – the Adventures series represents British popular filmmaking at its most unashamedly cheeky.
INDICATOR LIMITED EDITION BLU-RAY BOX SET SPECIAL FEATURES :
High Definition presentations of Adventures of a Taxi Driver, Adventures of a Private Eye, and Adventures of a Plumber's Mate
Original mono audio
Audio commentaries on all three films with director Stanley Long (2008)
The Best of the Adventures (1981): feature-length compilation of extracts from the Adventures series, made for the nascent videotape market and hosted by broadcaster Peter Noble
The BEHP Interview with Stanley Long (1999): archival audio recording, made as part of the British Entertainment History Project, featuring the producer and director in conversation with Denis Gifford and Emmanuel Yospa
Peter Sinclair's Camera (2022): the veteran cinematographer discusses his work for exploitation filmmakers Stanley Long and Pete Walker, and his move to Los Angeles in the 1980s to direct music videos
Dear Prudence (2022): Prudence Drage, one of Long's favourite performers, tells colourful stories from her extensive career as an actor and singer
Stanley by Simon (2022): Long's biographer Simon Sheridan recalls his close friendship with Britain's undisputed 'King of Sexploitation'
Super 8 version of Adventures of a Private Eye: cut-down home cinema presentation
Original theatrical trailers
Image galleries: extensive promotional and publicity materials from Stanley Long's archives
Can You Keep It Up with This, That and the Other for a Week? (2004): Jan Manthey's affectionate short film homage to the British sex comedies of the seventies
The Adventures of a Plumber in Outer Space (2008): Manthey's follow-up to Can You Keep It Up…, featuring a cameo appearance by Long
New and improved English subtitles for the deaf and hard of hearing
Limited edition exclusive 80-page book with a new essay by Simon Sheridan, archival interviews with Stanley Long and actor-composer Christopher Neil, a letter from the producers complaining about the Adventures films' treatment in the British press, newspaper articles on the controversy surrounding the casting of Elaine Paige in Adventures of a Plumber's Mate while she was starring in Andrew Lloyd Webber's Evita, a look at the three films' novelisations, an overview of contemporary critical responses, Jan Manthey on his short films, and film credits
World premiere on Blu-ray
Limited edition of 6,000 copies for the UK and US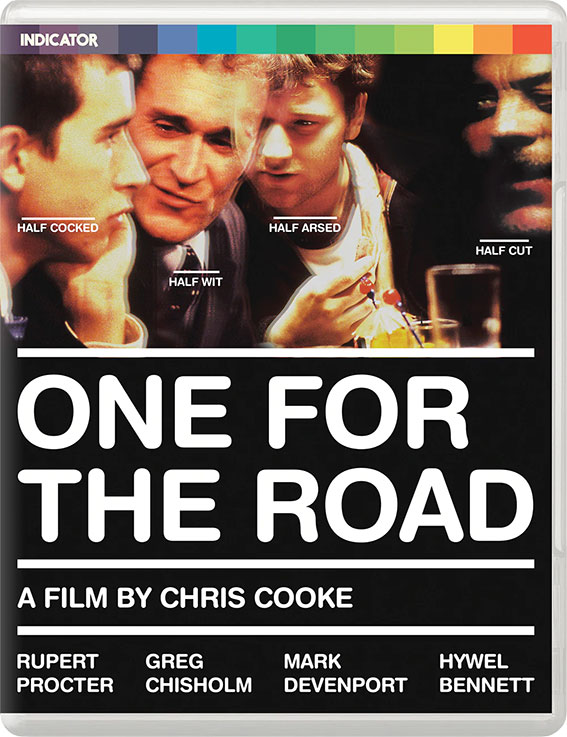 ONE FOR THE ROAD | Limited Edition Blu-ray | 25 April 2022 | £15.99
Four men with little in common, other than their attendance of an alcohol rehabilitation course, bond over their love of booze at a nearby pub between sessions. Between pints and bouts of delusion and depression, three of the men hatch a plan to get money out of the fourth – a mansion-dwelling millionaire played by the great Hywel Bennett (Endless Night) in his final feature-film role. 
A darkly comic satire on male fragility, Chris Cooke's One for the Road is one of the great, unsung British films of the twenty-first century. Made in Nottingham using early digital cameras – utilising a beer-soaked, cigarette-stained palette – it avoids the clichés associated with British cinema and embraces the do-anything nature of its chosen format to become its own, distinct work. The film also showcases a fine ensemble of acting talent in not only Bennett, but also Rupert Procter, Greg Chisholm, Mark Devenport, Micaiah Dring and Johann Myers.
INDICATOR LIMITED EDITION BLU-RAY SPECIAL FEATURES:
ew restoration from a 2K scan of an original preservation print by Powerhouse Films
Authentic cinema presentation of this digital video-originated production 
Original 5.1 surround sound and 2.0 stereo audio tracks
Audio commentary with writer-director Chris Cooke, producer Kate Ogborn and co-producer Helen Solomon (2003)
Audio commentary with actors Greg Chisholm, Mark Devenport and Rupert Procter (2003)
Brand new retrospective documentary featuring interviews with Cooke, actors Chisholm, Devenport, Procter and Johann Myers, composer Steve Blackman, and camera operator Steven Sheil (2022)
Video diaries with Chris Cooke and Steven Sheil (2003) 
Original theatrical trailer
Website 'virals' (2003): promotional videos featuring improvised, in-character footage of Devenport and Procter
Image gallery: promotional and publicity material
Map of the Scars (1998): short film written and directed by Chris Cooke, starring Andrew Tiernan
Map of the Scars audio commentary with Cooke (2003)
Shifting Units (2001): short film written and directed by Cooke, about an alcoholic salesman, that served as the inspiration for One for the Road
Shifting Units audio commentary with Cooke, producer Helen Solomon, and executive producer Kate Ogborn (2003)
Why I Hate Parties (But Pretend to Love Them) (2003): short film co-written and directed by Devenport, with photography by Cooke, and featuring cast members from One for the Road
Gary the Rapper vs Stefan Blix (2014): short film co-written and directed by Devenport, with photography by Cooke, starring One for the Road composer Steve Blackman
Whiskers and Jane (2017): short film written by Devenport and Blackman, directed by Devenport, and starring Procter
Optional English subtitles for the deaf and hard of hearing
Limited edition exclusive booklet with a new essay by Thirza Wakefield, archival interviews, an overview of contemporary critical responses, new writing on the short films, and film credits
World premiere on Blu-ray
Limited edition of 4,000 copies for the UK and US