Eureka Entertainment has announced two new titles for release on UK Blu-ray in May: Revolver, a suspenseful crime thriller starring Oliver Reed, co-written and directed by the legendary Sergio Sollima; and Vampyr, one of the finest and most enduringly mysterious of all horror films, will be released on Blu-ray for the first time in the UK from a brand-new 2K restoration.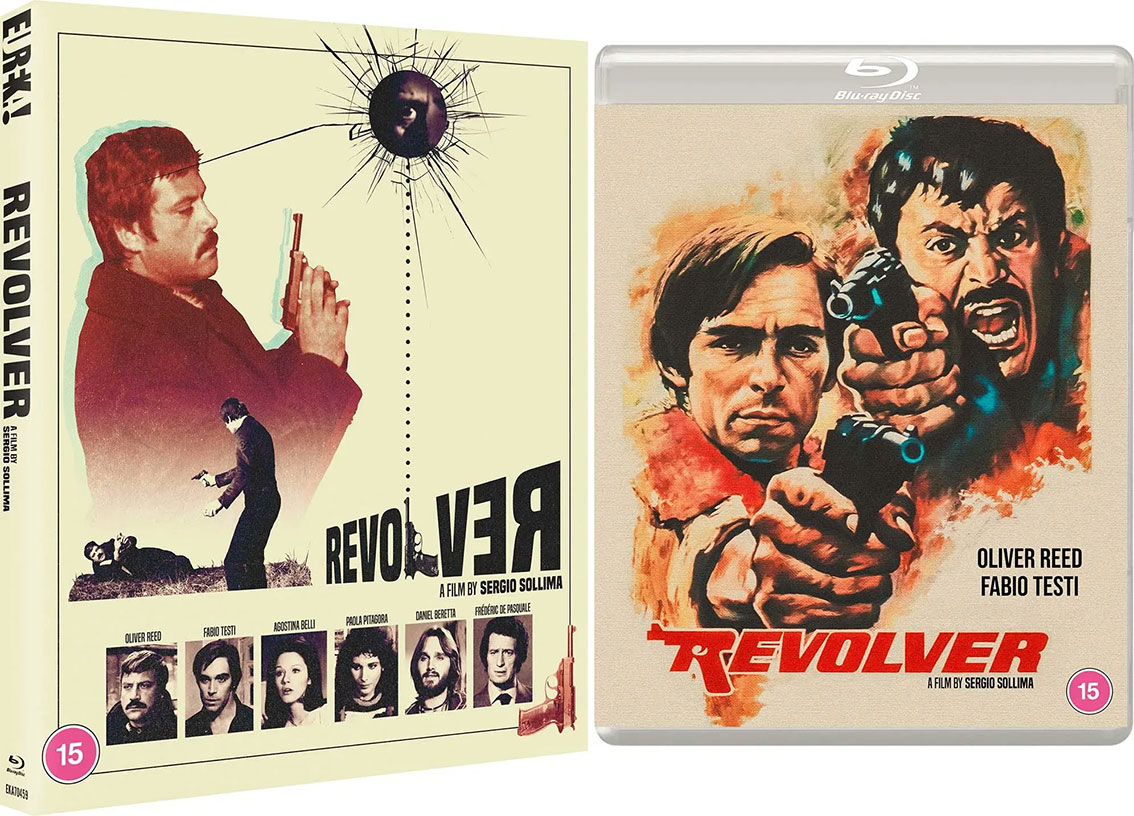 REVOLVER (Italy 1973) | Blu-ray | 16 May 2022 | £17.99
After directing his triptych of political (and acclaimed) spaghetti westerns (The Big Gundown; Face to Face; and Run, Man, Run), Sergio Sollima directed two crime thrillers in the poliziotteschi genre – the name given to the violent and action-packed Italian crime thrillers that had become exceedingly popular amongst Italian audiences. Sollima was a perfect fit for this style of filmmaking, and the two films he directed in the genre are both essential viewing. Presented here is the second, Revolver, starring Oliver Reed and Fabio Testi.
Kidnappers have snatched the wife of Milan's top prison warden (Reed) and demand the release of an inmate (Testi) as ransom. But when the warden allows his prisoner to escape, the two become trapped in a deadly conspiracy that reaches from the halls of government to the bullet-riddled city streets. Can an obsessed lawman and an escaped convict survive the forces of corruption as well as each other, or does the ultimate law of society belong to the revolver?
"Makes Death Wish look like wishful thinking!" was the immortal tagline that accompanied the film upon its US release (also retitled Blood in the Streets), but Revolver – as is to be expected from Sollima – is a much more complex film. Sollima was a highly political director and his films were often allegorical, implicitly opposed to the corruption endemic in Italian society at the time. With music by the late maestro, Ennio Morricone (including one of his most beloved compositions, Un Amico), Eureka Classics presents Revolver from a new 2K restoration for the first time on Blu-ray in the UK.
LIMITED EDITION BLU-RAY FEATURES:
Limited Edition O-Card slipcase [2000 copies]
1080p presentation on Blu-ray from a 4K restoration
English and Italian audio options
Optional English Subtitles, newly translated for this release
Brand new audio commentary by author / critic Kim Newman
Brand new interview with film scholar Stephen Thrower, author of Nightmare USA
Archival interview with actor Fabio Testi
Original Trailers and Radio Adverts
A Limited Edition collector's booklet featuring two new essays by author Howard Hughes; one covering the background to the making of Revolver, and an extensive piece on Ennio Morricone's "Eurocrime" soundtracks [2000 copies]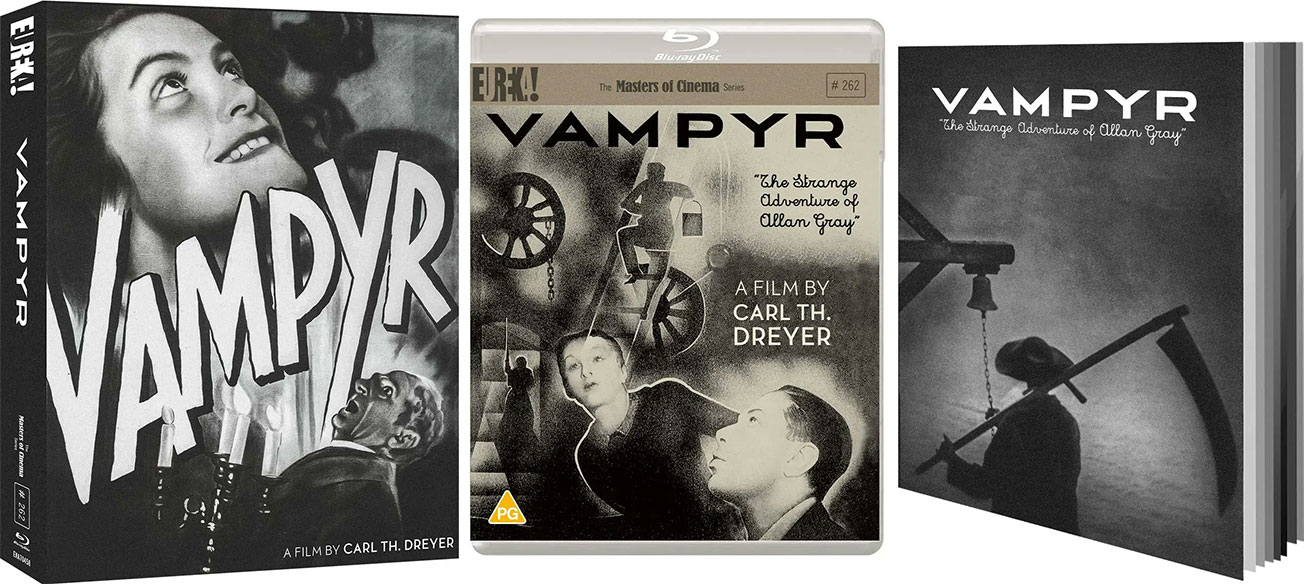 VAMPYR (France 1932) | Limited Edition Blu-ray box set | 20 May 2022 | £25.99
The first foray into sound filmmaking by one of cinema's pivotal artists, Vampyr remains a cornerstone work of the horror genre. The dreamlike tale of an occult-obsessed student's visit to a small French village, as he is drawn into the unsettling mystery around a stricken family's struggle with malevolent forces, remains an unparalleled evocation of the uncanny.
Adapting the haunted stories of Sheridan Le Fanu, Carl Dreyer's ceaseless innovation delivers a tour-de-force of supernatural phantasmagoria and creeping unease, via audacious camerawork and sound design.
Presented from an all-new 2K restoration by the Danish Film Institute, supported by the MEDIA program Creative Europe, and taking more than a decade to complete – materials from several European archives (including the BFI, CNC and DFI) have been meticulously scanned and assessed to create the highest quality and most faithful version of Vampyr possible. Now unveiled for the film's 90th anniversary, one of the most visually and aurally distinctive horror films ever made finally comes to Blu-ray in the UK, in a definitive incarnation that achieves the full experience Dreyer intended audiences to have.
LIMITED EDITION BLU-RAY FEATURES:
Limited Edition Hardbound Slipcase [3000 copies]
All-new 2K digital restoration of the German version by the Danish Film Institute, completed in 2020 after an extensive decade-long restoration process, with uncompressed mono soundtrack
Optional unrestored audio track
Two audio commentaries: one by critic and programmer Tony Rayns; the second by filmmaker and Vampyr fan Guillermo del Toro
Visual essay by scholar Casper Tybjerg on Dreyer's Vampyr influences
New video interview with author and critic Kim Newman on Vampyr's unique place within vampire cinema
Two new video interviews with music and cultural historian David Huckvale on the film's score and its adaptation of Sheridan Le Fanu
Carl Th. Dreyer (1966) – a documentary by Jörgen Roos
Two deleted scenes, removed by the German censor in 1932
The Baron – a short MoC documentary about Baron Nicolas de Gunzburg
Optional English subtitles
A 100-PAGE BOOK - featuring rare production stills, location photography, posters, the 1932 Danish film programme, a 1964 interview with Baron Nicolas de Gunzberg (producer and actor "Allan Gray"), an essay by Dreyer on film style, and writing by Tom Milne, Jean and Dale Drum, and film restorer Martin Koerber [3000 copies]
Read out review of Eureka's 2008 DVD release here.