Newly restored in 4K, director John Hillcoat (The Road, Triple 9) and writer Nick Cave's Australian Western, a modern classic, is released by the BFI in a new 4K UHD presentation with an additional Blu-ray disc featuring archival extras and also on double-disc Blu-ray.
Out on 28 March 2022, these presentations have been produced in close collaboration with John Hillcoat and cinematographer Benoit Delhomme. Among an array of special features on both is a newly recorded conversation between John Hillcoat and Nick Cave and an 80-page book.
In the unforgiving landscape of the Outback, Charlie Burns (Guy Pearce) is presented with an impossible proposition by local lawman Captain Stanley (Ray Winstone): to save his younger brother Mikey from the noose, he must track down and kill Arthur (Danny Huston), his increasingly unhinged older sibling. A palpable sense of foreboding builds in the oppressive heat, as each character takes on their punishing moral dilemmas and the cycle of violence appears unstoppable.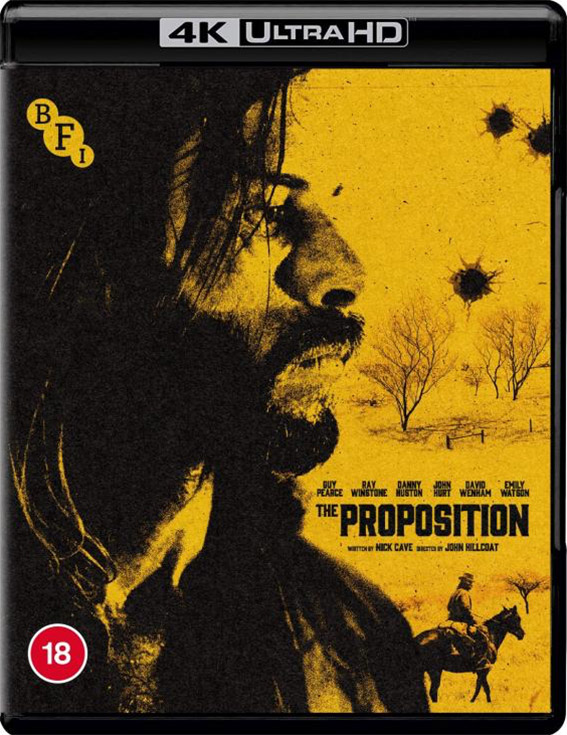 The Proposition will be released on UHD and Blu-ray by the BFI on 28 March 2022 at the RRP of £24.99 for the Blu-ray, and £29.99 for the UHD.
UHD / BLU-RAY FEATURES:
4K (2160p) UHD Blu-ray presentation in Dolby Vision (HDR10 compatible) (4K UHD)
High Definition presentation (Blu-ray)
John Hillcoat and Nick Cave in Conversation (2021, 53 mins, audio only): newly recorded conversation between the film's director and its screenwriter
Audio commentary with John Hillcoat and Nick Cave (2006)
Audio commentary by critics Alexandra Heller-Nicholas and Josh Nelson (2021)
The Making of The Proposition (2005, 27 mins): behind-the-scenes documentary
Inside the Proposition (2005, 43 mins): a series of featurettes looking at the film's pre-production
Shooting the Proposition (2005, 24 mins): featurettes on the production and the challenges faced during filming
B-roll footage (2005, 20 mins): behind-the-scenes footage shot during the making of the film
Interview With Guy Pearce (2006, 14 mins): the actor on his approach to the role of Charlie
Interview With Danny Huston (2006, 8 mins): the actor recalls his work on the film
Stills galleries
Original theatrical and teaser trailers
2022 UHD/Blu-ray trailer
80-page book featuring new writing and recollections by John Hillcoat, Cat Villiers, Leah Purcell and Warren Ellis, plus essays by Andrew Graves, Professor Catriona Elder, Dr Stephen Morgan and Adrian Martin