Did you know that most leading documentarians in Britain today are women? A major new BFI project aims to raise the visibility of women working at the heart of documentary, and celebrate the often-unsung names of women who have helped shape the genre and tell stories that reflect the world we live in. The Camera is Ours: Britain's Women Documentary Makers tells the story of some of the key female filmmakers who pioneered the British documentary movement between the 1930s and the late 1960s. This story is beautifully captured in the collections held by the BFI National Archive; a selection of which are included in this new 2-disc DVD set.
Just ahead of the DVD release, a season at BFI Southbank, also titled The Camera is Ours, will run from 3-15 March and include screenings and on stage-interviews with contemporary documentary makers. BFI Player and the BFI Mediatheque will offer themed collections to watch and there is a Mezzanine Gallery exhibition at BFI Southbank open now.
The DVD set features 10 films made between 1935 and 1967, newly remastered in partnership with The Film Foundation and featuring trailblazing directors including Marion Grierson, Ruby Grierson, Jill Craigie, Evelyn Spice, Sarah Erulkar, Margaret Thomson and Kay Mander. The films are:
BESIDE THE SEASIDE (Marion Grierson, 1935, 21 mins)
BEHIND THE SCENES (Evelyn Spice, 1938, 16 mins)
THEY ALSO SERVE (Ruby Grierson, 1940, 10 mins)
4 AND 20 FIT GIRLS (Mary Field, 1940, 11 mins)
THE ENGLISH INN (Muriel Box, 1941, 10 mins)
BIRTH-DAY (Brigid 'Budge' Cooper, 1945, 21 mins) 
HOMES FOR THE PEOPLE (Kay Mander, 1945, 22 mins)
CHILDREN OF THE RUINS (Jill Craigie, 1948, 10 mins) 
THE TROUBLED MIND (Margaret Thomson, 1954, 21 mins)
SOMETHING NICE TO EAT (Sarah Erulkar, 1967, 20 mins)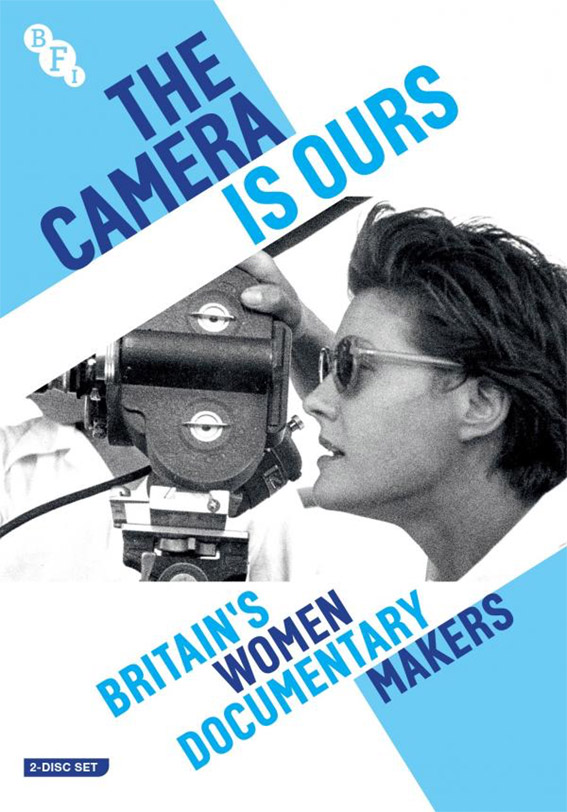 The Camera is Ours: Britain's Women Documentary Makers will be released in the UK as a 2-disc DVD set by the BFI on 28 March 2022 at the RRP of £19.99.
DVD SPECIAL FETURES:
Independent Miss Craigie

 

(2020, 92 mins): Lizzie Thynne's 2020 feature documentary on the extraordinary life and career of the forceful, charismatic Jill Craigie

Kay Mander

 

(2022, 5 mins): an intimate and affecting portrait of Kay Mander at her home in Dumfries, Scotland, shot by filmmaker Barney Snow in 2000

Sarah Erulkar Q&A

 

(2010, 7 mins)

FIRST PRESSING ONLY: Illustrated booklet featuring new essays by Ros Cranston, Penny Woolcock, Molly Dineen, Lillian Crawford, Reba Martin, Carol Morley, Patrick Russell, Jeanie Finlay, Lizzie Thynne, Katy McGahan, Girish Shambu and Barney Snow
Here's a clip from The English Inn (Muriel Box, 1941):