George Orwell's enduring dystopian masterpiece is brought vividly to life in this celebrated BBC production. Adapted by Nigel Kneale (The Quatermass Experiment), Nineteen Eighty-Four (directed by Rudolf Cartier) broke new ground for television drama when first broadcast in 1954. On 11 April, tying in with a Nigel Kneale season at BFI Southbank, the BFI brings this classic production to Blu-ray and DVD in a Dual Format Edition, and to DTO via iTunes and Amazon Prime. Experience Orwell's haunting vision of a society dominated by relentless tyranny and the subversion of truth – a world in which Big Brother is always watching you.
Featuring a stunning central performance from Peter Cushing (The Curse of Frankenstein, Star Wars) as the doomed Winston Smith, this small-screen landmark has been newly restored by the BFI using original film materials from the BBC Archive and the BFI National Archive. Numerous extras include a newly recorded audio commentary by television historian Jon Dear, host of Nigel Kneale podcast Bergcast, with Toby Hadoke and Andy Murray, and a newly filmed conversation between the BFI's Dick Fiddy and historian Oliver Wake, on the myths that have grown up around the production in the last 60-odd years.
Nineteen Eighty-Four is released alongside the BFI Southbank centenary celebration of screenwriter Nigel Kneale. A season, Nightmares and Daydreams, runs throughout April in partnership with Picturehouse to commemorate Kneale's contribution to British television. His adult drama and tense thrillers with a sci-fi or horror slant went on to influence the likes of John Carpenter, Stephen King and Ben Wheatley. Often enthralling and terrifying, Kneale's visionary work showing on the big screen includes the restored version of Nineteen Eighty-Four. The screening, on Monday 4 April at 6.30pm in NFT1 will be followed by a panel discussion. Other titles screening in the season include First Men in the Moon, Quatermass and the Pit, The Year of the Sex Olympics and The Woman in Black, and there will be a special table reading of Out of the Unknown: The Chopper, as part of the BFI's Missing Believed Wiped programme.
Picturehouse Crouch End will be hosting a day-long event on Saturday 23 April featuring expert panellists and members of cast and crew looking at Kneale's film and TV work and his influence and legacy. Events include a live reading of 'lost' 1942 radio play, You Must Listen, and screenings of several of Kneale classics, including The Quatermass Experiment: Contactr Has Been Established, The Stone Tape, Against the Crowd: Murrain and Late Night Story: The Photograph.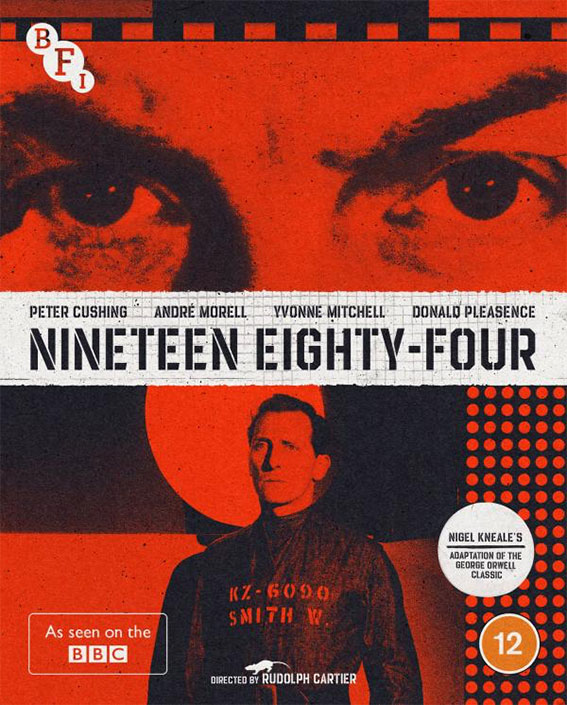 Nineteen Eighty-Four will be released as a Dual Format edition (Blu-ray & DVD) on 11 April 2022 by the BFI at the RRP of £19.99.
BLU-RAY/DVD FEATURES:
Presented in High Definition and Standard Definition
Newly recorded audio commentary on Nineteen Eighty-Four by television historian Jon Dear, host of Nigel Kneale podcast Bergcast, with Toby Hadoke and Andy Murray 
Late Night Line-Up (BBC, 1965, 23 mins): members of the cast and crew look back on the controversies surrounding this adaptation of Orwell's classic
The Ministry of Truth (2022, 24 mins): in conversation with the BFI's Dick Fiddy, television historian Oliver Wake dispels some of the myths that have grown up around the groundbreaking drama over the course of the past half century 
Nigel Kneale: Into the Unknown (2022, 72 mins): writer, actor and stand-up comedian Toby Hadoke and Nigel Kneale biographer and programmer Andy Murray try to unpick who Kneale was, what he did and why his work still matters today 
Gallery of rare images from the BBC Archives
Original script (downloadable PDF)
Newly commissioned sleeve artwork by Matt Needle
*** First pressing only*** Illustrated booklet with essays by Oliver Wake and David Ryan; credits and notes on the special features