Directed by Norwegian actor, director and writer Liv Ullmann – Bergman's former muse and star of some of his most significant films – Faithless [Trolösa] (2000), is a lyrical, passionate and enigmatic work of outstanding depth: an emotional mystery story that reflects on the desire and torment of an intense romantic affair. It comes to Blu-ray for the first time, released by the BFI on 11 April 2022 alongside BFI Southbank's season, Liv Ullmann: Face to Face, which runs from 28 March – 30 April with Liv Ullmann taking part. Fathless will be screened during the season, including with an introduction by Liv Ullmann on Saturday 9 April. Special features on the Blu-ray include a newly recorded audio commentary and three director interviews
An ageing director conjures a tale of adultery, betrayal and grief in this powerful meditation on love and art based on a loosely autobiographical script by Ingmar Bergman. Sensitively depicted via Ullmann's assured direction and featuring a stunning central performance by Lena Endre, Faithless is a modern classic.
The BFI Southbank season will showcase Ullmann's acting work, not only with Ingmar Bergman, but also with fellow Norwegian pioneer Edith Carlmar and with Jan Troell. As a director, as well as Faithless, other films showing in the season include Miss Julie (2014). A special event, Liv Ullmann in Conversation, takes place at BFI Southbank on 8 April. In addition, BFI Distribution releases Cries and Whispers (1972) in cinemas UK-wide on 1 April and selected films will be on BFI Player for one month from 11 April.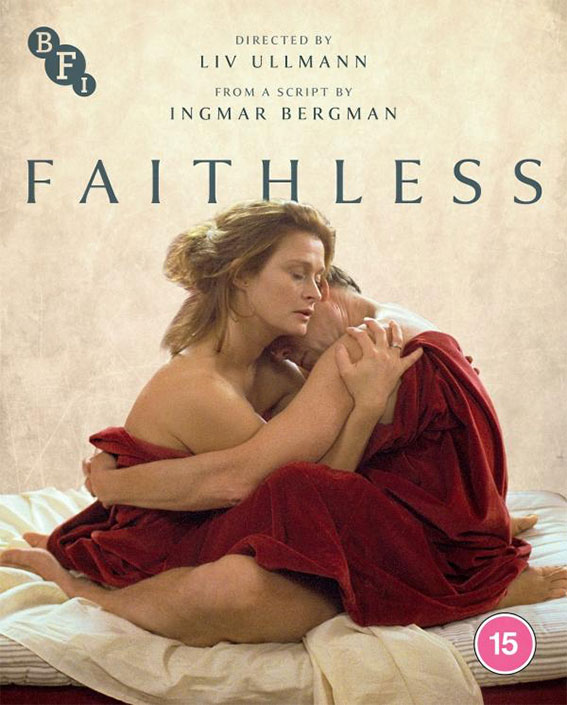 Faithless will be released on UK Blu-ray, iTunes and Amazon Prime by the BFI on 11 April 2022 at the RRP of £19.99 for the Blu-ray edition.
BLU-RAY SPECIAL FEATURES:
Presented in High Definition
Newly recorded audio commentary by film critic Adrian Martin

Interview with Liv Ullmann 

(2000, 32 mins): archive interview with the acclaimed actor and director

The Guardian Interview: Liv Ullmann 

(2001, 69 mins): Ullmann in conversation with film critic and writer Shane Danielson

In Conversation with Liv Ullmann 

(2018, 72 mins): the actor interviewed on stage by Geoff Andrew at BFI Southbank

Original trailer
Behind the scenes gallery
Stills gallery
First pressing only: Illustrated booklet containing a Director's Statement, an essay by Sarah Lutton, who programmed the BFI Southbank season, an interview with Liv Ullmann by Geoffrey Macnab, a contemporary review, credits and notes on the special features
Here's a clip: